Looking for home based business ideas for women? This article has some best business ideas for women at home who want to be financially independent.
Women business owners are increasing in numbers day by day. A housewife sitting at home wants to become an entrepreneur and lead an online business. A female college student wants to start a part-time home based business to ground her feet in entrepreneurship. A mom wishes to earn a side income with her small online business setup.
But, what do most women businesses are about?
What are some best business ideas for women?
Affiliate Disclosure: This article contains affiliate links. If someone makes a purchase through affiliate links, I may earn a small compensation. For more, please read on to privacy policy and disclosure.
When we say that women are shaping the future of business, it's absolutely true! Whether you take a quick glance at best women online business ideas, or business ideas for women sitting at home, you will see that female founders are flourishing!
Talk about a clothing business, an online flip store or a life coach, business women are everywhere.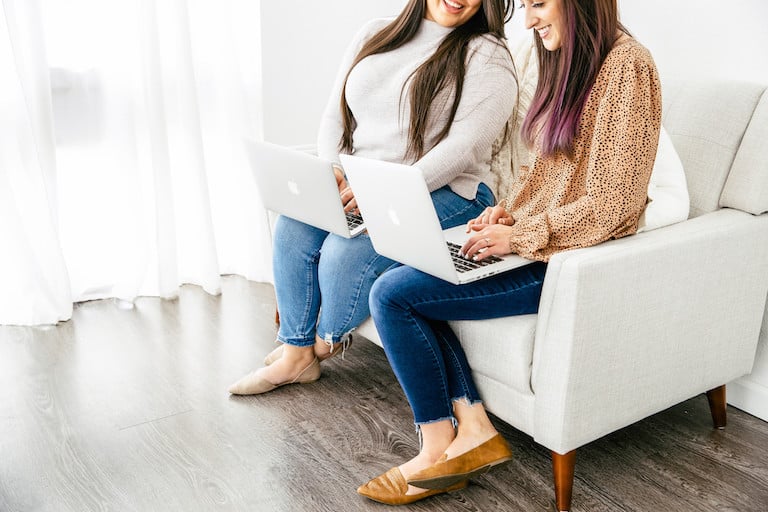 From time to time, many new business ideas for women are coming up and people are loving it. It's not necessary to wait for 10 years but now, you can choose from profitable business ideas for women with low investment and minimum experience.
According to this report, 31% of all small businesses and franchises are women. And, in 2022, we expect to see more women owned businesses.
Isn't that perfect to increase the number and have more empowered women? Well, yeah! We can do it!
31% of all small businesses are women-owned! Still looking for a business idea to start this year? Check out 70+ profitable business ideas for women #business #startup
I launched my first online business when I was just 19 and it was a success at that time while I was studying too. We made good money and learned a lot. My sister and I launched a clothing line business on our own. From outfit designing to marketing and then, delivering clothes to clients – we handled it all! From that day, I was so sure that I had to do a business to get that freedom and here, I am running my blog business. All credit goes to our parents who always encouraged to start a venture and take that risk.
Just be there, women! You can do a lot.
In this post, you will find out the best business ideas for women. Trust me, there are so many small business ideas for women you can do at the comfort of your home.
Let's read:
70+ Best Home Based Business Ideas for Women to Make Money in 2023
This list of small scale business ideas for women is for everyone. Depending on your skillset, experience and interest, you can make a decision for your future business. And, it's reasonable to say that you can make decent money online.
Remember that you start small, and then, go big!
#1.
Start a Blog Business
Ever thought of becoming a blogger and making money online? Blogging is one of the most profitable home business ideas for women! Anyone can start a blog, do the work, and earn money every month.
No doubt, blogging is no quick-rich scheme but no other business is! You have to dig deep, learn, write good blog content, monetize your blog and then, have a successful online blog business.
What type of blogger can you become?
Food blogger
Fashion blogger
Travel blogger
These are just popular niches for blogging but there are tons of other blog niche ideas to choose from.
Many successful food bloggers easily earn $5000/month from their blogs. Similarly lifestyle bloggers also make great money from blogging. My blog, shemeansblogging, is also a business blog that I'm truly passionate about.
Do you know that blogging is still the cheapest way to make money online? It is one of the business ideas for women with low investment. Ladies sitting at home can start a blog, and transform it into a profitable business.
Blogging is a perfect business model for ladies sitting at home. Whether you are a student, or a grandmother, you can build up a blogging business at your own comfort. Starting a blog is even easy and doesn't require big investment. Honestly, starting cost of a blog is less than a good lunch meal!

Just follow this step by step guide to start your blog and make money blogging. More than 100+ bloggers have followed this tutorial to launch their blogs. Today, it's your day!
Even if you have some hours to spend every week, just start a blog!
Even if money is not your goal, just start a blog!
Even if all you want is to share your thoughts and show your delicious meals recipes, start a blog!
Blogging is a business and a full-time career. Bloggers have turned into business owners with different passive income streams. But, there's a lot that goes into building a blog for business growth. In an article on porch.com, blogging experts have shared excellent tips on starting a blog for business. Learn about building a brand, creating quality content or increasing sales for your business, blogging is the way to go.
#2.
Become a Virtual Assistant
Women virtual assistants are making lots of money! It's not just a few hours job but a full-time business. You get booked for months, and get a good amount of money. Many virtual assistants have opened their own companies and agencies where they outsource work to new employees and have recurring high-paying clients.
As a virtual assistant, you can provide as many services as you want. But, it's better to keep it limited and have a narrow niche so that you always have clients.
Imagine working for 6 hours/day every week? Even if you take a day off, you work 36 hours every week. Let's say, you charge $20/hour as a beginner. Upon calculation, you make $720 every week! That totals to $2880 a month. Isn't that the best online business idea for women at home? All you need is a stable internet connection, a laptop and some skills.
Learn everything on how to become a virtual assistant and earn $25/hour.
#3.
Become an Online Consultant
Many women are coming into online consultancy. It is in fact a great business idea for women. This idea is perfect for women who already have education experience, or work experience.
You have to choose a niche first, and set up a platform to communicate with clients.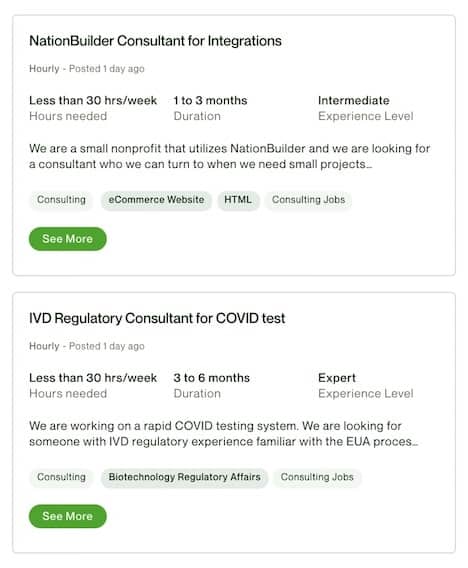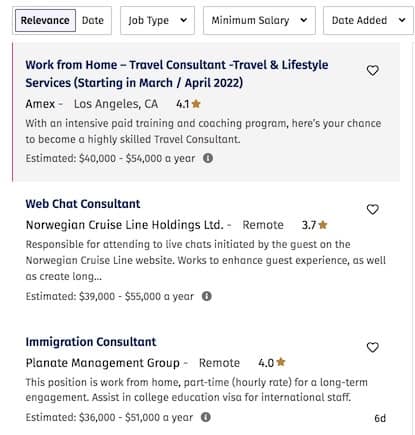 As you see, you can become;
Social media consultant
Real estate consultant
Travel consultant
Online sales consultant
Career consultant
Educational consultant
There are many job business opportunities for women in this field.
#4.
Sell Online Tutorials
Online learning is now everywhere. Anybody who has the internet can get access to courses. It doesn't have to be only for educational purposes. You can teach painting, drawing, sewing, music, calligraphy, language etc.
You must have some experience, and a good understanding of course selling platforms. However, the simple way is to use course platforms like Teachable and Thinkific. You can create text and video lessons for your students.
Another way to sell your courses online is by using Udemy, SkillShare and Domestika. These popular sites have thousands of courses in multiple categories and they have millions of views every month. Hence, more sales.
#5.
Start a Freelance Writing Business
Are you looking for business ideas for ladies sitting at home? How about writing! I started out as a freelance writer and learned how amazing profitable freelance writers can be. Many women pursue a freelance writing business, and have made successful online businesses.
Some immature writers start with only $10/hour and with experience, you can earn up to $50/hour or $500 per article.
It's a lucrative home business idea for women of all ages. The good thing is that you can start right away at home with no investment.
Learn more on how to start a freelance writing career easily.
#6. Become a Graphic Designer
Graphic designing is not a simple field now. There's an immense variety and scope for all talented designers. Start with platforms like Fiverr, or Design99 to get your first gig.
What are the benefits of becoming a graphic designer? If you have the skills, this is the best business idea for women at home. You can work from home at your own hours. You can do it as a part-time job, or go full-time. When your business grows, and you get more orders, you can form a team and work together. More business.
Here's everything on starting a freelance web designer business at home.
#7.
Start an Etsy Shop
Etsy marketplace is perfect for talented business women who want to sell unique items to the World. You can sell anything handmade, vintage or craft items on Etsy. People love to shop on Etsy! This is one of the small business ideas from home for ladies.
You don't need to have a big inventory to start selling on Etsy. It's ok to start as a small scale business with unique and creative items.
A few things you can sell on Etsy are;
House portraits
Handmade jewelry
Cards
Gifts
Knitted scarfs, blankets, caps
Accessories
Craft supplies and tools
Vintage
And, so much more! There are always such cute items on Etsy that you can't resist buying.
Can you start an Etsy shop? Think about it!
#8.
Start a Youtube Channel
Ever thought to become a youtube vlogger? Why not! If you like recording videos, doing vlogs, shooting tutorials and clips then you can start your own channel. Is this a business idea for women? Absolutely!
Many women enjoy making fashion styling videos, cooking tutorials and makeup videos. Why not use those skills and make your channel?
Lilly Singh, Rosana Pansino and Lisa Koshy are some popular female youtubers.
Please know that it takes consistent efforts, and creativity to grow your youtube channel. Once it grows, there's nothing better than passive income!
#9.
Be a Reviewer
Do you enjoy reviewing products? Companies pay to get their products reviewed and have unbiased feedback. You can pursue this as a small business idea too.
#10.
Do Bookkeeping and Accounting Work
Women who have a degree or experience in accounting can start a bookkeeping business from home. Accountants are always in demand so this is in fact a great home business idea for women. You can do it freelance, and get monthly clients.
Join platforms like Upwork and LinkedIn for regular proposals.
#11.
Proofreading and Editing Service
Proofreaders and editors are always in demand. It's a profitable business idea for ladies at home. But, you have to first learn what proofreading is, and how you can offer this service.
As a proofreader, you can earn from $12 to $30 per hour. That's a good amount of money!
For example, just read how this woman started proofreading and editing business at home.
The good thing about this online business idea for women is that you can start this as a side-hustle and later, expand your business as you like.
#12.
Instagram influencer
Instagram marketing is on peak! You can start an Instagram influencer business from home. It starts with choosing a niche, understanding your audience demands, and creative content.
As your profile grows and you get more engagement, brands would want to work with you and you get paid for a single photo. You can then expand your marketing with different ideas and paid shoots.
#13.
Become an Online Coach
Coaching business is a profitable home business idea for women. You don't have to join any office, you can work from home.
People want help and guidance with almost everything from trained, certified and high-skilled coaches. The best way is to get coaching training, and certificates. That way, you get more credibility and proficient knowledge in the coaching business.
You can learn more on Google certified coaching programs. Or, you can take a look at these certification programs.
#14.
Teach Art Online
Are you an artist? Art lovers are always in search of creative artists and teachers. You can make money from teaching art online. You already have the skills, and all you need is to teach others the same.
If not a big business, you can even do this as a side-hustle. With re-recording art classes, you can generate a passive income online.
I suggest taking a look at these courses on Domestika. These are absolutely so amazing and anyone can take them to learn new skills as an artists.
#15.
Affiliate Marketing
Want to make money with affiliate marketing? Undoubtedly, affiliate marketing is a profitable business model for women entrepreneurs.
To start with, learn the basics of affiliate marketing. With recent updates, it's important to review products before you dive straight into affiliate marketing. It's about earning commissions on sales. You write about affiliate products, and when someone buys, you make a commission.
#16.
Become an Illustrator
According to this report, an average Adobe illustrator earns $56,343 a year in the United States. It's not just a hobby or skill set but a high paid business model.
If you are skillful, you can make money as an illustrator in so many ways;
Earn art commissions
Create and sell vectors
Find high paid online gigs and get paid $25+/hour
Sell posters and prints
Do T-shirt business
Where to find illustrator jobs?
Hire an Illustrator
Behance
Dribble
Fiverr
Smashing jobs
Business for Ladies Sitting at Home
#17.
Start a Clothing Business from Home
Always wanted to start your own clothing line and build up a small fashion empire for women? Design comfort clothes or nightwears. Summer frocks, or asian clothes. Create your own online clothing boutique and build buzz with social media.
#18.
Food Service Business
Restaurant meals will never compare to home cooked meals. Do you often get compliments for your delicious food? You can earn good money with this home business idea for women.
Starting a food service business is also flexible. You can make your own weekly menus, and use social media to spread the word.
#19.
Sell Home Baked Items from Home
Just like home meal, people enjoy eating home baked items. If you are good with baking, you can sell desserts and cakes from home. Bakers are running their own small scale business from home.
From customized birthday cakes to flavorful brownies and cupcakes, you can sell any home baked items.
#20.
Make Customized Gifts
Even though we see beautiful gifts everywhere, nothing will compare to customized gift ideas. Too often, we are short of gift ideas for our loved one's. That's when we search for online gifts shops to make and deliver customized gifts on special occasions.
I recently ordered a cute customized frame for my sister's anniversary. Before that, I reached out to a women-owned small business on Instagram for a BFF photo album.
Can you make a customized gift for my brother?
What gift ideas do you have for Mother's day?
Can you do a small graduation gift for my friend?
Think about it! This can be one of the best business ideas for women. All you need is to be creative and think of gift ideas.
#21.
Handmade Jewellry Business
Jewellery items are women's favorites!
Can you design homemade Jewellery items for young girls? Or, could it be for special occasions? With a little practice, and learning, you can do wonderful things with your own Jewellery business.
#22.
Candles Business
Scented candles are always in demand. It can even be a cute gift item on special occasions. You can start making candles at home and then set up a regular online business. This can be a lucrative business idea for women.
Note: Save/Pin the image below to Pinterest board to come back later for ideas.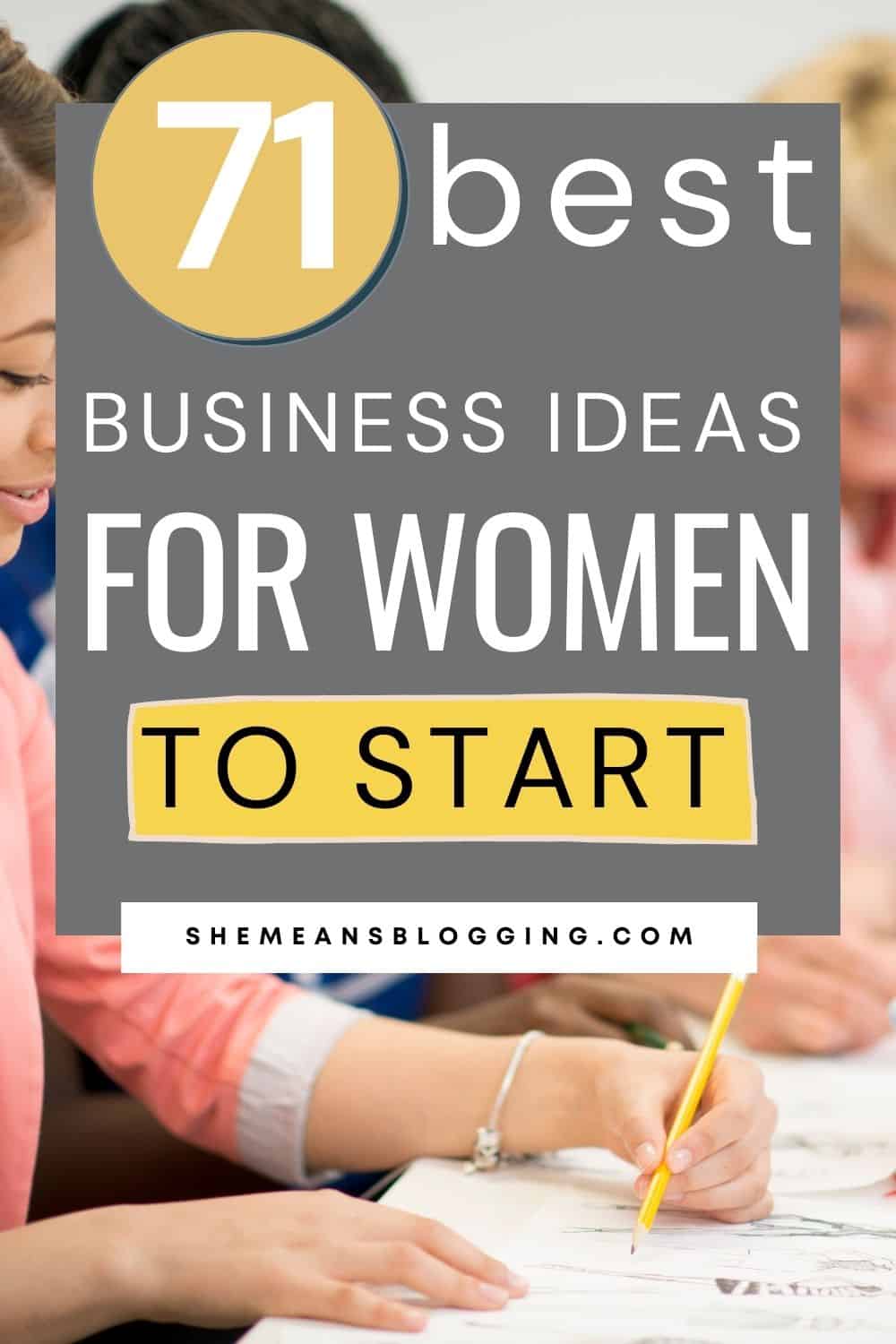 #23.
Sewing Business
Do you have a knack for sewing? Maybe your sewing skills are too good! You can start a sewing business from home, and take orders in bulk. As your online business grows, you can hire a small team under your supervision and maybe, use your garage or extra room for your business.
#24.
Kids Party Event Planner
Busy parents usually hire freelance event planners for kids parties and small occasions. Do you have what it takes to plan a kids birthday party? If yes, you can definitely be an event planner!
Learn a bit about different concepts, get familiar with event planning, kids parties and props. Maybe, you would need to invest in a few props and equipment as you build your business from scratch.
#25.
Sell Paintings
There are several other business ideas for women and selling paintings is one of them. Isn't painting a hobby? Yes, but it is a profitable business idea too. It doesn't have to be your main business but a small side hustle for earning extra bucks.
#26.
Become a Personal Fitness Trainer
If you have experience in fitness, and have enough knowledge about personal trainers then you can become one. You should know how to train other people and get them fit. People who generally avoid gyms are looking for personal fitness trainers to get fit.
Maybe, you can become one and take a few students a month.
#27.
Become a Babysitter
The average cost of a babysitter in California is $16.93/hour. However, you can expect to earn from $12 to $25/hour. It's a pretty well paid job in today's marketplace. If you can handle kids well then this is the best business idea for women of all ages. If you have a few extra hours every day, maybe you can become a babysitter.
Or, you can even consider starting a babysitting business. This article explains everything.
#28.
Pet Sitting Service
Do you like pets? Become a pet sitter! When pet owners are not at home, or are on holidays, they usually hire pet sitters to look after their pets. You can host their pets at home or do visits to take care of them. You can look for pet sitting jobs at Wag.
You can earn up to $20/hour as a baby sitter! Want more business ideas for women at home? Here are 71+ ideas for smart women to make money online #businessideas #startup
#29.
Freelance Photography
Can you capture good memories and pictures? Consider becoming a home based photographer. You can do this freelance and at the comfort of your home. Set up your website, show your work, put your packages and get clients.
#30.
Voiceover Artist
A professional voiceover artist is a must for a project. In today's world, we have podcasts, videos, audio lessons, stories etc. Use your great voice talent to make money online.
In many freelance marketplaces, people look for podcast and voiceover artists for their businesses. Join those forums and search for gigs.
#31.
Webinar Host
Can you kick off an amazing webinar? Many popular and successful entrepreneurs hire hosts for their webinars. They host training, conduct interviews and communicate well.
If you are good at presenting yourself, and have conducted a few webinars in the past then maybe, join this line.
#32.
Become a Yoga Instructor
Can we make money as a Yoga instructor? Absolutely! Yoga instructors have been in demand recently. You can give yoga classes from home and even start your own yoga club.
#33.
Food Truck Business
If starting a fancy restaurant is a big fat dream, consider starting a food truck business. This food truck industry statistics report tells that starting a food truck business can cost around $55000 on average. But, most food truck companies earn a revenue from $250,000 to $5,00,000 annually.
Learn more on how to start a food truck business.
#34.
Start a Cleaning Service
A professional cleaning service company makes a good amount of money. The good thing about a cleaning service venture is that it only requires a small cost and can be expanded with smart marketing strategies. Consider opening a local online cleaning service for residents of your area, and from there, you can expand your online business.
#35.
Lawn care service
Women landscapers are often strong willed women who like to work outdoors, and take care of lawns. However, this is quite a tough business for women. But, women are doing it! Here's an interesting story of Christy Webber who started off with mowing laws and turned into a multimillion dollar business.
#36.
Interior Designing
From beautiful home interior settings to designing, you can work as an interior designer. Take small projects and help people make their interior living spaces more stylish.
Show yourself as an expert in interior designing, and gain experience. That way, you can make great money, and also, get closer to launching an online business too.
#37.
Kids Decor
Want to design and decor a kids room specifically? Be an expert in that! Cute wall art, soft color themed rooms, daily accessories, study area, useful play area and there is so much more, you can help parents with.
Use your skills to create stunning places for kids to enjoy, re-energise and relax. This can be the best business idea for women who have sheer interest in kids decor, baby nursery, modern kids room etc.
#38.
Start a Laundry Service
A laundry business is not just limited to one thing. There are more than 20 laundry business ideas you can do!
Consider starting a laundry delivery business, dry cleaner business or even start a laundry pick station. As you see, the laundry business has a wide scope and you can find a gap there.
#39.
Become an Airbnb host
Offer an extra room in your home or full apartment on Airbnb and make real business. Learn to meet the criteria and other requirements to become a host. Initially, you have to lower down your prices to kick off your new business.
Whether you do it as a part-time thing, you have to act as a professional and communicate well to get regular Airbnb customers.
#40.
Car Rental Business
A car rental business is also one of profitable business ideas. If you have the passion for a vehicle rental business then you can consider starting one. Maybe, a good idea is to partner with another woman and see how you both can grow this business.
These two women shared their challenges and growth as they grew their vehicle rental business.
#41.
Tent and Party Rentals Service
People always need party and decoration supplies. Starting a tent and party rental business is a great idea for women in business. Consider buying some party essentials, and then, launch your rental service.
From party poppers to tents, chairs and tables, you can rent out almost everything anyone would need to run an event. This is a low cost women business idea than other models.
#42.
Freelance Makeup Artist
The trend of hiring freelance makeup artists has gone upward since a few years. Women prefer the home comfort of getting dolled up on special occasions. Starting a freelance makeup artist is the best business idea for women considering minimum expense, flexibility and huge earning opportunities.
With the help of social media, and reference, you can launch your business as a flexible makeup artist.
#43.
Freelance Hair Stylist
Just like makeup artists, there's a wide scope for freelance hair stylists. From doing professional hairstyles to hair cuts, you can shape your business as you like. This is infact a great idea for women in business.
#44.
Body Care Products Business
We all agree that body care product business is perfect for females. As a woman, you understand the importance of body care products. From bath bombs to body butter creams to moisturizers etc, you can sell a variety of products to customers.
You can start this business from home too. Use facebook and Instagram to launch your at-home product business and get clients that way.
#45.
Sell crafts
When it's about business for ladies sitting at home, or best business ideas for women, you can make a living selling crafts online. That's right. You don't have to leave your house to run a profitable business.
The list of crafts to sell is endless. If you want some inspiration, here are 75 craft ideas to sell online.
#46.
T-shirt Design Business
The t-shirt printing business has always been here. It's one of home based business ideas for women with low investment.
You can hire talented graphic designers for creative T-shirt designs, and use online platforms like Shopify to start your own online shop.
#47.
Become a Florist
Start with educating yourself about flowers and practice your skills. A professional florist can make an average of $50,000 per year. If you manage to open your own flower shop then you can make more money.
The best way to get started is to offer your services to a local floral designer and gain the experience.
#48.
Start an amazon FBA business
Amazon FBA business is one of the most profitable business ideas for women. If you want to go through this route, then consider educating yourself about Amazon FBA.
It's best to conduct your research first before jumping straight into the products. While there are huge profits in this business model, there's a proper criteria to it.
Read: The ultimate guide to start an Amazon FBA business.
#49.
Voiceover Artist
Have good voice skills? Become a voiceover artist! Filmmakers, and content creators all around the globe look for talented voiceover artists.
Maybe, you can be the next voice. Look for such business opportunities for women.
#50.
Event Planning Service
From small events to parties and birthdays, an event management company can provide so many services. Consider becoming an event manager and taking clients locally.
Let it be a small birthday bash in indoor settings or an intimate wedding ceremony, a women owned company is capable of all creative ideas and settings.
#51.
Embroidery Work
Can embroidery work be considered as a business? For sure! It's a perfect online business idea for housewives and ladies sitting at home.
I have ordered embroidered portrait hoops for both of my sisters wedding anniversary from an online business on Instagram and they look so gorgeous! College going students and at home women can sell embroidery crafts, gifts and other items and make a business.
#52.
Baby Photography Services
Have you seen those creative baby photos with colorful baskets and props? Baby photography is very popular and in demand. Consider becoming a professional baby photographer and have a freelance business.
This is the best business idea for women who are creative with baby photoshoot ideas. With all stylish, and cute props, your photos can turn out really well.
#53.
Professional Portrait Photographer
Portrait photography service is another online business idea for women. With a high quality camera, and photography skills, you can get started with this low cost business idea.
Many office women feel comfortable with female photographers to capture their professional protraits. You can even do it on weekends as a part-time business.
#54.
Intimate Wedding Planner
As you know, many couples wish for an intimate wedding these days. Less cost, small venue, cute decor but a memorable event to cherish lifelong. You can make magical moments in these small weddings with your unique ideas, and creativity.
#55.
Nail Art Studio
Women entrepreneurs are grounding their feets in almost every category. How can we forget nail art? This is the best business idea for women in any country of the World.
An average nail salon business makes from $40,000 to $70,000 a year. That's a profitable business model. You will have to rent out a space, hire some nail technicians and make initial investment to start your nail business.
#56.
Open a Bridal Makeup Studio
Not anyone can become a bridal makeup artist but if you have passion for it, or have already gained some experience then it might be your chance to pursue this online business idea.
#57.
Start a Spa Business
With rewards and profits, there are always challenges in growing an online business from scratch. Considering business ideas for women, spa business is definitely a successful model in many countries. From choosing the right location to investment, there are a lot of things you must know at first. This article is well written on spa business.
#58.
DIY Expert
Do people give compliments over your DIY projects? Why not turn that hobby into a small scale business idea!
Consider starting a blog, or a youtube channel and show others how to make diy projects.
Or, sell your DIY items online.
You can take any route and transform your passion into a profitable business idea for women.
#59.
Custom Portrait Artist
The gorgeous sketches by artists have always been a beautiful gift item. If you have skills to do custom portraits for clients then consider this home business idea.
Nowadays, facebook and Instagram marketing offers excellent marketing opportunities for women businesses from home. You can work from home, and make money.
#60.
Sell Customized Gift Baskets
We all need personalized gift baskets and other items on special occasions. I always look for such small businesses on Instagram to place orders for my BFF, sisters and family.
You can make gifts;
Wedding anniversary gift basket
Engagement gift basket
BFF birthday gift basket
Personalised gift basket under $100/under $50
Newborn arrival basket
#61.
Crochet Knitting Business
Hobbies can be turned into successful businesses. There are so many ways you can make money with a knitting business. And, it's a perfect business idea for women at home.
Fresh Stitches is such a good example of knitting business online. You can go through the blog to learn more about different patterns, and ways to sell.
Another great resource is ​​Shiny Happy World blog.
#62.
Sell Planners
Canva, a simple tool, allows you to make and sell planners to make money online. Can you make money with a planner business? Of course! A hundred times!
Different types of planners you can sell;
Wedding planner
Blog/business planner
Academic planner
Positivity planner
Productivity planner
You can start either a physical planner business or a digital planner business. Both are profitable. Or, you can do both. Sell your physical planner via Amazon or other models. For digital planner, you can easily use Shopify, Gumroad etc.
#63.
Soap Making
As a soap artisan, you can make a profitable online business by selling soaps. The demand of organic soap products in the industry has given this business idea a huge boost. Many businesses charge $5-$6 for one soap bar.
Even though soap products are low priced but if you add more beauty and organic body care products, this can be a lucrative business idea for women.
#64.
Start an Online Sticker Business
With other running businesses, an online sticker shop is a great home business idea for women. It all starts with your passion and creativity for stickers. A few things to know before you consider starting your sticker business.
You can sell your stickers using platforms like Etsy and Creative Market.
#65.
Homemade Frozen Food
Frozen meal service is an amazing business idea for women at home. You could work from home, and sell homemade frozen food to customers.
I know many women in my own circle are running their home cooked meals businesses from home.
#66.
Lunch Delivery to Offices
Lunch boxes, diet meals and healthy meal box subscription business ideas are ideal for women entrepreneurs. Whether you want to work from home, or rent out a space, this startup idea can allow you to expand in future.
You can sell diet meals and healthy meals online. Give them an option for takeaway or provide food delivery. You can even pitch to different offices for a fixed contract for lunch boxes.
#67.
Home Based Hobby Classes for Children
Love to teach kids? Host hobby classes for children at your home! You can also rent out a space for conducting kids classes. Painting, crafting and swimming are all such ideas for different subjects. You can also host these classes only on weekends and see if this can be turned into a regular business thing.
#68.
Health Care for Elderly
As a healthcare professional, consider offering services for elderly. You can set a fixed rate per hour and offer your services to those who need it.
Can you start a business as a woman? Of course! Look at these 70+ amazing business ideas for women to start this year #businessideas #startup
#69.
Start a Macrame Business
If you are still looking for business ideas for women with low cost then look into macrame business. You don't start making and selling pricy hanging pieces at the beginning.
Your products have to be unique in this business to get more sales. Also, always keep in mind the amount of time that goes into making one project. You can sell products online or simply on Etsy.
This is the guide to get started with macrame business.
#70.
Professional Organizer
Maybe, you are already good at decluttering, and organizing things? Ever thought to become a professional organizer and take this as a side hustle idea?
When you become an organizer, you can expect to make $80 – $140 per hour. You can even offer packages as kids room for $350 or a closet organizing package etc. Learn more here.
#71.
Transcription Business
Want to make extra money on the side? Offer transcription services or consider starting an agency who could provide these services to clients.
If you are a good listener and can transcribe audio to text then this is a great business idea for women at home. You can use some softwares and do the easy work.
There, you go!
What is the best business idea for women to start?
Any business that you are good at, and are passionate about is the perfect business idea for women to start! It has to start with your skills, and interests. You have this gut feeling that you can take this business from nothing to something amazing in next few years.
For business ladies sitting at home, you can do almost everything from home! There are endless opportunities for female to work at home, and make money from home.
Start a side hustle, or a full-time business for women, just take the start and do it.
I took blogging business seriously, and now I have a profitable blog business online. That further opens up to new opportunities every month. If you want to become a blogger, just follow my guide here.