Are you tired of earning a fixed income? Does working from 9-5 on fixed terms frustrates you? Maybe you are looking for best freelance services you can offer from home and make money online.
Freelancing is a creative and widespread field adopted by millions of people who prefer to work from home. Are you one such creative soul who has a passion for earning a living income at home? What can I do freelance? Well, there are hundreds and even thousands of freelance services on demand. Freelancing opportunities have greatly increased from the past few years and it just goes on. All it takes to start a freelance job and get paid.
If you want to stay at home and you want to utilize your driving skills for a sustainable freelance business, then I say go ahead!
There is nothing wrong to make some extra cash to maintain financial stability. With every rising day, there are various online freelance jobs available.
And, the competition is killing!
But, everybody is making money by freelance jobs as the marketplace has countless possibilities and opportunities for stay at home individuals. You may also ask, what is the best website to get started as a freelancer? If you're a complete beginner freelancer, you can start with these freelance websites.
However, there are tons of other sites in different categories to offer your freelance service and get paid.
Whether you are a retired individual, a fresh student or a stay-at-home mommy, freelancing can help you make money at home. If you are a passionate and skillful person who is willing to work on daily hours then this is a win-win scenario for you.
Eager to know more about it?
That's great. It's an online service you can offer from home in exchange for getting paid.
The good thing is, you can offer legit and real freelance services in your comfort hours. You just need a laptop and a reliable internet connection. That's it.
However, if you are women who is looking to start a business or maybe, consider starting a freelancing career then check out this post on 71 best business ideas for women. This article has so many business ideas for women. Worth checking out.
What type of freelance service to offer?
From writing, designing, teaching, transcribing, consulting, illustrating, recording, film making – there are endless things you can do freelance. It all starts with what you're interested in.
Take my example.
Other than blogger, I'm a freelance writer too. I used to write articles, blog posts and web content for my clients. One always needs additional income to meet several expenses.
Why don't you do that too?
You can start writing for clients and become a freelance writer.
You can also start submitting articles for online publishing sites.
Similarly, you can do a variety of freelance jobs from anywhere in this world. All you get access is an internet and a laptop.
Before you take a look at different freelance online services, I would also like to guide you with legal advice!
Whether you work as a freelancer or an independent individual – you must follow legal laws to avoid any legal complexities against your freelance career.
This is why I recommend having an Independent Contract with you!
As a freelancer or virtual assistant, you need to make sure you are paid on time and can retain ownership rights to the intellectual property you create but are you sure if ALL your financial and legal interests are fully protected?
An independent contractor agreement will help to safeguard your business and financial interests. This pre-made template is written by a professional lawyer, and also comes with 3 additional bonuses. It's quickly and easily customizable. All you need is to enter your name, and other details to make it work for your freelancing career.
<<Get your independent contract agreement>>
Do you want to experience the perks of freelancing?
Let's find out what freelance services you can offer from home.
27 Profitable Freelance Services To Make Money in 2023
It's not too risky to try your hands at various freelance online jobs. I'm sure you can choose an appropriate freelance service according to your skills.
Resource: Head over to UDEMY
for learning new freelancing skills. This site has multiple free and paid courses to help you build a strong freelance career from scratch. Even, courses of $200 often go on sale for just $10 or $15. Isn't that great?
Some of the links in the post are affiliate links. If you click and make a purchase through these links, I make a small commission for that. But, I only recommend products and services that I use on my blog or have tested myself. For more, read my full disclosure here.
1- Web Design
If you have creative skills in designing or redesigning websites then you can apply to become a freelance web designer. Your capabilities and tangible skills can help you pursue a full-time career and earn enough money from home.
Freelance Web designers are damn lucky to get money-making opportunities online. It's one of the creative fields where clients hire designers for creating pretty websites. Are you one among them? If your answer is YES, chances are that you can make a decent income from home.
Websites like Fiverr and Flexjobs give great opportunities for new freelancers.
2- Freelance Writing
Shout out to all freelance writers who are making a living income from home! Since I'm a freelance writer I absolutely enjoy the benefits of freelancing.
A huge number of blogs on the internet have an online business which makes them money.
Want to be one freelance writer?
Let's see what skills you need to have before you can pursue freelance writing as a full-time job from home. Forgot to mention, working hours are yours!
Good command on the English language.
Writing skills.
Efficient at online search.
Must type fast. (It's okay if you have a slow speed, you can improve with time)
I'm sure you have strong capabilities inside you. This is the time to unleash them.
In an effort to become a successful freelance writer, you need to pitch cold emails, apply on job boards and start writing for them.
This guide on Tips To Finally Get Your Freelance Writing Off The Ground is perfect for freelancers who are looking to start their freelance career and get clients.


Where to find Freelance Writing Jobs?
There are so many places to find jobs but you should only invest your time, and places where you get legitimate jobs.
Some go-to places are;
Flexjobs – If you want legitimate jobs at home then definitely use Flexjobs. It's the best job portal for part-time, remote and freelance jobs in more than 50 categories. It does not just provide job opportunities in freelance writing category but it offer dozens of other jobs.<<AVAIL 50% OFF ON FLEXJOBS PLANS>>

Fiverr – Fiverr is fit for web designers, writers and graphic designers who are looking for small jobs.

Upwork – Is Upwork worth it? Upwork is a popular job board and talend platform where you can find top rated freelance jobs and talent to work with.

Freelancer – This is another popular freelance service marketplace.
3- Web Development
If you have a knack for web development and have a better understanding of programming etc then you are on the right track. It's more like a technical term where a developer needs to know about coding needed to create websites.
In the world of freelancing, web developers are always high in demand. They can actually make good prices from home.
According to these statistics, 'Software developers and coders also have the potential to earn up to $1,000 USD per hour'.
4- Freelance Blogger
Does the idea of becoming a freelance blogger interest you?
You will absolutely love blogging if you are passionate about it. Blogging is not just about writing. It is a pool of creative elements, ideas, content, promotions, blogging communities, social media, emails, etc.
In any case, freelancing blogging can also make you earn money from home. You can monetize your blog using ad networks, affiliate links, and digital products to sell. There are so many ways how bloggers make money!
A lot of bloggers online earn living income through full-time blogging.
You can also read how this mom blogger started making money with different income streams!
Blogging is amazing! Why?
You decide what to do and when
You're the only boss
Your ideas, creativity, and thoughts
Work from home at any location
Less or minimum expense
Flexibility and freedom
Networking with other bloggers
Exposure to money making opportunities
Whether you're a stay at home, teenager, working professional or a retired dad – you can start a blog and make money blogging!
If you're interested in learning how to blog, check out my comprehensive blogging guide to create your own blog! I followed this exact guide to launch this blog, and now I make money from blogging.
5- Business Coaching
Are you an online coach who can provide a framework for business-minded individuals? People look for coaching professionals who give proven strategies, ideas and platforms to kickstart their business.
Whether you are a retired businessman or a professional coach you can offer a freelance service from home. Business coaches earn a handsome amount by clients.
6- Social media coordinator
All online entrepreneurs and business companies have social media accounts. Who doesn't own a social media presence in this era of the digital world?
What do you need to become a Freelance Social Media Manager?
Have knowledge of the latest social media strategies.
Know how to implement those strategies perfectly.
Have a better understanding of automation tools.
Manage social media pages and accounts.
Should have excellent communication skills.
Study analytics of the posts etc.
Deal with audience engagement.
Should be creative to curate content for social media posts.
If you think handling social media accounts is your nature of expertise then this is good for you. Depending on the freelancer's experience, he/she can actually make more than $30/hour.
Interested in making money online?
I highly recommend starting with these 10 legitimate ways to make money online!
7- Marketing Services
Freelance Marketers have one of the highest-paying jobs. If a proficient marketer has appropriate experience in the industry then there's the never-ending scope of new projects.
Clients hire marketers to formulate brand strategies, creating successful campaigns and managing relationships with clients. The marketers are asked to implement a productive marketing system to meet client's marketing needs. Jobs like marketing manager, project manager, and marketing coordinator can help freelancers earn more than $42 per hour.
8- Blog Posting
With over a million blogs online there is an increase in demand for blog posting. Successful bloggers and online websites hire freelancers to do the backend work. Blog posting requires basic guidelines for providing the content, insert images, mention tags and titles.
It's an easy job for stay-at-home dads and moms too. It can be done within minutes. Freelancers at home can make extra income by spending an hour. Isn't that great?
Helpful read: How Do Bloggers Get Paid To Blogging?
9- Editing and Proofreading
Self-publishing has increased demand in freelance editors and proofreaders. Jobs like copy editors and proofreaders feature an estimated earning of $20 – $40 hourly.
What do you need to have?
Editing Skills
Few editing jobs under your belt
Good proofreading speed
Samples for clients
A reference from a writer is a plus
You can still apply for a freelance copy-editor if you are a beginner. Make sure, you have been taught by a mentor or have taken editing classes before.
10- Graphic Designing
Can you think out of the box and create spectacular graphics?
If you have a knack for graphic designing then becoming a freelance designer can be a smooth challenge for you. Your overseeing talent and experience can make you earn money from home. To grab this opportunity, you need to have experience with Illustrator, Photoshop, etc.
Freelance graphic designers have great scope online. They can earn a steady income from home. Depending on their artistic work and level of experience freelancing can make them earn from $30 – $150 per hour.
You can apply to Fiverr, and get your first job.
11- Internet Research
Can you do more than just quoting Wikipedia?
Is web research your expertise? People who are quick in finding instant web pages can make good cash while sitting at home. All you need is just a powerful internet connection and a fast research speed. Freelance web researchers are paid to find crucial information online.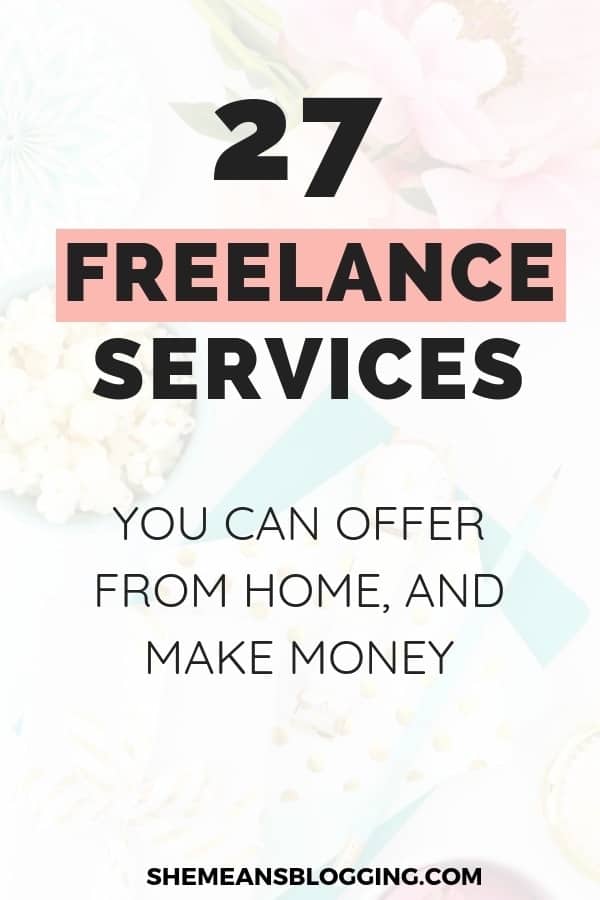 12- Content Marketing
Okay, what skills you need to have to become a freelance content marketer?
You should;
Have a strategic marketing approach.
Responsible for planning content.
Know how to create perfect content.
understand content creation strategies to convert readers.
Have a complete grip on relevant, consistent and valuable content.
Distribute the content well.
Have tactics to convert visitors into potential buyers.
Be a king of social media.
Are you extremely smart in the above techniques?
If your answer is YES then chances are that you can earn an attractive hourly rate from working at home.
13- Copywriter
Do you have a voice? Here, I mean a copywriter's voice.
Copywriters are required to be quick learners and versatile individuals. They have to work on a client's agenda. If you are quick at working with words on a daily basis from home then you can be a freelance copywriter.
A freelance copywriter's job is not just writing copies. He/She should be smart in writing blog posts, white papers, Case studies, social media posts, industry reports, and website copies.
14- Accounting (Bookkeeping)
Small businesses often need freelance accountants or bookkeepers to handle financial accounts. The reason small companies hire freelancers because it eventually saves their office expenses.
With a rapid rise in freelance employment opportunities, there is a wide space for accountants who can maintain financial statements at home.
15- Email Marketing
Are you good in email communication?
As a freelance email marketer, your job is to build a customer's loyalty and trust in a business organization through emails. You will need to have strong email marketing skills to sell out a product. Your job will include using emails to send business promotions, advertisements and solicit sales.
Clients hire email marketers to create strategic email campaigns, building an email list, utilizing tools and bringing productive outputs.
Ever thought that email marketing is one of the best freelance services?
16- Ebook Writing
Yes, you read it right. You can be a freelance ebook writer to make a living income from home. It can be a really good side income hustle. Ever thought about that?
If writing ebook interests you then you should be ready to dig into ebook writing services. A number of online businesses need Ebooks as the lead incentive and they need writers.
The best thing about writing an Ebook is that it can make you earn a good total of at least $300 or more. It usually depends on the topic and the valuable information you've provided in the book. A well-written Ebook also has charts, research, case studies, and interviews.
You can also read this post on how this blogger makes money by selling ebooks.
17- Comic Artist
Have you ever loved drawing?
Okay, do you have skills for becoming a freelance comic book artist?
It's not that difficult. All you need is a strong portfolio to impress your clients. If you can draw well and absolutely well then there is nothing to stop you from work from home. The best thing about being a comic artist is that he can draw consistently for hours and hours while listening to music on headphones or watching movies.
Finding an ideal client for any freelance work or business can be a lot of struggle. My friend Angela, a creative illustrator and a comic artist, has shared brilliant tips to gain clients in multiple ways.
18- Translators
Do you speak different languages and have command over multiple languages?
Why not become a freelance translator. It's a well-paid freelance job that can help you make money online from home.
Several companies, authors, and institutions need translators to translate the content. It helps businesses to have more sales and bring customers. Upwork is one of the top freelance marketplaces to get translations jobs at good rates.
Translating scripts is undoubtely one of the best freelance services across the world. If you are not living in a native english speaking country but you know english then it's a high chance that you can make a lot of money by becoming a translator.
19- Teaching?Tutoring
This might sounds new to you too. Online tutoring is the freelance field introduced for teaching students online. If you love teaching and have a background in education then you can be an online tutor.
Where to find freelance jobs for tutors?
There are few sites like buddyschool and tutor where you can sign up to teach students online. This way you can earn a good income from home. To avail this job, you need to have a quiet area to teach.
20- SEO Consultant
Growing businesses acquire SEO services to generate better results for their websites. Leading companies require latest Search Engine Optimization Strategies to implement on their websites to beat competitors and obtain a sustainable online business. If you can offer such extensive services then you are gold! These freelance consultants can get higher hourly rates.
If you can offer such extensive services then you are gold!
These freelance consultants usually get higher hourly rates.
21- Audio Transcription
Need a flexible job at home?
You could become an audio transcriptionist. It's a simple job. Anyone who has good listening skills can do it with ease. Freelancers are required to listen to a certain audio file and type the content.
All you need is a reliable internet connection and a laptop to get started with freelance transcription job. The least a freelance can earn is $20 per hour.
22- Branding Services
What is a brand?
A brand is a creative image of a product or service that provides an identity to consumers. Small businesses need branding services to stand out among other companies.
If you are good at visual representations, colors, objects, and themes then you can be provide branding services from home. Freelancers can search for jobs online or create a professional portfolio to connect with clients.
Looking for more best freelance services that you can do from home?
Keep reading…
23- Logo Designing
Is logo designing your creativity?
Do you think you are just way good in designing logos for businesses, companies, and organizations?
I assume your answer is YES then you can expect a fairly good freelance income. Even if you are a beginner and have no experience, you can still try with freelance job sites like Fiverr, people per hour to get started and earn some experience. With time, you can create your own services.
You can even use a simple tool like Canva to design logos.
24- Virtual Assistant
Becoming a virtual assistant is a tough job but it's worth doing for. Nowadays, virtual assistants are in high demand. The responsible individual is a self-employed personal assistant who works from home for several clients.
If you want to start offering a freelance service, then simply learn how to become a virtual assistant to earn $25/hour or more.
Small businesses are now hiring freelance assistants who work remotely. In that case, freelancers are hired for weekly hours and receive good pay rate per hour. The tasks that underlie the category of a virtual assistant may vary from blog management, emails, making presentations, managing social media, schedule the meetings etc. VA can handle a variety of tasks.
If you are ready to become a VA then be ready to get a secure income too.
25- Data Entry
The job of a data entry operator is to input the data into a company's system. The data entry job also covers typists, word processors, coders, clerks, and transcribers.
You don't need to have great skills to become a freelance data entry operator. If you know the basics of excel and have an understanding of the job of a clerk then you can earn an amount per entry or per hour from home.
Related ==> Do you struggle to reach out new clients? Here are 5 budget friendly tips to get new freelance clients
26- Photography
Does taking pretty photographs interests you?
You know what! You can pursue freelance photography as a side business. If photography is your passion or you have studied the techniques then you can start working from home.
Your struggle is to get clients and take contracts. These days girls and women are being successful in multiple event photographies. People look for reasonable freelance photographers for small events like birthdays, festive, anniversaries, weddings, baby showers, bridal showers, and newborn celebrations etc.
If you have an attractive eye for swanky and feminine images for lady entrepreneurs you can make money per picture. Even you could start a stock photography subscription service!
How to get started?
Start your photography site on SMUGMUG. You can simply create an account and upload all your high-quality photos. For more, check out how smugmug works for photographers.
Let me tell you about a super helpful resource!
Are you looking to start a side hustle and earn significant money? You're thinking of starting a profitable business from home or maybe, offer services. I urge you to check out this 'SIDE HUSTLE' ebook which is written for individuals like moms, dads, adults, teenagers and self employed who wants to start a new side hustle and grow their annual income.
When you get this highly useful ebook, you also get 3 bonuses!
27- Video Editing
When you've decided to opt for freelance work then you should realize your creative skills. If video editing is your expertise then you should consider it seriously.
Microbusinesses hire affordable video editors for the accomplishments of company goals. As a freelance video editor, you can contact clients for video editing, presentations, slides, and visual representation.
28 – Mockup Designer
With demand in digital products, mockup designs are also increasing. Many businesses need mockups to sell their products. It's one of the essential marketing asset for promoting any product online.
If someone has a t-shirt business, they need mockup images for shirts.
Similarly, there are mockups for all digital products. For example, ebooks, courses, templates, etc.
If you have designing skills then be a mockup designer.
29- Pinterest Virtual Assistant
Pinterest marketing is a whole new subject now. If you have learned about using Pinterest and have a solid command over it then use your skill.
I would love to do Pinterest marketing as a side business to earn extra money from home!
You can start with taking some courses on that. Courses are so helpful! Even if you are new, you can charge about $200+ to manage an account. I think this is one of best freelance services in demand these days.
Related ==> 15+ Tips To Work From Home & Get Productive
30- Social Media Manager
What about social media manager? Do you have social media marketing skills? If you have learned marketing then it can be your freelance job from home.
You can work from home.
You can work for a fixed hours.
There are different tasks for a social media marketing manager. You have to plan content, create content and schedule that content. It's not just about content, you will need to market a brand on social media. It's not an easy job but a great idea to make money from home.
Related Post for People Who Work From Home;
=> 13 best home office essentials for ideal workspace at home

=> The list of best laptops for blogging
Top Freelance Services In Demand – You Got Ideas?
Now that you know what are some freelance services you can offer from home, let's find out what are some freelance sites for beginners to get started, and win their first job.
I would suggest reading this post to get 27+ best freelance job sites for beginners.
Isn't offering freelancing a great way to earn money?
I completely think so. You have to put little efforts for getting contracts or building a relationship with a client but eventually, it'll bring you a consistent income from home.
What would you like to suggest some other ideas to work from home? Feel free to share in the comments.
Just a favor – Please share this post.