Most amateur bloggers make mistakes. When you are new to blogging, chances are that you will make a couple of blogging mistakes in the excitement of launching a new blog and keep it running. Just like people start a new job, they mess things up. And, it's easy to make blogging mistakes in the beginning because you're unaware of things that are fundamentals of successful blogging.
Know that we all make silly and some serious mistakes!
No matter how efficient you are, things get screwed up easily with a blog. I have personally made countless mistakes in blogging, and have missed multiple opportunities in the first year of blogging. That's the main reason I don't want you to stress over those beginner blogging mistakes after months you start a blog.
Some links in this post are affiliate links. That means if you make a purchase through affiliate links, I make a small commission at no extra cost to you.
The Big Blogging Mistakes by Amateur Bloggers
I see many amateur bloggers are guilty of making basic mistakes when they start a new blog. I wanted to make it clear so that you know what you might miss if you're guilty of making these blogging mistakes too.
Relying on a Free hosting service
Many bloggers have been blogging from years without knowing the fact that they can make money from their blogs while writing on weekends. A lot of new bloggers are tempted to start a blog on free blogging platforms like wordpress.com. However, starting a self-host is also cheap.
Here's a comprehensive post on how to start a self-hosted WordPress blog.


When you're blogging on free platforms, you don't even own your own domain. That means your blog looks like 'myblogname.wordpress.com' whereas when you go self-host and purchase your own domain, your URL address will look 'myblogname.com'.

Limited freedom for monetization
You have little to no freedom on free platforms like wordpress.com or wix.com etc. You cannot display ads, and make money from ads. You cannot sell your own products etc.
Related: Wordpress.com vs wordpress.org – What to choose?

Almost No customer support
When you're into blogging, know that there are always some issues to deal with. It can be some technical errors too. When you're on free platforms, you almost got no one to contact.
However, when you go self-hosted, your hosting company is at your service for 24 hrs. You can literally just open a live chat, and ask anything. And, they will probably solve your issue within minutes.

Whether you're starting out as a blogger, entrepreneur or an online business owner, you must have proper legal pages on your website. That's how you protect your blog online. Legal pages that include a privacy policy, disclosure and terms & condition templates are VERY important for bloggers. Make sure to create these pages on your website at first! Many bloggers and biz owners get stuck at what to write on these pages, and how to ensure that your blog is legally protected. That's why pre-made legal templates are available. Check out the legal bundle by a lawyer.
I also recommend understanding and following the legal terms of blogging. Amira, a practicing lawyer, and business coach has written a beginner legal guide for bloggers. Must-read post! This post will help you walk you through how to protect your blog legally.

Another big mistake blogger make is using a slow and low-performance theme on their blogs. Even if you go self-hosted, you need a fast professional theme. They don't realize but some themes actually make your site irresponsive and give a bad user experience.
Learn here's why bloggers should invest in a premium wordpress theme.

Many new bloggers use fancy fonts on their sites. They do look beautiful but are usually hard to read. Such fonts keep readers away from your site, and people hardly come back because they find it hard to read. Always use simple fonts like Google fonts.
Do you have a blog yet? Are you excited to start your own blog, build an audience and become a boss? My comprehensive blogging guide teaches everything to help you get started with a brand new blog, and make blogging possible!
Now,
Let's find out what other mistakes bloggers make.
13 Blogging Mistakes Every Amateur Blogger Makes
To help you get started on the right foot, here are other 11 common blogging mistakes you should be aware of.
1. Writing without a Clear Blog Strategy and a Target Audience
You started a blog, and now, you're just writing on any topic that interests you. But, what if your readers are looking for something else? What if you could provide more in your blog posts?
When you've no strategy, and goal to support your vision, your content fails to deliver. Nobody comes to your blog for more posts, because they feel your content is about everything and they don't know whether you will cover topics that interest to your audience.
How to fix this blogging mistake?
Develop a content strategy for your blog. It should include your audience problems, solutions to a problem, their interests, your experience, and skills. If more, you should also have a content marketing plan.
Write evergreen content that are designed for your ideal readers.
2. Having a Lazy Posting Schedule
Are you not following a schedule to post on your blog? You're also making a common blogging mistake!
What happens is that amateur bloggers get too excited when they launch their blogs. They write posts every day, or even thrice a week to engage their audience. As soon as they get unmotivated, they stop writing. They don't even bother to check their blog, and then they disappointed with their results.
But, have you ever asked, 'are you consistent'? Why have you stopped publishing on your blog?
Always have a posting schedule. Let it be once in a week, or twice in a week, set a time aside for your blog. Trust me, it's so important to obtain consistency in blogging.
3. Have No Blogging Goals
I know that many new bloggers are scared of creating goals that are hard to accomplish. Why not set minor goals for your blog? It helps you to stay motivated, and consistent.
Even if you're blogging part-time, you should set goals. Ask yourself where do you want to see your blog grow in the next three months? When you've goals, you create a more clear picture and it makes it easy for you to prepare an action plan.
Related post; How To Set Achievable Blogging Goals
4- Your Blog Post isn't Formatted
Do you use H1 tags when you write blog posts?
What about white space?
And, do you add subheadings in your blog posts?
All these little things make a blog post easy to read because if you don't do it, a majority of people will just scan your blog post and leave the site.
And, you don't want this to happen!
Format your blog posts, and use short paragraphs which makes a blog post easy to read and digest. If you use WordPress, it's so simple to use headings and subheadings. This post from Successful blogging explains 16 rules for blog writing.

5. Not Using Images
Are you guilty of posting only text content on your blog?
What?
We all love seeing images on websites, blogs, and social media. Images in blog posts help readers get engaged. New bloggers find it hard to collect images, and then adding it into their posts. I do believe that it takes extra minutes but it's worth doing. Also make sure that you also learn about optimizing blog images for SEO. That's equally important.
What you can do is to save a collection of images from free stock sites like unsplash, pexels etc. But, some free sites don't have those beautiful images that we see on websites, and blogs. Images are so important to create a gorgeous library for your audience. As a blogger, you need stunning photos for designing social media graphics, pins, banners, announcements etc.
The more unique your picture is, the more it attracts.
Here are few places to get high-quality stock images;
1 – ShutterStock – I love their images! They are super gorgeous and are of high-quality. You will not find these images anywhere else. You can also choose a suitable plan to buy stock photos.
2- DepositPhotos– If you want to hand-pick photos then you would love depositphotos. They are so popular.
3- Check out these feminine stock photos sites.
6. You're not Using Social Sharing Buttons
Have you enabled social sharing buttons on your blog? If you're missing this step, you're already losing more readers to your blog.
Imagine, if someone reads your post, found it amazing and is willing to share it with their friends or following and then, find outs, your blog doesn't have sharing buttons.
It's easy to use a plugin, and activate it on your website. Some free options are social warfare, social pug, Sumo me. The free versions allow limited options while pro versions give you advanced features.
Related post: 20 must things to do after installing wordpress on your blog
7. Not Using Google Snalytics
Don't tell me, you don't use Google analytics!
When you start blogging, you also want to pay attention to statistics, audience demographics, high peak times, total sessions, page views etc. For all this, you need a free tool called Google Analytics.
So, in order to get website analytical report – you need google analytics.
Within a few steps, you can simply verify your site, and be prepared to get site reports. Here are 3 free SEO google tools that you must use to grow your blog.
Google analytics is a tool that can wonder for your blog performance. It helps to figure out the best-performing pages, and how you can improve those pages. It determines what pages are slowing your site. In this post, Neil Patel discusses awesome google analytics features.
If you're starting out, this post from wpbeginner shows how to install a Google analytics.
8. You don't Have an Email List
Tell me…
Do you have an email list for your blog?
Have you ever thought of creating an email list to speak to your loyal fans?
Email marketing is huge! Though social media is fast and this is where the message circulates easily but emails are still effective. If you have a blog and you want to turn it into a business in future then having an email list is crucially important.
To help my blogger friends, I have discussed all the profitable reasons why bloggers should create an email list from the beginning.
"Your email list is going to be your highest converting traffic channel." – Neil Patel
I know that building an email list sounds too much but it's ridiculously easy!
Speaking of my personal experience, I had quite fun when I started sending emails to my followers. They read it, send me replies, and I'm so happy with it! I know what my readers are looking for, and how easily I can give them resources and tips through an email.
If you're a new blogger or you don't have a big budget, simply read this post how to start an email list for free. This post teaches you everything to build an email list from the beginning.
9. Not Being Authentic
You're making a big blogging mistake if you're not authentic to your readers! Even if you are an amateur blogger, you must build trust with your readers.
Now, there's fierce competition online. Almost every niche is crowded, and people are starting blogs and online businesses every day. You need to show yourself a genuine person to build a following. Your readers want a trusted person to share their experiences.
And, don't ever think of misguiding readers with false or bogus information. Readers are more informed than you.
You try to go for perfection in blog posts.
I need to confess that this is something I also struggle with. But, I am working on this!
In blogging, it's NOT only about content. There's so much into it and as a solo blogger, you need to do a lot of tasks at the same time.
Many new bloggers make this mistake too.
Do not put yourself into perfection every time. Just try to make the most out of your time, and keep posting awesome content.
10. Lack of Organization
When you blog, you are actually doing a bunch of things at the same time.
You have to publish posts.
It's required to add images.
You are required to design social media images and pins.
Content marketing is definitely important.
You need to come up with ideas for your blog, Instagram, facebook etc.
But, what about organizing the work?
It's easy to get overwhelmed with all the tasks. The easiest way is to get organized and be sure how you're going to tackle things.
What you can do?
Always plan ahead and use notebooks to keep your ideas.
Use a digital planner like Slayyourgoals to keep track on your goals, and performance
Editorial calendar for keeping a schedule
Use free tools like Trello or Asana
11. You Concentrate Too Much on Traffic Numbers (It's a big one)
If you're a new blogger, chances are that you check your analytics every day.
Most likely single day or even every other hour.
It's one of the common yet big beginner blogging mistakes that a number of bloggers make.
However, it's obvious that we want to see how our posts are performing, but you should not get affected by the results you get in the starting months.
If you are unsure why your blog is not growing then I highly recommend reading this post on why your blog is not getting traffic. It outlines all possible reasons your blog gets no traffic, and what you can do about it!
When you're starting out, keep your focus on goals and plans. There will be days or months when you will have high traffic and then, there can be days with low traffic. Instead of stressing over numbers, just work on the monthly goals. Write more content, and learn to promote.
Put your energy in growing your blog rather than counting every follower you gain.
Trust me, you'll learn with this time but it's important to just pay concentration to your blogging goals.
Many new bloggers waste hours in just thinking why their blogs is not growing or why they didn't hit 500 followers. My best advice is to make a plan in how you get those 500 followers, and put your 100%. Read content on how to get 500 followers. Soon, you will see how things are working!
Instead of paying attention to numbers, put your focus on content, marketing and strategies.
I repeat.
Do not fret over numbers!
Set a goal, prepare a plan and hit it hard. Then, what? Celebrate 😀
Related posts;
How To Get 0-1000 daily visitors to your blog?
How I get 23,000 page views to my blog every month
7 Ways To Increase Blog Traffic Fast
If you are interested to build website traffic, then my latest 150+ pages ebook is a complete course! It has 7 detailed chapters and also, covers different traffic channels for bloggers.
12. You're Afraid to Invest Money
I know that many amateur bloggers are scared of investing and they might feel what if they fail? What if they don't have enough money?
What if they don't know where to invest?
Know that if you want to make money from your blog, and turn it into a business – you need to invest!
Let it be investing in a small tool or an expensive course, it is for your blog growth.
Start spending a smaller amount every month. For instance, buy an ebook to learn in advance about something. Buy pre-made templates. Use a new paid tool.
I even did a whole post on this.
20 Small Things To Invest In Your Blog For Less Than $100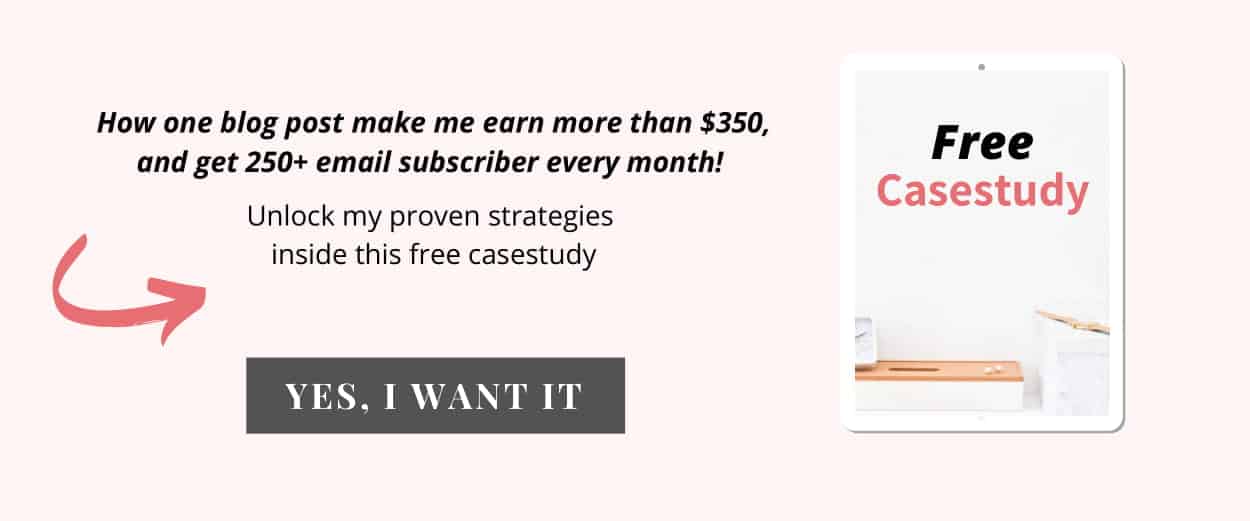 13. You don't Pay Attention to SEO
You must be making a big blogging mistake if you're not optimizing your website.
SEO – this one is big!
I see many new bloggers don't understand SEO at all, and they even don't want to go in detail. They find it complicated and even hard to optimize their website for search rankings.
Speaking of my personal experience, search engine optimization is not as complicated as we think! I don't say it's a piece of cake, but you can learn the basics all on your own.
When your blog posts are keyword optimized, you start gaining organic traffic from search engines like Google. You don't need to promote every day to get 50 page views.
I would highly suggest doing SEO for your blog posts. This post covers all the basics you should know as a beginner blogger.
Not just keywords, there are other important things to increase your website rankings.
Here's a monster guide to teaching you how to get organic traffic from Google.
Some big mistakes, right?
Start fixing those amateur blogging mistakes so that you start growing your blog in the beginning stage.
Also, know that everybody makes mistakes in blogging or the online business world. The best thing is to identify such blogging mistakes and grow faster.
Now, you have to tell me,
What are some beginner blogging mistakes you made in the blogging career?
No matter how small it is, I would love to get your feedback.