This post is updating every day with new deals and dates. Bookmark this page so that you can come later for 2022 black Friday deals for bloggers.
Have you been waiting to save money, and avail of black Friday deals? It's almost the end of 2022, and we can't wait to start a refreshing 2023 with new year goals, and intentions. Black Friday deals for bloggers and biz owners are right here!
But, before we enter in 2023, it's peak time to avail of the massive discount of Black Friday deals 2022.
Whether it's about doing shopping, home improvement, buying accessories or even investing in your online business, this is the time to take a closer look at the Black Friday sales.
And, who isn't excited about it?
Trust me, you are going to find every Black Friday Deal inside this post. Save yourself some money and discounts!
Just to let you know, I've already ordered my shopping hauls on discount prices and can't wait to wear them! 😀
Let's look at some best discounts that are only available for a couple of hours.
If you are planning to buy some gifts for bloggers and Instagrammers, you are going to love these ideas below;
20+ Useful Gift Ideas For Bloggers – A practical gift guide
22 best Gift Ideas For Instagram Influencers
10 Best Business Books For Entrepreneurs And Bloggers
Don't miss this time.
2022 Black Friday Deals For Bloggers And Business Owners
This post includes affiliate links which means I make a commission if you purchase through my links at no extra cost to you. I also need to mention that I only promote products I have personally used or reviewed.
Many bloggers want to spend money on hosting, or themes or even any course but their pocket couldn't really afford it. This is why discounts or deals like Black Friday are massive and everyone keeps an eye on to it.
It's no lie that a blog or business needs investment.
Let it be an online tool, hosting or anything that helps to automate your blog or business. There can be products you've been keeping your eye at, but of course, we don't buy everything we see. This black friday deals for bloggers and entrepreneurs is full with huge discounts on almost everything you need to grow, launch your online business.
What Type of Holiday Deals are Included?
Save up to 50% on these offers;
Website Hosting
Legal Templates
Email Marketing Tools
Website Themes
Graphic assets
Digital Products
Podcasts
Yearly subscription
Courses, Ebooks, Planners
Templates
Stock Images
WordPress plugins
Flexjobs discount
It's the perfect time to save money, and enjoy discounts at your wish list items.
Note: Some deals are only available after 22th November! So make sure you bookmark this post and visit it every day or Nov 24 for the complete list. Some discounts are only available for 24 hours.
Many deals are already live and on major discounts.
This roundup includes;
Bluehost discount – Hosting
Cloudways – hosting
WP Engine – hosting
Email tools discounts
Studiopress themes – Themes
Subscription Sites – Flexjobs, Envato
Canva Lead Magnet Templates – Templates
Elegant themes discount – Themes
Blogging Courses
Blogging tools
Slay your goals planner BOGO – Planner
Bluchic themes – Themes
DIVI black Friday sale – themes
Ebooks – 40%
Courses – 40%
Stock Photos
Digital Products
Here, we go! Enjoy the HUGE discounts before the deal goes away. Check out all 2022 black friday deals for bloggers here.
Top 2 Blogging Courses
Serious bloggers and business owners are always willing to invest their money and time into right blogging education. This is what I genuinely believe in!
You learn and then, implement. Results will be faster and satisfactory! Two of my most favourite blogging courses are offering black friday deals and I am excited to share about it.
Matt Diggity is one of the reknown expert and the creator of 'Affiliate Lab'. If you want to make more affiliate commissions and learn everything about ranking, monetizing and flipping websites then there is no better investment than this course.
This is an ultimate course for bloggers, and business owners. Hands down the best course! Matt intends to increase price in coming months and after this black friday, the course will revert back to original price of $997. That's 50% savings.
When you enrol in this course, you will get;
=> 24+ Hours of training: 160 Videos that teach niche selection, keyword research…everything you need to know to dominate Google and profit from your sites.
=> Templates & Tools: You get 6 Plug-and-Play templates and tools, the very same I use for my agency. Take the guessing out of your niche selection, get the optimal ratio of anchor text & more.
=> Checklists & SOPs: Checklists & Standard Operating Procedures (SOP). The very same that I use on my own and my client's sites to rank on Google.
=> Exclusive FB Group: Access to the active members-only Facebook Group. Ask any question about SEO and get them answered by me, or other members of the group that have been in the affiliate marketing world for years.
Course #2:
SSSEO Self Study Program
I have been telling every serious blogger about this popular SEO course. My overall perspective about SEO is changed after taking this program. And, organic traffic is a blessing for sure.
This program helps you create your own powerful SEO strategy and slowly, master organic traffic in a matter of few months. It can be faster if you are willing to put more work.
Every training is self-paced and easy to implement. Mike knows the stuff! 🙂
What's Included: The self-study version includes the 4 core modules from the full Stupid Simple SEO course, totaling 65+ videos on keyword research, writing SEO content, on-page SEO, and building backlinks.
Self-Study version of Stupid Simple SEO is for newer bloggers who frankly couldn't justify the financial and time commitment of going through the full VIP program.
Seriously, the BEST INVESTMENT any blogger can make! However, the full program gives access to other bonuses and even, the FB group (which I follow so much). You can check out full VIP program here. I'm part of VIP program though.
You can even pay monthly, if you like or make full payment.
Legal Bundle For Bloggers | Legal Templates
1. Legal Bundle 30%-35% Discount
This deal is already live.
If you don't know already, legal pages are a must-have for your website. As bloggers and businesses, it's so important to protect your business legally and comply with the law. These VIP legal templates are so popular among bloggers, business owners, entrepreneurs and freelancers. Make sure your website complies with all legal laws. Get the pre-made and customizable templates right now at 40% discount.
COUPON CODE : BF2022
Starter Legal Bundle is 40% OFF – This bundle includes all 3 must have legal pages Privacy Policy, Disclaimer and Terms and Conditions templates plus 9 bonuses worth $1175 to comply with the laws and avoid GDPR fines.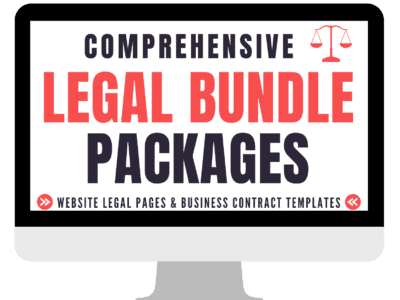 VIP Legal Bundle is 40% OFF (a deal you don't want to miss at all) –
The V.I.P Legal Bundle Package is perfect for bloggers and online entrepreneurs who want the complete legal protection for their business. This bundle also has templates needed to protect you when you start to offer your products and services to others and more! It includes all the 6 templates and 14 bonuses from the Starter & Premium Legal Bundles above PLUS 10 more templates and 2 bonuses (16 templates + 16 bonuses!)
Example: coaching, consulting, product sales, affiliate sales, running giveaways, etc.
I highly recommend to get LEGAL BUNDLES and get all your legal pages ready in less than 15 minutes! Yes, it is that easy.
All other individual legal templates are also 40% off.
But, I would definitely recommend to invest your money in a legal bundle and get your website and online business protected.
Use coupon code 'BF21' to get big discounts. Also, anyone who purchases the bundle during this specific time will also receive ADA compliance bundle for free! ($97 value)
<< Click here to check out legal bundles and discounts >>
Web hosting Black Friday Deals
2. Bluehost Hosting Discount For Black Friday
If you are a beginner and you want to start a new blog, then bluehost is the best choice. It works great and so affordable.
Bluehost black friday deals offers 60% discount on all plans!
Reasons I promote Bluehost;
It's perfect for new bloggers
You can always upgrade the plans
Free domain for one year
Free SSL
Fast cPanel
New intuitive dashboard
WordPress environment with 100s of themes
<<Click to get BLUEHOST BLACK FRIDAY 60% OFF discount today>>
3- Bigscoots Hosting Discount Black Friday
The most recommended hosting for high speed and performance is Bigscoots hosting.
This is the best time to save your money and get a hosting plan that perfectly fits to your website needs.
<< Click here to check out bigscoots hosting >>
4- WPX Hosting Discount Black Friday
WPX hosting has proved to be an excellent website hosting for website owners.
Many bloggers have migrated their websites to wpx hosting.
If you have been considering to pick a great hosting platform then WPX is a great choice!
==> Click here to check out Wpx hosting and pricing at discount
Inmotion hosting is an excellent hosting I truly recommend to bloggers! Maybe you have read about it, or not but I have used it for my own website and I had such a great experience.
Inmotion hosting black friday deals starts from Novemeber 27 to Decemeber 7, 2022.
Get discounts on;
Shared hosting
Managed VPS hosting
Dedicated server hosting
If you have more than 1 website then you surely NOT WANT TO MISS these deals! They are really great.
==> Click To Get Inmotion Hosting Discounts And Deals
A managed cloud hosting program for anyone who is looking for fast website, easy payment solution and unlimited applications. The best thing is that cloudways also offer free migration.
Just tell the 24/7 team and your site will be transferred from old host without breaking your live site.
The best thing is, you pay per month!
The discount is only available from November 21, 2022 to December 1, 2022.
Promo Code: BFCM2022
Offer: 40% OFF on all hosting plans
Validity: November 23 – December 1, 2022
<<Click this link to avail the discount>>
Start with as less as $6/m
Host as many applications you want
Free SSL
Host multiple sites
Automated backups
Pay per month
USE CODE 'BFCM2022' to enjoy 40% off
<<GET CLOUDWAYS HOSTING FOR 40% OFF>>
---
7. WpEngine Black Friday Discount 5 Months Free
On this season, you can get this amazingly discounted offer to get 5 MONTHS FREE on any annual shared plan at WP ENGINE!
We all know that Wp engine is the most solid and powerful hosting solution for bloggers, startups, and businesses. For black Friday and Cyber Monday, you get this HUUUUUGE DISCOUNT to get 5 months free on any annual shared plan.
Get any plan and get 5 months free! That means, you only pay for 7 months and enjoy all the other features including Genesis Framework, Studiopress themes etc.
Get 5 months free on hosting plan
Get 35+ Studiopress themes + Genesis Framework
All features
Sale is LIVE on WP ENGINE.
COUPON CODE = CYBERWKND30
<<CLICK TO GET WPENGINE HOSTING 5 MONTHS FREE>>
8. Hostinger Hosting Discount 80% Black Friday
Get up to 80% discount on Hostinger. If you want to get unlimited websites then Hostinger plans are good to go with. You can take a look at several hosting plans, and choose the best for you!
Use coupon code BF2022
9. NameHero Black Friday Discount
The discounts start from 26th November and it expires on Nov 29, 2021.
For those looking for a high-speed, cloud powered Web Hosting solution, get the biggest discounts here. They will range anywhere from 70% – 85% off.
The web hosting packages are perfect for individuals, small businesses, bloggers, startups, etc. looking for the highest quality web hosting at the best price. The Turbo Cloud package is by far the most popular and what I generally recommend to those looking to buy for the first time.
<<Click here for black friday discount>>
WordPress Themes Black Friday Discount
10. Kadence Theme 40% discount
All time favourite and most popular theme is on 40% discount. Kadence is the most running and strong theme these days. Whether its a food blog, or lifestyle blog, go with Kadence for high speed, SEO, and excellent performance.
It's the most light weight theme with pre-made templates for you to choose.
<<Click here to get 40% off on Kadence PRO>>
11. Elegant Themes Divi Black Friday Sale 25% OFF
The Divi Black Friday deal is LIVE! This is a massive sale that most designers, businesses, developers, and bloggers look up to.
Before the deal goes away, here is your BIG chance to enter free Giveaway, get notified and win Mac Pro! Woot Woot. Visit this link to enter DIVI black friday giveaway
With DIVI THEME, you get to download 87 beautiful WordPress Themes for the price of one, including Divi. Divi is the most popular theme used by several creative business owners, developers, designers, and bloggers. You can also read my complete review to make up your decision.
You have got two options;
==> Save 25% on yearly plan
==> Save 25% on lifetime plan (One-Time Fee)
I would highly recommend you check out the lifetime plan, and save MONEY this year! With that, you also get lifetime support and lifetime updates. Woot woot.
<<BUY YOUR DIVI MEMBERSHIP TODAY AND GET 25% DISCOUNT>>
12. Astra Theme 30% Discount
This deal is valid from November 24 to 30th Nomember
Astra theme is getting popular day by day. It's a perfect theme choice for wordpress websites. It has a free and paid plans.
It's super affordable
Astra theme is fast and reliable. It doesn't slow down your website.
It becomes more Gutenburg friendly. With new releases and free gutenburg templates, you can easily design a website your want
Starter templates to create your new website fast
SEO friendly
Easily customizable
On this black friday, get an exclusive discount upto 40% on Astra theme purchases.
On Agency Plan –> Get 40% discount on Astra Agency Plan
Other purhcases and upgrades –> Get 30% discount on Astra Plans here
13. Bluchic Themes Black Friday Deal 30% off
Are you looking to buy a feminine WordPress theme? You should look at bluchic themes collection! With 30% off, you get these professional and gorgeous themes for just $55.50! (Regular $79)
If you're a business owner or a lady boss, you'll love them!
They have pretty and feminine themes for lady bosses. Every theme has such a unique element to make readers become customers. For Black Friday, they are giving 30% off on every WordPress theme. That's right!
Use Code BC30SALE to avail discount
Here are 2 Bluchic Bundles for you;
My favorite Bluchic's theme recommendations are;
ChicServe Theme – Perfect for female owned service based business
Victoria theme – Compatiable with Woocommerce and perfect for lady bloggers.
Maggie theme – A beautifully designed theme for bloggers, and entrepreneurs who also want to sell products.
Save 30% when you buy your theme today. Don't miss these themes!
<<Click to get Bluchic themes for 30% OFF>>
14. Restored 316 Themes 25% off
Who doesn't love restored 316 themes? This is a perfect place for feminine wordpress themes!
I can easily name a few that you'd love at the first look.
Here are some beautiful themes I love;
Captivate theme
Cultivate theme
Refined theme
<<Click to save 25% on all themes>>
Are you looking for mockups, templates, videos, logos?
I highly suggest you look at this BIG DEAL at Envato Placeit.
It's 50% off on all subscriptions which means only $44.84/year. The sale will run from November 24 to December 1st.
<< Check out Envato Placeit >>
It's 50% OFF on all plans! You are going to love all the templates and mockups.
---
Blogging Tools Black Friday Deals
16. LinkWhisper Black Friday Discount
Get $30 off on Link Whisper this year. Linkwhisper is the top internal link-building tool that makes internal linking faster and stronger. You can identify and add bunch of relevant internal links with just one click.
I explained how I add internal links faster with Linkwhisper in this post too.
The one-time fees for Link whisper is $77 but you can get $30 OFF this season.
Use coupon code 'BlackFriday' at checkout.
The deal goes live on 24th November.
<<Click To Get $30 OFF at checkout>>
17. Lasso Affiliate Plugin (25% Off)
Get an exclusive discount on this popular plugin for affiliate link boxes.
You can create beautiful and high-converting affiliate link boxes. Look at the example below. This plugin is perfect for all blogging websites and specifically, affiliate blogs. You will see an increase in click through rate and more affiliate commissions.
<< Click to claim this deal and 25% off >>
18. LeadPages Landing Page Builder – 50% Off
Want to create high converting landing pages? Start using Leadpages. Create stunning landing pages with hundreds of premium pre-made templates. New customers get 50% discount plus access to new AI headline generator.
<< Click here to claim 50% Off on black friday offer>>
19. Namecheap Upto 99% Off
Namecheap is the best domain registrar. I have always used Namecheap and can't recommend it enough. Their rates are so affordable, and you can even try out other features if you want.
I only suggest Namecheap for buying domains. So, if you wanted to buy a new domain then this is the time! Save some money this season by availing discounts upto 99%.
<<Click to avail 99% off on Namecheap>>
20. Podcastle: Podcast and Storytelling
Podcastle is an all-in-one podcast creation platform that offers studio-quality multi-track audio & video recording, a super intuitive audio editing dashboard, and AI-powered enhancement tools. Our users are largely novice podcast & webinar creators, and they rave about just how simple and professional the platform is for their needs.
<<Get 50% discount on Podcastle>>
21. AmaLinks PRO Black Friday Discount
This deal is only available on black friday days – 26 November 2021 to 30 Nov 2021
Do you want to maximize Amazon affiliate commission? Amalinks Pro is the leading plugin to increase your click-through rates and overall, the amazon affiliate commission.
On Black Friday, you can get 50% discount of this premium plugin.
What does this plugin offer?
Amazon product showcases
Plain text and image links
Custom call to action buttons
Responsive product comparison tables
If you use amazon affiliate links then I highly recommend giving this plugin a try. Use different link types to increase click-through rates. Make comparison tables and save your time.
==> Click this link to get 50% on AmalinksPRO
22. TailwindApp Black Friday Discount
Starting 22nd November, enjoy up to 50% discount on all Tailwind annual plans. Now, you can create, design and schedule social media posts with Tailwind.
If you use Instagram and Pinterest then Tailwind is your tool.
=> Click here to get BF discount
23. WPRocket Cache Plugin Black Friday Deal – 30% discount
This deal is valid from November 21 to 30th November
Do you have a wordpress cache plugin enabled on your website? WProcket is the most popular and highly effective plugin to speed up your website. I use Wprocket and can't recommend it enough!
Every website needs a cache plugin.
Make your website load faster
Compresses files
Cache pages
GZip compression
Ecommerce friendly
On this black friday, get 30% discount on every new license. It's only a single time purchase for 1 year.
<< Get Black Friday Offer On WProcket here >>
24. Freshbooks 60% off
Looking for an accouting software to make your business easy, and flexible? Now, you can spend less time on accounting and more on what you love! Freshbooks is offering 60% for next 3 months for black friday after your 30 days trial ends.
This is so cool!
That means, if you skip the 30 day trial period and buy the plan, you are only going to pay $4.50/m!
==> Click to check out all the pricing details here
An offer like this never comes too often so if you are looking for accounting software, send out invoices, handle all your payments then Freshbooks is your choice.
With freshbooks, you can;
Create quick professional invoices
Track expenses
Make payments
Track time for projects
Create financial reports
Accurate calculation of profits and losses
I totally recommend Freshbook because of the amazing features it offers. If you run a small business or a self-employed individual then you should try out Freshbooks and also enjoy 60% off for 3 months after your free trial expires.
This is a great saving!
<<CLICK TO GET FRESHBOOKS DEAL FOR 60% OFF>>
Email Marketing Tools Black Friday Deals
25. Constant Contact 40% Discount – Email Marketing Tool
Constant Contact is leading email marketing tool for online businesses. If you want to migrate from your previous email marketing system or want to build an email list from scratch, Constant Contact is a great tool!
It's recommended by industry's top marketers.
==> Click To Get 40% Discount On Constant Contact
SEO Tools Black Friday Deals
26. Keysearch Keyword Research Tool
The best keyword research tool is also on discount!
If you want to find best keywords for your content then definitely check out Keysearch, if you haven't.
On this black friday, get special 40% discount and pay only $8/m.
I highly recommend you to get this offer! It's amazing.
Use code 'BLACKFRIDAY' to get discount.

==> Click here to get 40% discount on Keysearch
27. SERanking SEO Tool
SE Ranking is an all-in-one SEO and digital marketing platform designed for business owners, SEOs, and digital agencies. The platform excels at keyword rank tracking, but it also offers a complete toolset that helps businesses of all sizes spy on and analyze competitors, run an in-depth on and off-page website audit, find and cluster keywords, keep tabs on backlinks, receive SEO reports on autopilot, and perform many other tasks related to SEO and digital marketing.
This Black Friday, SE Ranking is offering their best deal of the year with 25% off all annual subscription plans via the promo code BLACKFRIDAY2021 at checkout from November 22 to December 6.
Get 25% discount with code 'BLACKFRIDAY2021'
28. SEMRUSH Black Friday Deal
If you get a year Guru plan today, you can add an additional user to your plan for free.
Now a friend can use the same Guru account for free for a whole year and get more stuff done faster.
The number of deals is limited – be sure to get yours!
<<Click here to get black friday discount>>
---
29. Envato Market Place 60% discount
Envato marketplace offers 60% discount on themes, graphic elements, icons and so much more.
Up to 60% Off Themes, Code and Video. No discount code needed.
Start 21st November, 11pm CST – End 30th November 6:59am CST
=> Get 60% off black friday offer
Stock Photos Black Friday Deals
30. Deposit Photos Black Friday Deals $37 – 90% off
This is the best ever deal for stock photo lovers! As a blogger, or business, you need high quality photos for your blog posts, graphics, lead magnets and even ebooks. Deposit Photos are the best photos every blogger loves to use!
What you get?
Access to 100+ million royalty free stock photos and vector images
Use these photos for commercial purposes including graphic designing, social media graphics, ebook covers etc even without attribution
Get 100 credits to use which means 100 stock images
Normally $500, but this deal costs $37
I totally recommend this deal because the credits doesn't expire any soon. Which means you can use your credits anytime you want!
<<CLICK TO GRAB DEPOSIT PHOTOS AT 90% OFF>>
---
The deal starts on 21st november.
If you have seen all those pretty stock photos on my site, it's from PIXISTOCK. I LOVE their photos! They're just perfect for female bloggers, entrepreneurs and businesses. Everytime, I use their stock images on my pins, Pinterest loves it! That's the little dirty-secret I just shared. Oops. Use paid stock photos, not free.
Get Lifetime Membership Access – 50% discount
FOREVER access to over 5000+ stylish photos
1100+ Canva templates, hundreds of quote graphics
Adobe Lightroom presets
100+ photos and graphics added every month.
BONUS : 365+ Day Social Media Content Calendar System
Get Annual Membership Access For 50% off
==>
==> Get lifetime membership for only $597 – THIS IS YOUR LIFETIME INVESTMENT for stock photos.
==> Get Social media content calendar for only $29 – It's 365 days of social media prompts planned out for you.
Annual access to over 3500+ stylish stock photos
1100+ Canva templates + hundreds of quote graphics
Adobe lightroom presets
100+ photos added every month
Bonus : Free 365+ Day Social Media Content Calendar System
<< Check Out All Black Friday Deals For Pixistock Here >>
---
32. Styled Stock Society Photos Black Friday Deal
Styled Stock Society is one of the most beautiful photography subscription site for bloggers, and online biz owners. Their stock photos are brilliant! If you have used any of their photos, you know how gorgeous their collections are.
On this season, you can get40% off Lifetime Membership with code SSS4LIFE at checkout.
I recommend checking out their beautiful site and avail the offer while you can.
The lifetime discount expires on Nov 30, 2021. Use code SSS4LIFE.
33. Canva Templates + Stock Photos
Do you struggle with lead magnets? The design part? I understand that it's not easy to create a professionally designed workbook and give it away as a freebie to your readers.
But, guess what if you have gorgeous templates that make it super easy to design workbooks, checklist, lead magnets and gift guides in only a few minutes? Well, you can do that!
I do use Styled Stock Subscription Library that comes along with thousands of stock photos and a huge digital library. It has workbooks, templates, ebooks, opt-in templates etc.
==> Check out Styled Stock Society For Stock Photos + Templates
==< Check out Pixistock for Stock Photos + Templates
==> Check out IvoryMix Discount For Templates + Stock Photos.
Best Black Friday Deals
34. Pinterest Templates For Bloggers
Do you use Pinterest for your blog or business? You definitely need some professionally designed Pinterest Templates.
#1- 37 Easy Clickable Pinterest Templates For Bloggers
I am offering a flat 30% discount on my newly designed set of Pinterest Templates. Use the code 'holiday30' to save 30% on your purchase.
<< Click here to get 37 clickable Pinterest templates for bloggers >>
Make sure to use 'SMB30OFF' to avail discount!
#2 – Pin Template Starter Kit 50% off
I love this pin template starter kit. This is also a course with tips and tactics to create pinterest templates. It's a set of 35 Pinterest templates that are so easy to use.
I have designed a bunch of Pins using these templates and I am so happy with these.
Click here to get pin template starter kit
---
---
Black Friday Deals On Other Resources
35. Studiopress Themes Pro Package
Studiopress is what top designers, developers and business owners often recommend. It's where you get the popular Genesis Framework with studiopress child themes to make your site look extraordinary, SEO compatible and totally professional. Since I use Genesis Framework and totally love it!
Some popular Studiopress child themes are;
For Black Friday Deals –>
CLICK HERE TO SAVE $100 FOR ALL-PRO PLUS PACKAGE (36 themes with Genesis Framework free)
---
---
Trying hard to get a part-time remote job and earn money from home? Check out this flexjobs black friday discount! Can't recommend enough.
36. FlexJobs up to 67% off – It's live
Flexjobs is the world's leading platform for flexible part-time, and full-time jobs. With Flexjobs, it's easier to find a job that you need.
If you have been keeping an eye on Flexjobs membership then this is the right time to make the decision and it's totally worth it!
Discount: Up to 67% off any FlexJobs membership!
$25 for a year — 50% off!
$15 for 3 months — 50% off!
$5 for a month — 67% off!
Coupon code = Use code FRIDAY to get massive discounts.
<<CLICK TO GET FLEXJOBS MEMBERSHIP AT 67% OFF>>
---
37. Teachable Black Friday Deal – Biggest Discount Ever
The black friday discounts are live!
Teachable is one of the most popular platforms for digital course creators. If you're looking to create and sell a course on teachable then this is the right time to do so. Get a HUGE discount for Black Friday and save tons of money!
If you are planning to create and sell digital courses or products in 2021, then this is your best time to save lots of money!
Basic users can save 14%, $50 off
Pro users can save 37%, $440 off
Business users can save 50%, $1,494 off
This is the ever lowest price by teachable! So, make sure to grab your annual offer, and save money this season.
<<CLICK TO UNLOCK TEACHABLE LOWEST PRICE DEAL>>
---
38. Creative Market 20% Discount on all products
Yay! Creative Market is also having a black Friday sale. Enjoy a 20% discount on any product.
Just go through Creative Market and shop your favorite design elements at 20% off. From website themes to graphic elements, fonts and templates – you can easily find everything on Creative Market.
Coupon code = Use code '000000FRIDAY'
<<CLICK TO GET 20% DISCOUNT ON ALL CREATIVE MARKET'S PRODUCTS>>
---
Black Friday Deals on Digital Products/Courses and Ebooks
This section covers black Friday discounts on my favorite courses and ebooks. Before you check out these amazing black friday deals for bloggers, I also want to be transparent.
The list of black friday deals for bloggers is not complete without discounts on courses, and digital products.
I only recommend you buying courses, or ebooks I've bought, or read. However, all the resources mentioned below, are from other expert bloggers I've known for years. So, I totally recommend checking these out and buy at this super-discounted price.
39. SheMeansBlogging Black Friday Deals For Bloggers
Get 30% discount on all my products.
Just use coupon code 'smb30off' at checkout.
Evergreen Content Strategies Ebook (My ebook on increasing traffic, sales and subscribers)
Have you been closely looking to improve your content to get traffic, sales and subscribers? I understand that!
My comprehensive ebook on evergreen content strategies is on 30% off on this holiday season! When you buy the ebook, you also get a bonus workbook to plan your own strategy.
Plan content that never dies
Learn smart monetisation strategies
Use tactics to grow your email list
Practical tips on turning visitors into subscribers and buyers
Boost your blog traffic with proven tricks
<< Click here to view and order your ebook copy at 30% off >>
Fast Track Your Blog Traffic Ebook – 30% Off
If you want to learn everything about blog traffic hacks then my ebook is everything you need. It outlines great strategies to build massive traffic even if your blog is completely new.
(Use the coupon code 'smb30off' at checkout)
40. SEO Ebooks On Sale
If you want to take your SEO to the next level then I highly recommend buying these ebooks. With $10 off, you can get these for cheap.
Use coupon code = BLACKFRIDAY20 and BLACKFRIDAY30
Get Easy On-Page SEO ebook for 37% OFF – This ebook is all about On-page SEO, and how to optimize your posts for search engines. So easy to digest and easy to read.
Get Easy Backlinks for SEO for 30% OFF – This ebook outlines 31+ ways to build backlinks.
However, if you want to buy both ebooks because they're super helpful and useful then simply get the SEO bundle to get additional discount.
Do you want to buy a SEO course and learn about Google Search console? I highly recommend this course!
Easy SEO Revamp – Get 30% discount with code 'BLACKFRIDAY30'
Affiliate Marketing Compendium – Use BLACKFRIDAY50 for $50 off on this ebook. I have purchased this ebook myself and it's super helpful.
Remember to use the coupon code to get a discount.
41. Domestika Courses Black Friday Offer
Enjoy massive discounts on different categories and courses. You can make your own bundle and get amazing discounts this season.
Black Friday Deal: a brand new 5-course multicategory bundle at US$33.90 only (that means US$ 6.78 per course!)
<<Click Here for Black Friday Bundle Offer>>
42. Ready Set Blog Traffic 50% OFF
Yes yes! It's true.
You can get this highly-popular blog traffic course for a 50% discount. I have always loved to promote Elna's course because it's SUPER useful for anyone who wants more traffic!
This is the perfect easy-to-digest blog traffic course. And, it's 50% OFF.
<<Get 50% off on Ready Set Blog Traffic>>
43. Adventures In Blogging 30% off On All Courses
Lena from Adventures in Blogging is a smart coach. I have taken a few of her products and I really liked that. On Black Friday, you can get 30% on her products that are INSANELY helpful for bloggers.
I have just listed down my favorite ones that you'd like to check out and her new bundle which is 40% off. This is a good time to invest! Check out these best products at 30% off and use code '30DEAL' to avail the discount.
RPM Revamp Challenge: RPM Revamp is going to teach you how to maximize your ad revenue on traffic you already get to your blog. If you are making some money from ads already but want to maximize your income then definitely take this course while it's on SALE.
==> Traffic Transformation Guide: 21 Strategies I Used to Increase My Monthly Page Views from 17k to 400k+ in 10 Months
==> Income Generating Action Task Guide: I love this guide!
==> Income & Traffic Boost Bundle: A bundle of 10 products
Seriously, these are some best products by Lena I often promote on my blog. These will truly help you grow your blog in the right direction. And, they are affordable too. Plus, with 30% discount, it's a steal deal.
44. Pinterest Strategies 2.0
This popular course covers everything about Pinterest and how you can use it to maximise your traffic. Carly's strategies have helped lots of content creators to increase Pinterest traffic.
Currently, she is offering a huge discount on her courses with this bundle.
==> Click here for black friday offer
45. Pinterest Popular Course
My most recommended course 'Pinterest Popular' also goes on 50% discount with code 'BlackFriday'. Get an exclusive discount on this comprehensive course and you will love it.
It's all about MASTERING PINTEREST. You will get every lesson and a beautiful workbook to create your marketing plan for Pinterest.
=> Get the black friday deal here
---
Don't forget to check out some gift ideas for holiday season;
==> 22+ best gift ideas for bloggers

==> 20+ cool gift ideas for Instagram influencers
Black Friday Deals for Bloggers on Amazon
As you might know Amazon offers huge discounts on all items including electronic items, computers, tablets, microphones, digital cameras and so much more!
Whether you are a blogger or work from home, you require essential equipments to work at easy. For example, a fast laptop for blogging. I even shared the 10 best laptops for bloggers in the post.
Some of the best items are on big discount on Amazon!
Best 2022 Black Friday Deals For Bloggers
There, you go!
Big to savings and huge discounts this holiday season.
Come back to this page every day as I will keep announcing the sale as it's announced by the creators. I have the coupon codes and all other details.
So, bookmark this page.
Hurry up!
These 2022 black Friday deals don't last forever.
Check out all the above Black Friday deals for bloggers before they go away!
Invest today, and save money for tomorrow.