The key to successful Pinterest marketing lies in designing Pinterest pins that users love. Do you agree or not? You will learn how to create Pinterest images in this post but let's look at the other side of Pinterest success.
There are always hot discussions on facebook groups about Pinterest weirdness, and sudden traffic avalanche. If you are part of Facebook groups, you already know what I'm talking about.
Posts like, 'Wuhuu! I can't believe my pin went viral. I'm getting about 1000 daily clicks on that one pin. This is unbelievable!'.
Then there are some facebook posts like, 'Pinterest is weird. No matter what I do, my pins don't work. My monthly views on Pinterest are going up but I only get 500 clicks in a month. I feel like giving up on Pinterest. Does anyone else feel the same?'
And, there are hundreds of YES – full of disappointment, demotivation, and sadness.
What do you see in this scenario?
Some people are getting thousands of clicks, while some are not even able to get a few hundred clicks.
How to make it happen?
How to get Pinterest traffic to a website? How do I make Pinterest images? Do pretty pinterest images actually get more clicks? How to make beautiful pinterest pins? What are best pin designing tips?
There are so many questions about Pinterest.
First, I am going to share some seriously effective tips for Pinterest success. Of course, there are so many other things to do too but these 4 tips will continue to help you grow on Pinterest.
Affiliate Disclosure: This article contains affiliate links. If someone makes a purchase through affiliate links, I may earn a small compensation. For more, please read on to privacy policy and disclosure.
4 Golden Nuggets for Successful Pinterest Marketing
Before I share tips to create Pinterest images, here are a few things I want to share with you in all honesty. I know many bloggers feel demotivated when it comes to Pinterest. Some blame algorithms while few admit their inconsistency as a reason for Pinterest failure or bad results.
I'm here to share key points for a successful Pinterest marketing for more traffic and sales.
1- Understanding Pinterest: As a content creator, you first need to know how Pinterest works. It's so important! No matter what you blog about, you need to learn Pinterest first. I would definitely suggest taking a comprehensive course that outlines everything to do.
My recommendation: Pinterest Popular (It's literally the best course created for Pinterest bloggers. You will find everything inside this detailed course. A complete pinning system with a proven strategy. You can check out this course here)
2- Pinterest favors consistency – This is so true! If you keep on adding content to Pinterest, it's a good indicator that your pins are getting noticed. It might take time, but it will. Be consistent on Pinterest. Create pinterest images every alternative day, and add it to pinterest.
3- Pinterest SEO is huge – In 2020, Pinterest will be completely about relevant content and pins that interest users. A user would get a pin that they want! This is my personal observation. But, I do think adding keywords and following all best Pinterest SEO practices is the key.
4- Pinterest images – Remind yourself every day that Pinterest is about visuals. Now, Pinterest has videos too. It's all pictorial.
Your Pinterest images are SO important in getting clicks, and sales. Whether it's about learning how to design pins, or buying Pinterest templates, or even invest in a graphic design tool, don't get scared to invest.
It's an important investment in your Pinterest marketing. If your images are ugly, your profile won't get noticed. That means, no views and no clicks. You don't have to make your pins beautiful every time but ensure that your pins are seen, and are getting attention. Well, that's what I'm going to talk about in this post.
I also figured out how to speed up pin designing process. Here's a new post on 'how to save time creating pinterest pins fast'.
Well, those were my 4 golden nuggets for Pinterest success.
Do you want to learn some pin design tips? Enroll in my FREE Pinterest masterclass to find out 3 Pinterest mistakes and exclusive tips to improve your pins today! Click here to grab your free ticket!
Keep reading for all my tips on designing Pinterest graphics.
How to Create Pinterest images that Stand Out
Now, I want to share the effective tips to design pinterest images that get clicked, and repins.
Many bloggers ask, 'how do I make a Pinterest pin'.
There are many tools for Pinterest images but I use Canva Pro to design my own Pinterest graphics. I'm very happy with it. It's easy, and clean. The best thing is that even if you are a complete newbie, you can easily use canva and design graphics. It's so user-friendly.
And, if you go with Canva pro – it's so much ease with all pro templates, fonts, images and features. Get your free 30-day trial.
I highly recommend you take a trial to use Canva pro because it has unlimited elements, icons, photos and templates! Your pin designs will be more attractive with multiple fonts, and elements.
Creating beautiful Pinterest pins is easy. It may look like a lot of work, but when you keep designing new pins, it gets easier. Just like the first blog post you wrote. You dreaded writing your first every blog post and kept on thinking if somebody would ever read it. And, then it just got better.
I also posted some terrible pin designs to my first few posts. At least, I find them ugly now. And, then, it just got improved. I learned basic image designing. I took some easy to go tutorials, and classes. I even got a few Pinterest templates that were so insanely helpful for my new pins.
I even wrote 7 tips to make your pins go viral on Pinterest. You can bookmark this post for later read as it's going to help you with some other ideas to making viral pins.
You can do that too!
But, most of the time, I love designing my own pins.
I also sell this cute set of 37 easy pinterest templates! I have added some of my best converting pinterest templates in this bundle.
<<Get 37 pinterest templates here>>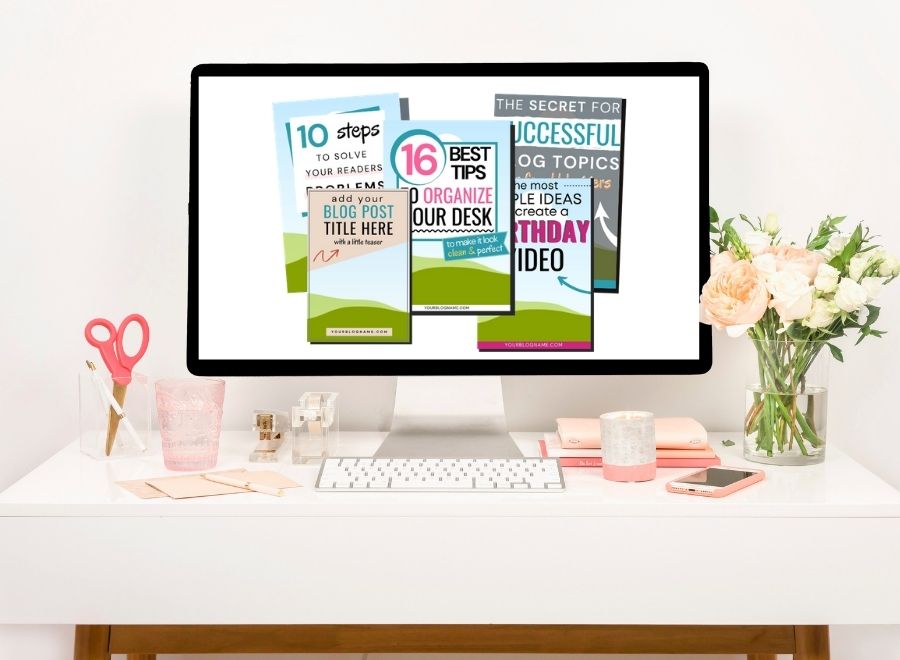 Now, let's find out how to create pinterest pins that get clicks.
27 Tips to Create Pinterest Images Everybody Loves to Click
Now, let's get straight to the number 1 tip for creating Pinterest images for blogs.
1- Use Recommended Pinterest Image Size
Pinterest image size matters. Gone are those days when you would just pin any image from your website, and expect to get traffic from Pinterest. It might still work for some. But, now, Pinterest has made it clear to use the recommended sizes for better performance on Pinterest.
The best image format for Pinterest is vertical. Tall pins are favored by Pinterest. There used to be more square The length of the pin should be more than the width of the pin. That is why 2:3 ratio is recommended.
"Aspect ratio" may sound complicated, but it's just a way to talk about an image's width, compared to its height. A 2:3 aspect ratio means that your image's width is ⅔ its height.

Pinterest
According to Pinterest, use a 2:3 aspect ratio for all your pins. For example, 600 * 900 px and 1000 * 1500 px. But, recently, Pinterest has started cutting off pins with length 1260 pixels.

Most of my pins were 600 * 900 pixels in 2018,2019.
But, now, the recommended pin size is at least 1000 X 1500 pixels and that's what I use too.
2- Choose a Color Palette
When you do branding for your website, you always choose a color palette. That makes the website memorable, and noticeable. Think the same when it comes to designing your Pinterest images.
Choose a color palette for your pins. I won't recommend sticking with 2 colors. You can think of 3-4 colors that you can use on your pins. It should be your brand colors. When you design a Pinterest graphic, you want colors in your image. Having a palette is a great idea to look at your brand colors.
You can also use coolors.co for making color combinations.
3- Pick Contrasting Colors
Why do you need to pick contrasting colors?
If you scroll on Pinterest, you see pins with bright colors that clearly shows on images. Think of yourself as a user and see what type of images you usually click. A tip is to create another new personal account to just analyze color contrast on different pins.
If you don't use colors, your pins will be doomed in thousands of other pins. Your pinterest images need to have attention-grabbing tendency. By having contrast in colors, your text stands out. Choose a color that pops up and make people click on your images.
I found a tool 'Color calculator' to find complimentary colors. You can use it too to find some contrasting colors.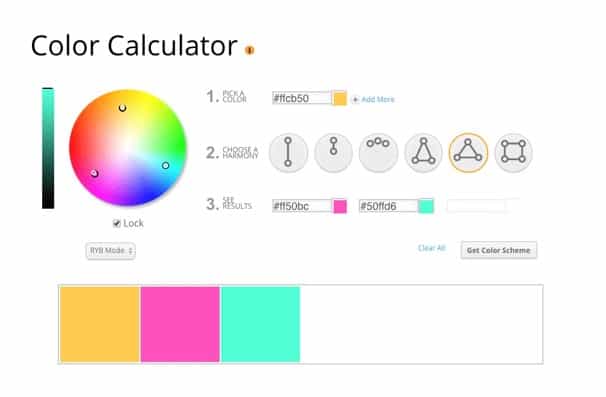 4- Limit the Fonts Use on Pins
You don't have to use 4-5 fonts on your pin. Start with using 2-3 fonts on your pins. It is also important for branding, and will also make your pins noticeable.
The best is to use plain sans serif fonts. You can try out different fonts if you want, but make sure these are easily readable. You can also subscribe to Creative Market for free fonts + goodies every week.
If you love using designer fonts then check out this pretty designer font bundle for 100+ fonts.
5- Experiment with a Contrasting Font
Another way to have contrast in your pins is by choosing a contrasting font. For example, if you use plain fonts, use a fancy or script font to enhance the text.
The font you choose should also match your Pinterest graphics. For example, a rounded font is mostly suitable for children related images.
You can form a few complementary combinations and see if the font pairing looks nice on your pins. Once, you find a contrasting font just stick to it.
6- Use Spacing in your Text
I didn't know spacing in the text is that important unless I took this pin designing class. You will see a noticeable difference in your Pinterest image after adding appropriate spaces in your text.
Space out your text on Pinterest graphics. You will see a great difference when you space out your text in your image.
Do you want to learn some pin design tips? Enroll in my FREE Pinterest masterclass to find out 3 Pinterest mistakes and exclusive tips to improve your pins today! Click here to grab your free ticket!
7- Make your Pins Easy to Read on Mobile
According to these Pinterest statistics, 85% of users access pinterest on mobile.
By looking at the statistics, it's clear why you need to create mobile-friendly pins. I have personally found many pins that are unreadable on mobile. In that case, I don't usually save or click. I think you do the same.
The pin should use a readable font.
It should have plain text using simple language.
Don't use neon colors.
Always create pins with recommended pin size.
The image should be clearly visible. Don't use blurred images.
8- Use Text Overlay
What is text overlay?
It basically means overlaying text on images. Adding text on your visuals. When you create Pinterest images, you need to add text overlay to find out what the visual is about. The use of text on images enhances click-through rate. People are more invited to click on an image with text.
The most important thing to remember is readability. When you use text on your Pinterest graphic, here are a few tips;
Do not use light colors on a light background
Position the text appropriately on the image. You need to position your text in a way that it stands out on the image.
Enhance the color contrast when using a light background image.
The font style and size should be readable
I love using Canva to design my pins! With so many templates, high-quality images, unlimited icons, and so many elements, Canva pro is so worth. Give yourself here a FREE trial for 30-days and decide 🙂
9- Write Clickable Titles on your Pinterest Images
Here's a thing.
I have designed some pretty pins and some not-so-pretty pins. Here, I mean that both pins look pretty but one pin was more focused on the design, not the title.
What happened? The pins with an attractive title get more clicks and shares. That doesn't mean you don't have to design good pins. You should. But, the text and the title equally matter.
I would suggest writing 3-5 titles for a Pinterest pin. Then, choose a title that will make people click. Keep practicing different titles and you'll get the hang of it. You can use these 7 different headline formulas to come up with best titles.
Think of it this way.
You have only a few seconds to grab a pinner's attention with your title. Give it your best in writing great Pinterest text on images.
10- Brand your Pin
Have you ever clicked on a pin and remember, oh it's from 'Sarah from xyz.com'? This is how you recognize a pin on Pinterest.
The pinterest users keep scrolling every minute. If you want to get attention on your pinterest images, you need to brand your pins. It's easy, and doable.
Here are the key elements of branded pins;
A logo
A color palette that you use on your pins
Consistent fonts
Relevant images
A consistent pin layout. (I personally believe you should keep testing different layouts to find out what works best)
In addition to that, you want people to remember your pins. So, next time, if they see your pin on their feeds they quickly either save or click to it. Make people recognize your pins. You can also check out few branded pins examples in this post.
11- Use a Domain Name
Having a logo on your site is important, but displaying a proper domain name is equally important. You can either choose a logo or domain name. I place a domain name (shemeansblogging.com) on all my Pinterest images.
What happens if you don't add domain name?
Your pins can easily be saved by other accounts, or mostly spammers. They can add their own links and redirect the pin to their own site. This can still happen if you add a domain name but then they have to take more steps in editing the pin, removing the domain name etc.
Always add your site domain name at the bottom of the pinterest pin or anywhere that's noticeable.
Not sure when to post your pin on pinterest? Follow this post to learn best times to post on pinterest.
12- Use High Quality Images
The images you use on your pins are so important. While choosing images for your pins, you need to consider image quality. Pins with low quality and blurred images don't perform better at all.
You can find some free photos and paid stock photos from popular sites. Or, you can also take your own photos if you have a good camera equipment. I personally like using paid photos because of their high quality and uniqueness. And, if you use canva pro then you have endless images to use.
Even if I use my phone photos, they are never close to the quality of those stock photos. I have to first edit them and do all the other steps to make it look attractive. (And, I got no time for all this)
Note: Never use blur images.
13- Use Relevant Images to Reflect your Brand
This is the best tip for creating pinterest images! If you ask me, what's the one thing you should do to make your pins noticeable?
My answer is to use highly relevant images.
Pinterest likes it!
I remember the first time I used a stock photo that's closely relevant to bloggers, or female entrepreneurs. My pin just picked up the very first day! And, yeah that was the happy dance moment.
What you need to do?
Choose images that reflect your brand, or business. For example, if you are in health niche blogger, you need to be careful in what images you use for designing pinterest pins. When Pinterest sees your pin relevant to other health niche pins, it will certainly show your pin to users interested in health articles.
Many stock photo sites offer bundles. That means, a bundle for business service site. A bundle for wellness. You can use a free photo but it will be too common to get noticed for your niche. That is why paid photos.
If you don't know, you can always resize and use one image in so many different ways. Don't use a photo just because it's pretty to look at it. Use photos that reflect your blog.
14- Use Paid Stock Images
Creating a pinterest image is easy. You follow a tutorial, and your design is ready. But, did you ever pay attention to using paid photos in your pinterest images?
Many new bloggers dread over spending money on paid photos. I understand. But, you got to spend a few dollars in buying a few photos and keep using them. It's a smart tip. Ask other popular Pinterest bloggers and they will tell you to buy good photos.
First, free photos are so limited. The designs are so common that every other graphic I see is using the same image.
Secondly, you don't find the images that you need.
That is when paid stock photos are needed. I can't tell you how many of my pins started to take off after using paid stock photos.
I have used stock images in both of these images. These numbers are not big but whenever I use paid photos, I usually get clicks. Well, if you follow me on pinterest, you can see all my other pins too.
Where to get your paid stock photos?
–> Shutterstock – This huge site has over 313 million images. That means, you can keep on scrolling to find the best choice for your brand. You can search the photos with topics, colors, or ideas. Click here to get started with 10 images per month. Wait, use my special coupon code 'SMBL10' to get an additional 10% discount =)
–> Deposit photos – Another beautiful place to get royalty-free stock images is depositphotos. From parenting, family to garden, you find images in all categories. You can start with flexible plan or go for yearly plan. Both are affordable. The best reason to use stock photo subscription on these premium sites is that you can actually find relevant image and only pay for that. Use the single image on your site, products, social media, emails etc. You should also read the license.
Feminine stock photos
Many bloggers on my site are females. We love all those pretty styled stock photos on our websites. I use them, and love them! When you join a subscription library, you get thousands of images to use on your website, blog, social media, emails etc. It's like an unlimited use of images.
Pixistock – I love using pixistock images on my site! They are beautiful, and have photos with different themes, colors. You can sign up for their quarterly or yearly subscription. When you join the annual plan, you also get bonus social media content calendar for free!
Ivorymix – This site is so popular and have a variety of images! You can even buy a bundle, or subscribe for yearly access. Click here to check out monthly, quarterly and yearly plans. When you become a member, you get access to 3500+ stock photos.
Don't wait for another year to make this decision. Whatever you could afford, just get them today and start using these beautiful images on your pinterest graphic.
15- Be Consistent with Pinterest Layouts (Create 3-5 different pin styles)
This again comes to branding. But, it's always a great idea to be consistent with your pinterest images. You can design a few pinterest templates or layouts and use them consistently. A good tip is to always add small tweaks to make it noticeable.
For example, one pin style with dark background, and one with light background. One with a box element etc.
Nowadays, bloggers are using different layouts to stand out. But, you can still identify their pins because of the fonts, and colors they use.
16- Take a Class for Pin Designs
Do you really need to learn how to design pins?
I say, yes.
Many of us are not graphic designers or don't have those skills to design good pins. I don't say that you need to be a pro in designing pins. Because sometimes it's all luck and pins with ugly design also get clicked. But, it's very very rare.
But, learning the basic color concepts, spacing, choosing fonts is so important. Even though I learned photoshop in my early college days and I had a basic understanding but I still took a class for designing pins.
I don't use photoshop for pins but I use Canva.
How to create pin on Canva
I recorded a video on how I use canva to design pinterest pins. You can watch it below;
17- Show a Product or Mockup on your Pinterest image
As a content creator, you need to create pinterest images that actually get clicked. Whether you sell a product or offer a freebie download, it's a good idea to show a product on your pins.
People come to pinterest for ideas, tutorials, products and what not. If your pinterest graphic shows users what's inside then chances are high that they will click it.
These are a few examples;
If you notice the image below, all the pins include the main product.
In image 1, a mockup of planner.
In image 2, an image of bow cupcake topper
In image 3, an etsy pintable guide
All of these proofs, mockups or products invite people to click on this pin.
You can design images like above with my favorite tool, Canva. There are available mockups, and also image layouts that you can use on your images. With canva pro, you get more pretty mockup options.
18- Add a Strong Call to Action
I have to admit that it's getting harder to get noticed on pinterest. For that, you need to get attention on your pins. You need to make people take action right away!
Just like we add a strong CTA in our blog posts, we need to add a similar click to action on our pins. This invites a user to click right away before the pin disappears in the feed.
Create a Pinterest image and add a strong call to action. Tell pinners what to do?
Here are a few options for your CTA;
Pin it for later
Shop here
Buy the printable
Get your free goodie
Register for a free webinar
Grab 30% discount
A free sample
Note: Don't use the word 'click'. Pinterest might find it spammy so you don't have to use clickbait. Just go natural with a strong click to action.
Related ==> How to create pinterest Pins fast? A new tool to speed up pinterest design process.
19- Include a Unique Element
Remember, the goal is to create pinterest graphics that get attention? Another tip is to include unique elements in your pinterest graphics.
You can find tons of elements, and icons on the creative market (sign up for 6 goodies every week). If you use canva, you also find elements there.
20- Minimize Visual Clutter
A clickable Pinterest image is not about using too many visuals, or elements. You can use one or two elements with proper placement. Don't use too many images. Just use a single image and drag it to fix on the pin size.
Focus on minimizing the visual clutter. It should be a clean image that invites users to click. If the image is cluttered with 5 fonts, 6 elements, 3 images in a collage and a big text – it won't look good.
The best pinterest graphics comes with practice.
Keep A/B testing to design a pinterest pin that is clickable.
21- Design a Layout
What makes a good image layout for a pinterest pin?
There are many options you can choose to create a pinterest image layout. You can use the available templates on canva to get the idea.
For example;
Use 3 image and make a collage
Use 2 images and place text
Add text on the top and image below
Use 1 image and text overlay
22- Add a Little Teaser to your Pins
Making clickable pinterest images is an art itself. Trust me, it's not easy to make every pin clickable. But, if you know a few effective tips then it gets easier.
The tip here is to include a little teaser to your pinterest images. That means, adding a little clue to your text. This addition of teaser adds urgency and excitement.
23- Use Canva to Design Pins
I have to repeat it but Canva is the best tool to design pinterest images. I have designed hundreds of pins, email banner, blog post graphics, social media graphics, facebook posts with Canva. I'm obsessed with it. It's ok, if you're not 😉
With 1688+ pinterest graphic templates, it's easier to design a new pin. Upgrading the free version to pro has it's own benefits.
If you haven't used Canva pro yet, enjoy 30 days free canva pro trial.
What you get in canva pro;
Brand kit
4 million + photos and elements
1000+ fonts and upload your own font
Resize to any format
Create animation and gifs (Fun, right?)
24- Keep your text aligned
One of the most common pin design mistakes is poor text alignment. Too often you have seen pins with text going here and there. It's just that the text is not correctly aligned. It looks ugly.
In order to design a pinterest pin with text, ensure that all text is aligned.
All the text and elements on the image should be correctly aligned. If you use canva, you need to select all the text or elements and then choose alignment button in the toolbar. Here's how it shows in canva.
25- Optimize your pinterest images for search
We know that it's about creating pinterest images but you also need to optimize images.
If your Pinterest graphics are pretty but they are not optimized for targeted audience then it's hard to get attention on your pins. People will most likely not find your pins in the feed.
You need to;
Write a clickable pinterest title with keywords
Add a pin description to add detail
Include keywords in alt text
There are some other must-follow steps for adding keywords to pinterest.
26- Choose the Right Image File
If you are a complete new to designing pinterest images then you need to know the right image file. Whatever pinterest image design tool you use, always download the photo with png or jpeg format.
These are the most common formats. If you upload a pin to your website, then use jpeg. And, if you upload a pin to pinterest directly then you can use any of these formats.
I personally use jpeg most of the time because it's lossy compressed file format. But, if sometimes my image gets too blurry I convert it to png and just use it.
Blogging tip: I use shortpixel on my site to compress image size. It's such a lightweight plugin I truly recommend to everyone.
27- Use Pinterest Templates for Quick Designs
This is not a sales pitch but I have noticed great results with templates. I don't use many templates because I design my own pins but I got a few exclusive templates collection and I repeatedly use them.
Some templates work so great that every time I design a pin using that template, it just takes off. No other work required.
And, pinterest templates make pin designing so easy. It saves time. From spending 20 minutes in creating a pinterest layout from scratch, it now only takes 5 minutes to design a pin using a template. How easy?
And, yeah, some pinterest templates are so pretty to use! Look at this gorgeous pinterest template starter kit.
I designed my own set of Easy Clickable Pinterest Templates for bloggers in all niches. These pins are some of my best pin designs that get me clicks and saves everytime. Save your time creating new pins from scratch and use these templates. Use code 'smbpins' to get additional discount.
–> Click here to check out Pinterest Templates.
One last tip for Pinterest images.
BONUS: Take feedback from another user to see if your pin is readable.
This is a great one! You can ask your blogging friend or even your family if the pin is readable or clickable. Just ask them if they would click this pin if it comes in their pinterest feed. I think the answer will tell you what to do next.
You can also join my facebook group and get feedback on your pin designs. It will be fun.
Here are some other posts on Pinterest marketing;
Are Pinterest sections searchable? Plus, a video tutorial!
How to Post content on Pinterest?
The right way to add keywords on Pinterest – 9 steps to follow
3 big Pinterest mistakes you need to stop making
How to create viral pins? 7 tips to make your pins go viral
How I use tailwind to schedule unlimited pins
How to use pinterest group boards to boost traffic
3 no-fail pinterest tips to boost blog traffic
It's time to design Pinterest images
That's a wrap!
Now, go on and create pinterest images for your blog. I hope you have found all these tips helpful for designing pins.
Let me know how do you create pinterest images? What work for you, and what doesn't?