Ever thought of making money while you sleep? How do bloggers earn passive income? Passive income is the money you earn by doing little or no work on a daily basis. Thus, passive income blogging is regular earnings from your blog on autopilot after creating a solid income stream.
There are many ways to earn money from your blog. Not just one! But, blogging lets you earn passive income easily. You create profitable income streams that continue to make money even when you are not working on your website.
Awesome, right?
Affiliate Disclosure: This article contains affiliate links. If someone makes a purchase through affiliate links, I may earn a small compensation. For more, please read on to privacy policy and disclosure.
Is Blogging Passive Income?
Absolutely. Blogging allows you to earn money even if you don't work actively. Bloggers create income models and autopilot marketing strategies to earn passive income. Even when they are not actively working on their blogs, they still make money.
What is Passive Income Blogging?
Let me explain passive income blogging in a simple way.
The regular income from blogging that can be done without working actively is passive income. That means, you are not constantly working on your laptop for 10 hours to make money. You are still going to make money while you are on vacation, or maybe, dreaming about your new house.
Many businesses are built on passive income models so that they make money without working daily or upon agreed hours.
The purpose is to make money blogging on autopilot. In order to start earning money from passive income, your blog should be based on such income models. We are going to discuss all different passive income ideas for blogging.
How Passive Income Blogging Works?
In passive income, you don't get paid for the amount of hours you have worked. For example, in freelancing or any client business, you make money for a fixed set rate or per hours.
Passive income is different. All the earnings are depending on a revenue model that is associated with a solid marketing strategy that continues to drive targeted traffic to your blog who buys and converts. Yes, exactly like that. There are systems that make them money.
You know what?
I still make money from my blog when I am not actively working. When I went to meet my sister in Abudhabi, I didn't work for about 20-30 days at all and my income streams were working. I was still making money without working at all. Your overall blogging income does fluctuate but it also depends on your revenue strategy. I noticed that my traffic declined a bit but I was still making money.
That's awesome, right?
But, you got to pay attention to;
How strong are your systems?
Is your blog on autopilot?
What about marketing strategies?
That is why you see those successful bloggers who go on vacations, take a gap or start new ventures easily because they have solid passive income models on their blogs. Their income is never affected much when they don't work actively.
You can even follow and listen to the expert, Pat Flynn at The Smart Passive Income Online Business and Blogging Podcast to learn more about it.
Moving on, we are going to find out different ways to earn passive income from blogging.
How to Earn Passive Income from Blogging?
I get questions like…
How do I earn passive income through blogging?
What do I do to make passive income from a new blog?
What are some passive income ideas for bloggers?
Blog monetization is a heavy topic. You can start with offering services on your blog but that doesn't count as passive income. When you write articles for a freelance client, you make money for the number of hours you worked.
Let's look at 5 passive income streams to earn money from blogging.
Money doesn't start to flow. Initially, you have to create different monetization methods and set up a strategy. When you use a smart model, and maintain it regularly then you can start to make passive income.
Passive Income Ideas For Bloggers
What are some ways to earn passive income from blogging?
After doing a bit of research, and experiment, I have found out the most profitable methods for making passive income. There are several passive income ideas to make money while you sleep but these ideas are ideal for bloggers.
1. Affiliate Marketing For Passive Income
This is one of my favourite methods for making passive earnings. Affiliate marketing allows you to earn a significant income from your website easily. It doesn't require any daily work or updates but you need to have a strong affiliate marketing strategy first.
It starts with understanding your blog audience, and knowing their problems. The better you know your readers, the better products you promote.
Many new bloggers make the mistake of promoting the wrong products in the wrong niches. What happens? They don't get any sales thus no affiliate commission.
That is why it's significant to understand affiliate marketing and what does it take to make more affiliate sales. I make affiliate sales every month and these affiliate marketing tips are a must-read for bloggers.
Free Affiliate Partner List For Bloggers

Download this to get 250 of best affiliate marketing programs. It includes some really great affiliate partners which allows you to earn commissions up to $200 per sale and more.

In brief, affiliate marketing is the process for earning money online by promoting other products.
Let's say, you write about kids and parenting and you promote a cute necklace available on amazon? Can you make enough sales every month?
I highly doubt! You need to ask yourself if the products you promote have anything with your audience. But, if you promote a parenting guide on your parenting blog then you will be making sales.
Affiliate marketing is the best way to make passive income. To be honest, it is the smartest way to set up a business and make money on autopilot. To do that, you must closely understand your audience's pain points. Then, join these 40 high-paid affiliate marketing programs.
Importantly, be sure to add legal pages on your website and comply with laws.
2. Sell Digital Products for Passive Income
Do you know bloggers and entrepreneurs are making a full-time income with digital products?
These 33 course creators share how their business with courses impacts their lifestyle. Such a good read.
Believe it or not, it has now become a profitable income stream. If you are thinking to expand your blog or business then consider creating a course, ebooks, bundles, etc.
Create digital products and sell them on your website for making money. It's another best form of earning passive income from blogging. Once, your product is created and it is all set up with automated sequences, it's about time to get a 'sales' notification.
Emails like, 'you made a new sale'.
There are different phases for digital product creation. It starts with planning your idea, creating the product, building a lead magnet, setting up a sales page and then, emails. A lot of time and work goes into creating a digital product but it's truly the money you make while you sleep.
For now, I have 3 ebooks and a set of Pinterest templates. But, trust me, the sales notifications are the best thing to check every morning.
Arfa, New sale of Evergreen content ebook.
Arfa, someone purchased your Pinterest templates.
You can do that too! I suggest taking a course to learn and build your confidence. There is definitely a learning curve. Most importantly, one-to-one help would be so encouraging if you are creating your product for the first time.
What type of digital products to create and where to sell?
There are several ideas and as you keep researching, you will find more. I have included a list of 51 high demand digital product ideas.
Creating and selling an ebook is the simple idea for bloggers in all niches. It doesn't matter what niche you belong to, a 'topic' guide would be a resource for your readers.
If you want to create and sell your ebook this year then I highly recommend taking 'Ebook BestSeller BootCamp'. This is one of the best digital courses on ebooks. Ana has made thousands of dollars with ebooks on her blog. She teaches insightful strategies to create, promote and sell your ebook even if you are a new author. This course will introduce you to digital products, and how you can earn a steady passive income.
I even interviewed Ana on the blog. You are going to find lots of answers about how she makes money selling ebooks.
3. Use Ads for Passive Income Earnings
How about using ads on your website and never worry about them?
Yes, that's a passive income idea! Many websites are solely dependent on ad networks. These websites have a huge content library for 3-4 years or even more. The only source of income is ad networks. If you are interested, here are some best ad networks for bloggers.
There are many bloggers who make thousands of dollars every month by using ads. If you want to apply, here are some best ad networks for blogs.
One thing you must have for making a reliable passive income with ads is website traffic. If you don't have enough pageviews or your niche is too narrow then ads are probably not for you!
Advertisement is probably the stress-free method for earning money blogging. I think it's the most comfortable way for many bloggers. Not everyone wants to sell products or maybe, jump into affiliate marketing. All they need is to make some extra money while growing their blogs. For that, ad networks are perfect!
Write great content.
Increase your blog traffic.
Make money with ads.
I know, it's not easy to increase pageviews to a new blog but you have to do the hard work when you are building your baby blog.
4. Start a Membership Site
Another passive income idea for bloggers is to create a membership site. It is a perfect idea for an expert in the field. So, membership sites are not an easy thing. You must have skills or value. Or, maybe, something to offer to your membership site.
It's basically paying for an online academy or site every month to access content.
Basically, people buy a membership to access the gated content. Businesses are now making money by selling courses, webinars, guides, case studies, PLR content, templates etc.
It's not only for products. People buy memberships for regular updates, community support, weekly training, live sessions and so on.
It's smart to make money with membership sites. Offer value, support, and exclusive content to your membership and make money every month. Set up different payment plans.
The best thing about these sites is that you get money every month. Let's say a membership costs $37 so you will earn $37 from a buyer every single month. It's the most profitable form of passive income. By creating this income model, you are regularly earning money.
Some examples of membership sites are;
Stock photo sites. I have joined Pixistock subscription, the best money I have ever spent. I got the yearly plan but they have monthly options too.
Templates sites. Here, you will get new templates every month.
Sew it academy. This is an excellent example too
You can create membership sites using Teachable, Thinkific, Membervault, and different platforms.
5. Create Paid Challenges
Challenges encourage people to take action. People love investing money in these paid challenges to keep moving and growing their businesses.
As long as your challenge offers value and helps people overcome a problem then you can make passive income with challenges.
I think it's a great idea to experiment.
Few ideas are;
Do a money saving challenge
Content creation challenge
Decluttering challenge
Social media detox challenge
I don't think challenges should be highly paid. It must sell for an affordable cost and the purpose should be to motivate people to take action.
3 Solid Tips for Passive Income Blogging
You already know why passive income is great for bloggers but what are some tips on earning passive income?
Here are my 3 personal favourite tips for new bloggers;
1- It starts with a strategy
Without a plan in hand, it's less likely to make a reliable income with passive income. Whether you want to make money with affiliate marketing or ads, a strategy or action plan is essential. You need to first understand that.
2- Passive income isn't any rich quick model
Bloggers have given years into setting up their income models. Similarly, many business owners have tested multiple products to find the best selling product idea. You are not going to start making millions of dollars with ad networks in 12 months.
Passive income blogging requires time and consistent work. It requires research, months of work, and consistency.
3- It's also about the mindset
Blogging mindset is essential. In order to make passive income from blogging, you also need to have a positive mindset.
The idea of passive income is so inspiring but ask yourself if you believe in it.
How to Turn Your Blog Post into a Passive Income?
As discussed above, there are different smart passive income ideas for bloggers. When you already have content, it's important to figure out how you want to turn your content asset into passive income?
You can use affiliate links and make consistent income.
You can even create an ebook around the same blog post topic. A more detailed resource or an ideas list.
Create a webinar on teaching a skill mentioned in the post and sell it for cheap.
Write another review article and then, promote it for sales.
Most importantly, evergreen content is the foundation for passive income blogging. When you have converting content assets then making passive income gets easier.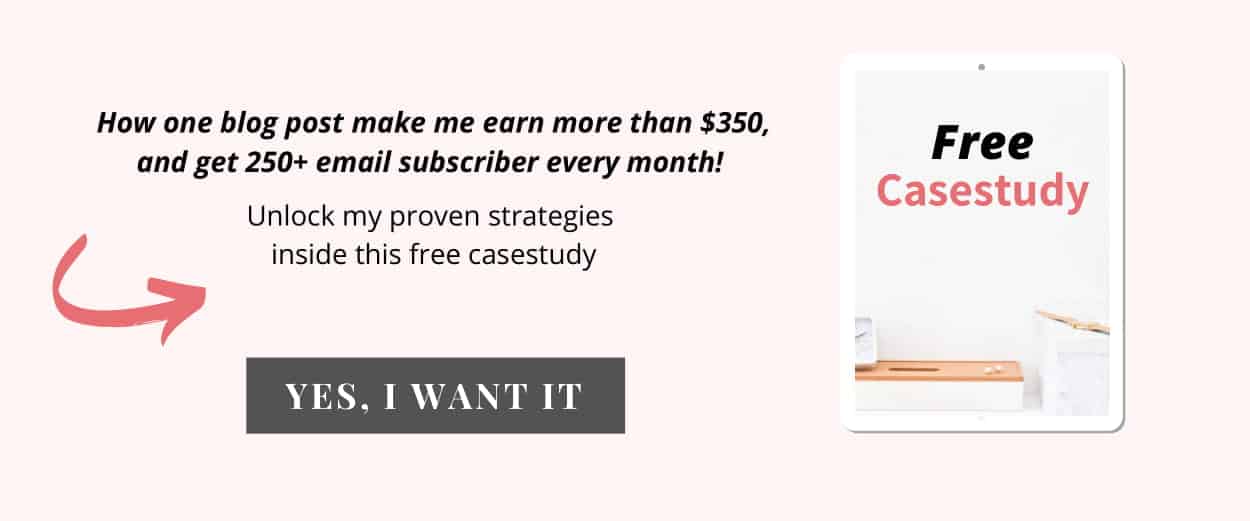 Examples of Passive Income blogs
To make this article a little more useful, I thought to add a few examples of passive income blogs.
Take a quick look into these blogs that are making money with passive income.
Smartpassiveincome. Pat Flynn is the entrepreneur and the founder of SPI. The most popular blog on passive income.
Nomadicmatt. This travel site makes passive income by selling products, affiliate reviews, and other resources.
Sarahtitus. How this single mom makes million dollars by selling printables. Her story is so inspiring.
Income School: The owners share how they earn with passive income. They even teach a course on building websites for passive income
Making passive income with blogging is really possible. The businesses and income reports you read online are years old. It takes persistence to build a money-making blog.
How to Start a Blog for Passive Income?
Starting a blog is simple. The process of making a profitable blog is a strategic process that involves a lot of steps.
If you want to get started, here is an ultimate step-by-step guide on starting a blog right now. It outlines all steps you need to follow to launch a blog.
Let's get brief into it.
Choose a niche. Pick a blogging niche first. Here is a list of 130+ best blog niche ideas to start with.

Get a domain name. Now, brainstorm your blog name. Simply, go to Namecheap to check if it's available to purchase.

Get a website host with Bluehost and set up a website. It's a cheap investment for new bloggers. You can easily get the hosting (one-year domain free) with Bluehost and create your WordPress website.

Start creating value-packed content. Sit down and brainstorm ideas first. Then, create content. Learn to create evergreen content and pillar posts.

Build an audience and authority. You can only make passive income from your blog if you have a trusted audience who believed in you and your content. Be sure to find the right people and develop expertise.

Monetize your blog. When you have some posts, and a strategy in place, start monetizing. Use affiliate links. Apply for ad networks. Create products.

Make money with passive income. Start earning real income with your blog. You are slowly going to get there.
How long does it take to start earning passive income through blogging?
It usually takes more than 1 year to start making passive income. It's important to give at least 6-8 months for search engines to start ranking your website. Once, you have enough content and traffic, you should be able to make some money from blogging.
Do I make passive income from my blog?
Absolutely! I like affiliate marketing the most out of all the models. I have started to love products too. These are truly the profitable ways to earn passive income.
How to make $1000 with passive income from blogging?
Build content assets to drive at least 30k page views to your blog. Once, you have established blog, and a targeted audience, you can make $1000 with passive income blogging. Further more, it depends on your monetization strategy.
Are you ready to earn passive income from your blog?
I hope you find this article useful. I have tried to make this a resource guide for you to come back later and take notes.
Earn passive income from blogging is possible. Many bloggers make income models for consistent money and that's why passive income is awesome! Building a blog is surely a business that requires time, hard work, and strategic planning.
–> Bookmark this post.
–> Share the post.
–> Save the Pinterest pin to your blogging tips board.
If you have any questions, feedback or just want to say something, feel free to drop it in the comments section below.