Still wondering what is Genesis Framework, and why everyone recommends it?
In this post, I will explain the Genesis framework and Studiopress child themes to help you make a better decision for your website.
What will you learn inside the post?
What is Genesis Framework?
Who can use Genesis Framework?
Studiopress Genesis Framework Review: Features
Do you need a child theme along with the Genesis framework?
Best Studiopress Child Themes With Genesis Framework
How Do I Install Genesis Framework and Child Theme?
How much does the Genesis Framework cost?
Let's get started with Genesis Framework review and how I personally find this theme.
This post contains affiliate links. That means I make a small commission if you make a purchase through my links at no extra cost to you. Be sure that I only promote products I personally use, and wholeheartedly recommend to my awesome readers. I use Genesis Framework and definitely recommend it.
What is Genesis Framework?
Genesis framework is a secure, search engine optimized base on which your website is built upon.
Importantly, it's the core foundation for running any website theme.
But, just installing the genesis framework will not give you that aesthetic WordPress design. That's why a child theme is layered on top of the Genesis framework to add more aesthetic, customization, and styling.
Who can use Genesis Framework?
Anyone can use the framework along with a child theme.
Is it for new bloggers, business owners, or online entrepreneurs?
Yes, yes!
Whether you're a blogger, a business owner or an entrepreneur and you're looking for a strong compatible theme then this should be the choice.
It's easy to use and can be customized. At first, you will need to install the framework and the child theme to keep it running. Then, it's just about playing with it to make it according to your own requirement.
In fact, anyone who's building a site or blog for the first time can easily use the framework. You will not need to play around with coding etc. Everything is there, and you just need to make choices.
Moreover, you won't need to hire an expensive designer. I use the genesis framework but hired a developer for custom child theme so it went a little expensive. But, if I plan to change the theme then I will just pick another child theme and enable it. That's it.
Studiopress Genesis Framework Review – Why I Recommend It?
I use genesis framework on this website and I absolutely love it! Well, there are multiple reasons why I definitely recommend Genesis framework and studio press child themes to others.
This up-to-date genesis framework review details everything you need to know at first.
Briefly, I have discussed the features below so that you get an idea of what to expect when you buy a genesis framework.
1- Search Engine Optimized SEO
When you buy a theme, you want to make sure that it's SEO-friendly so that you rank higher in search engines. And, genesis framework has built-in SEO with clean, optimized, and error-free code.
This is the most important reason top developers recommend Genesis Framework too. That's why most popular websites including wpbeginner use the genesis framework and wholeheartedly recommend it too.
With automatic updates, you don't have to worry about the code as it will be fully optimized.
2- Easy of use
A lot of new bloggers ask if it's really easy to play with layouts, widgets?
Yes! It's too simple.
Each child theme comes with several unique settings that you can customize by checking boxes. Simply add pre-made widgets in your sidebar or menu.
Now, it has become simpler by doing the customizations using the live preview feature.
Some features are;
Pre-made widgets
This includes widgets opt-in forms, social sharing buttons, featured posts, HTML code, image widget, social site widgets including Twitter and Facebook timeline. Without any need to do any coding, you can simply drag and drop widgets to your sidebar and make it functional.
Layouts
Choose the type of layout you want to use on your site. It could be a landing page or a two-column page. You can simply do it by ticking boxes. Some layouts are;
Full-width content
Sidebar / Content
Content / Sidebar
Content / Sidebar / Sidebar
If you see my website, I'm currently using a Content/Sidebar layout.
Other additional features are;
Featured posts
Comment functionality
Premade widgets
Responsiveness
Click to check out Genesis Framework
3- Built-in security
Genesis framework follows all best security practices to keep it safe from malicious attacks, and WordPress hijacking. Studiopress makes it sure that they give their clients complete peace of mind when it's related to security.
4- Update your site instantly
Many site owners don't update their sites to which their sites either get hacked or don't function properly. With Genesis, you can either active automatic updates or simply update your site with a click as simple as that.
And, with a one-time fee, you also get access to unlimited genesis updates.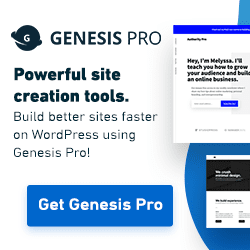 5- Excellent support
Did I tell you studio press has excellent support? Their clients are not just solo blog owners but thousands of developers, designers, and huge businesses. As a client, you can expect to get wonderful support with tons of tutorials.
They also have a team of developers for extra customization or designing a site according to requirements.
6- One-time fee (affordable)
Yes, it's only one-time purchase. You buy it once and use it for lifetime. That means no annual subscription or monthly payments.
The price and plans are discussed below.
But, first why let me tell you why you should use the Genesis Framework?
Genesis Framework Review : Why you Should use Genesis framework and Child Themes?
I'm going to add my personal experience here.
Pros Of Using Genesis
It gives a more professional look to your blog and mostly, it looks like a proper blog or website.

Easy customization. I can change the layouts, add colors, use several different widgets.

As my site is a custom child theme so I can ask my developer to make a few changes to make it look more unique and different. Similarly, you can add tweaks to your child theme with different colors and layouts. And, you can also hire a developer for making more changes according to your brand. If you're a total non-tech person then you won't able to do any custom changes. However, you can easily do the customizations like changing layouts, colors, widgets etc

Simplicity is another reason people love genesis child themes.

Test and try different genesis plugins.

You can use Elementor or for designing landing pages because you may find it little complicated to design the homepage as child themes allow to display blog posts on the homepage.

Totally mobile responsive.

Strong and search engine optimized

One-time purchase which makes it affordable

Unlimited tutorials, updates, and support

When it comes to child themes, you get a variety of themes to choose from. If you're a food blogger, they have food pro. If you have a business site, they have business pro.

Cons of Genesis Framework
It's not easy to do advanced customization on themes without using additional plugins or knowledge of coding.

It doesn't offer built-in social share buttons. (you need a plugin)

No drag and drop feature
Do you need a child theme along with the Genesis framework?
Yes!
As Studio press explains, your framework is the engine and the child theme is its body. So, you need both in order to make it function on your website.
How much does the Genesis Framework cost?
The price of the Genesis framework is $59 only. However, the combination of the child theme and genesis framework will cost $129.
Here are a few options to consider;
Genesis framework only – This is for developers and designers who have the knowledge of using the framework and do the custom child themes. If you're a blogger then move to the second option.
Click to buy Genesis Framework only
A combo of genesis framework and child theme – This option is suitable for anyone who's looking to use premade themes from studiopress and install it. This option is perfect for bloggers, entrepreneurs, freelancers and business owners. You can decide the theme of your choice and buy the combo. Their price range starts from $99.5 to $129.5. Just pick a theme and buy the combo.
Click to buy Framework and Child theme combo (Recommended)
Pro-plus all theme package – This option is for designers, developers and big agencies who design and create multiple websites for their clients. With this package, the client gets access to the genesis framework along with 40 child themes.
Add image
Click to check out Pro Plus All-Theme package
Best Studiopress Child Themes With Genesis Framework
Some of the popular Studio press child themes;
Foodie Pro
Authority pro
Niche pro
Refined Pro

Check out the complete Studiopress themes collection
If you want to get a free studio press theme and genesis framework here's one more OFFER!
Sign up for a WP Engine plan and receive the Genesis Framework and 35+ StudioPress Themes free!
Are you going to use the Genesis Framework?
I use Genesis Framework and that's the reason I recommend it to other bloggers out there. I love using it because of its strong security and SEO features. And, I also feel like the overall website design looks sleeker, and professional.
I also need to mention here that it's a one-time investment that works forever. I invested in Genesis Framework from the beginning, and I'm proud of choosing this one. I hope you also find the genesis framework review helpful for making a decision.
So, what do you think?