You're tired of hearing the same advice from experts and it says, 'start an email list'. But, You are still stuck. Not sure how to get email list subscribers and actually grow an email list. You find it time-consuming, or maybe, wonder what the heck it is?
An email list is one of the direct ways of reaching your people and making a trustworthy relationship. If they enjoy reading from you then they are also going to hear what you say. You can send a direct note to your subscribers and communicate with them directly.
You send them weekly updates, share personal experiences, ask them for their struggles, send out intact advice, and treat them well. Here, I mean to send them additional discounts, freebies, contests, and whatnot. Even better, it also sends traffic to your blog.
All other platforms like Pinterest or Facebook do not guarantee you that ownership of what an email list does.
And,
Why you stress over creating content for people who are not your regular readers? Usually, when you're on Facebook or Pinterest, you usually get new readers. People read your posts and leave. That's it. You're not sure if they will ever come again to read your posts.
When you've got an email list – you have a list of raving fans who read to your emails, send replies, click to your posts and share their problems.
Wouldn't that be the best option to focus on when you're trying to build an audience and grow your blog?
I shamelessly admit to not have an email list from the beginning, but I soon realized 'where are my people?' Are they hanging out on Facebook? Do I have to tweet every day or what should I exactly do to have a talk with them?
You know what happened,
I build an email list and I proudly say that it's the best thing I did.
Here's one more thing…
Do not ever stress over numbers! I did not and I'm not going to stress over growing your email list to 17,000 subscribers. You should only put the effort into growing your email list to 20,000 subscribers if you know they will open your emails and are looking forward to reading them every week.
What's the purpose of growing your email list to 20k subscribers when only 200 read your emails?
What you should do?
Celebrate having with those 300 subscribers who actually read your emails, respond and engage. Agreed, right?
By now, you get the idea of what an email list is and how important it is to actually build your email list. Again, don't worry about the numbers! You can easily grow your email list if you follow the best email list-building strategies.
To just help you set an easy peasy goal, we start with 500 subscribers.
What you need to do, and how you will do it?
I've explained everything below.
Let's do it!
Five Steps To Get first 500 email list subscribers
A plan is essential for growing your email list to 500 subscribers. It doesn't have to be complicated. As we focus on other platforms, give time to your email list. Once, you start having some subscribers, make sure you maintain your email list by writing regular emails so your readers get consistent updates.
1- Get started with an email service provider (skip this step if you've already used a service)
There are multiple email service providers out there including some free and paid. I recommend using Mailerlite which is free for up to the first 1000 subscribers and when you hit that mark, you can easily upgrade which is still affordable as compared to other tools.
I also understand that as a new blogger, it's hard to pay for new services while you're already paying for hosting, domain, and theme.
If you're new to blogging, start using Mailerlite. I also use mailerlite to maintain my own email list and there are so many new features introduced by mailerlite. I'm finding it really competitive with other existing tools. With mailerlite, you can set up automation, create multiple forms, do A/B testing, track your emails and what not.
<<CLICK HERE TO SIGN UP FOR MAILERLITE AND GET $20>>
I have got a post where I have explained how to create an email list with Mailerlite. This post walks you through all the steps you need to start using Mailerlite.
If you're a pro or you'd like to spend in a more efficient tool then Convertkit should be the choice. It's recommended by most blogging and business experts.
If you already have an email autoresponder then you can skip step 1 and quickly jump to step 2.
2- Create a killer freebie or lead magnet
Ok, what is a freebie?
It's basically valuable content you give in exchange for an email address. When you're trying to grow an email list, you have to go a little extra.
But, what does that mean?
Give your readers something extra value that you don't share anywhere else. We write blog posts to educate and inform our readers. We use social media to entertain and update.
But, what are you offering to your subscribers?
Of course, you're going to send emails but how you're going to collect that email?
Nowadays, it's unusual to get subscribers from a sidebar subscription form. This is what I noticed. Because there's too much competition and everyone is competing.
Why would someone subscribe to your email list when you're a tiny blogger or very new?
A killer freebie is thus needed to collect those raving fans for your email list.
What could be that killer freebie?
Depending on your niche, you can brainstorm and find out what to offer as a freebie. There are countless ideas but the most common ideas are;
Ebook
Ecourse
Workshop/Webinars
Video
Workbooks
Planners
Templates
If you have noticed, I have a free email course as my main freebie. It's a 7-day email course for new bloggers and I promote this course to get more subscribers.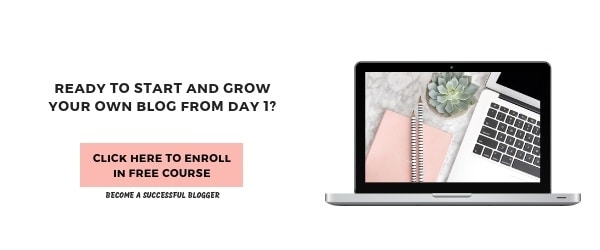 Think of a general freebie that goes along with all the categories of your blog, and can be used to attract every type of audience. Creating a freebie can take a little longer but it's going to work in so many ways. Don't worry if you've got an amazing idea to offer as a freebie. Because your audience is going to love it!
How to create a freebie?
There are a lot of free tools like Canva to start designing your freebie. You can also use Google drive to write your ebook, and download it as a PDF. Use Canva to create a pretty planner or templates. Use any video tool to record a video tutorial, and offer it as a lead magnet to grow your email list.
I also suggest using a pre-made template if you're not a design pro. Even it took me more than a year to learn the basic concepts of designing. If you think you have a list of things to do, don't have hours to invest in designing a checklist, or are no design-pro, I would highly recommend buying these gorgeous lead magnets.
When I got a workbook template, it just took me 10 – 15 minutes to edit and customize it and it was ready to download.
<<Check out Canva Lead Magnet here>>
3- Create 3 additional opt-in or content upgrades to grow your email list fast
We just talked about a freebie. Now, what opt-in or content upgrades is all about?
An opt-in or content upgrade is an incentive that is created specifically for a particular blog post. It's just like offering something extra to what people are already reading about.
If you've got a blog post on 'how to keep track of your monthly expenses'. Then, a content upgrade could be a free printable. Or, if you have a how-to post that's super lengthy (2500 words) then a checklist could be offered as a content upgrade. The checklist includes a series of steps they can easily print out or refer to whenever required.
Find the top blog posts, using Google analytics, that bring you maximum traffic and see if you could make a quick content upgrade.
Examples of content upgrades
Cheatsheat
Worksheet
Printable
Swipe file
Worksheets
Spreadsheet
A resource list
Audio recording
When you create a content upgrade, consider adding email sign up forms in these 7 high-converting places.
Take a look at this Sunday Routine List Free Planner.
You can also create a free workbook.
Self Care Simplified is a free workbook for moms who get easily caught up in taking care of everyone else, but not for their own selves. Take a look here.
These opt-ins or content upgrades are quick to create.
When you use these professionally designed Canva lead magnets, it will only take few minutes to edit the already designed workbook, or checklist with new content, and visuals. This is super easy to make, and you get a quality lead magnet ready for your readers to download. Honestly, this is the easiest way to grow your email list.
This Canva lead magnet bundle comes with 5 design variations including roadmap, workbook, checklist, gift guide and resource list.
When you're done with creating a freebie, or content-upgrades, simply create forms using Mailerlite, or Convertkit. You will also need to create landing pages for high conversions.
Landing pages are simply pages with one major goal. For example, download this workbook. Buy this ebook. Get your free meal planning checklist. Sign up for webinar etc.
For landing pages, I would suggest using tools like Elementor. And, it's on sale for only a few days!
They have free and paid plans but their landing page templates are so worth it!
In this post, I shared how to create a free landing page in WordPress. I highly suggest you read this post and get an idea.
When you've enabled forms and integrated it with ESP on your blog posts or landing pages, it will automatically collect subscribers and you can simply track them later. I suggest you to always test a form and see if it works correctly. I always used to get stuck at this and would find it later. Don't make the same mistake. Use your random email to check if your email form is working or not.
Mailerlite has tutorials for everything, and the reason I love using Mailerlite is its awesome customer support. I stuck at most of the things, and the Mailerlite team is so quick to respond. Another vote.
If you are interested in a proper email marketing course that walks you through all steps to build and grow your email list then you can check out this super affordable email marketing course for beginners and intermediate bloggers.
4- Produce more consistent content with quick incentives
Let me tell you something.
You're not going to grow your email list if you're not producing content. Because the more people visit your blog the more chances you get to collect subscribers.
As you always read me stressing over producing good content, just take that advice and come up with better content. I don't recommend you create content upgrades for every post. No, you don't need that.
Just create content upgrades for each category, if possible.
In this post, we're only targeting 500 subscribers so one killer freebie and 3 content upgrades are good to start with.
Write more consistent content, and add your email form with an incentive in each post. Do not give your readers an option to leave your site without subscribing.
Another idea is to create a quiz to grow your email list. Online quizzes have great conversion rates! People like to take quizzes and get answers. This is such a fun way to attract more subscribers while keeping them engaged on your website.
5- Drive traffic using Pinterest, SEO, and Facebook
So, you've got a freebie, some content upgrades, and few well-written posts.
Now what?
Get more traffic!
There's no purpose of having those pretty forms, and valuable freebies if people are not coming to your site.
I definitely suggest using Facebook, Pinterest & SEO to drive traffic to your website. Start with participating in Facebook groups and use these techniques to promote content in Facebook groups along with a free list of groups.
Pinterest is the top traffic referrer for my own website. You can literally use Pinterest for everything possible but it's not that easy. If you're new then you will have to invest some time on Pinterest.
Below are some posts for using Pinterest to drive more traffic;
1- 3 No-Fail Pinterest Tips To Get More Traffic
2- Pinterest SEO: The Ultimate Guide To Optimize Your Pinterest
3- 10 Rules To Use Pinterest For Your Blog And Business
Most importantly, organic traffic is one of the best traffic sources. It's coming directly from Google. The searchers are actually looking for a solution that means they convert well. And, you will not need to schedule your content just how we do for social media. But, you need to put some effort into growing that traffic which is possible.
Below are some posts to help you with SEO;
1- How to do SEO for your blog posts
2- Winning SEO tips to rank on Google
3- How To Get Direct Traffic From Google For free? The Monster Guide
Are you ready to grow your email list?
Did I make you feel overwhelmed? You can always bookmark this post so that next time when you get stuck somewhere you can simply refer to this post. Or, save the Pinterest pin to your favorite board so you can access the post anytime.
<<GET STARTED WITH MAILERLITE FOR FREE AND GET $20>>
Now, I want you to tell me…
Are you going to work on these steps? Are you ready to grow your email list and get your first 500 subscribers? If not, what's stopping you?
Do let me know how you're going to hit that mark, and if you already have more than 500 subscribers, what other ideas you'd like to add.
I really want you to leave your feedback or if there's any question you want to ask. Just leave it below and I'd quickly respond.