Looking for an instant way to mark a rapid increase in blog traffic?
Or, thinking if getting blog traffic faster is even possible?
As a blogger, you do understand that blog traffic is an important factor.
But, it's not as simple as creating a blog.
Website traffic is the lifeblood of online businesses.
And, you are struggling to increase blog traffic fast.
I understand.
This is a common topic but we all need actionable tips to get remarkable results on Google Analytic.
How about increasing your website traffic to 30k or 100k monthly?
Don't you want it?
No one likes the low statistics graph. (Neither YOU nor I)
Let's be fair.
In this post, I'll show YOU simple tips on how to increase blog traffic fast.
But, let me be very honest with you. Getting blog traffic fast isn't really a piece of cake and there's no guarantee you could triple your traffic in few months.
However, chances are that if you continue to blog consistently and make changes then growth is possible. Absolutely possible!
And,
Blog traffic takes time.
Before you read this post, I highly suggest to read why your blog is not getting traffic. In this post, I have outlined more than 15 reasons of why blog gets no traffic, and what to do about it. This is a must-read for any blogger who is struggling with regular traffic.
So, if you implement website traffic strategies from today onwards then give at least a month to analyze results. And, if you make SEO changes to your content then wait a little more.
Do you have a blog yet? It's time to create a profitable blog from scratch. I have created a comprehensive tutorial to help aspiring bloggers. Click here to read my ultimate blogging tutorial and start your blog today!
HOW TO INCREASE BLOG TRAFFIC FAST WITH 7 TIPS
We all know that content marketing is essential. If you've been blogging for a while you have realized that social media, SEO, email marketing are the most common ways to drive website traffic.
But, the question is, how to get traffic from these resources?
Make your blog prepared.
Design your blog for your audience.
Produce epic content.
No matter what your niche is, if you're not committed to following things then you cannot certainly expect to grow your traffic.
If you'd like to increase your organic traffic then you would love to learn How to get Google Traffic to your blog for free with a proven system! This post shows you everything you'd like to know about keyword research, SEO friendly blog posts, and other techniques.
Let's just start it.
1- BE PASSIONATE ABOUT BLOGGING
I see bloggers running for quick blog traffic tips but have no interest in how they blog.
Isn't this a bit unfair to their audience?
You should feel fortunate if someone visits your blog, or even appreciate it because it has been getting too difficult to get your blog noticed these days. The visitors would like to consume the best content and latest trends.
Your blog needs to be trustworthy.
So, you should give your best!
To deliver what your readers actually want to read, you need to be passionate about it.
It doesn't matter what your blog niche is but the content has to be crafted with passion, creativity, and benefits. If you start doing what you love, you'll build expertise and targeted audience. Easy Peasy!
So, are you passionate about blogging?
Whether you are a mommy blogger, an individual or an online entrepreneur, these tips are helpful to trigger your passion.
Does learning new things interest you? If yes then blog the right way!
Does your blog niche excite you? If yes then build expertise on a particular subject
Blog on what you know or love doing.
Be authentic while blogging.
Related post: See How Easily You Can Get Traffic To A New Blog
2- SOLVE READER'S PAIN POINTS
Do you know 3.8 million searches are conducted on Google every 60 seconds?
Yes! You could imagine the exuberant need of internet these days.
People are looking for answers, solutions, and resources everywhere.
If getting blog traffic is your major concern then you have to focus on bringing solutions to what your readers are looking for.
That's simple.
But, we've another question.
How to come up with problems that people are searching for?
To save your time, I'd suggest you check out the post on 25 guaranteed methods on finding blogging ideas that never fails. This post includes different ways to know your reader's problems. When you know the problem, you can easily provide a solution.
Whenever I need to find my reader's main struggle, I do the following tricks which immediately help me collect ideas to generate valuable content.
Thus, knowing reader's problems and writing content for them drive consistent traffic.
Ask your email lists about one leading problem.
Enhance concentration in social communities and determine what people are looking for.
Use Quora to note down what sort of questions are being asked in your niche.
Don't get frightened about your niche. Because people are seeking answers in every niche. Some of the topics are health, skin care, traveling, daily life problems, expenses, productivity, businesses etc.
You need to often hang out online to collect problems first and then bring answers in front of your targeted audience.
If you really want to increase blog traffic to your website then I would recommend 'Traffic Transformation Guide'. Lena Gott is a traffic guru! She really knows how to build traffic using multiple strategies. She has increased her traffic from 17k – 400k pageviews!
3- WIDEN YOUR BLOGGING NETWORK
To grow your blog, you've to engage in active communities like Facebook groups, LinkedIn groups, Google Plus etc.
Make blogging friends and widen your social network.
This simple activity is essential for increasing website traffic. Engaging with other bloggers, and following peers will help you expand knowledge and find leading opportunities.
Introduce yourself to these communities and show your expertise. Contribute more and provide help to others. The reciprocation automatically works.
You can;
promote your content
Share others content
support others with your advice
Build backlinks
Guest post on their blogs
Collaborate with other bloggers
Related post: How To Network With Other Bloggers To Grow Yourself
4- PRODUCE EPIC CONTENT
You might have read almost everywhere on the importance of writing epic content. But, how do you produce content that gets more traffic to your site?
I know you are putting efforts into writing impressive content but, are you sure about it? I'm giving simple tricks that you can make right now to get confident about your blog content.
Rewrite your headlines and maximize the emotional value.
Produce 5 pillar posts on your blog
Hook your readers with better introductions to your blog post.
Write simple yet effective content.
Improve your 'Click to action'.
Make social sharing easy for your readers.
Optimize your content with keywords.
Tip: Follow blogs that produce evergreen content and take inspirations. Some of the popular blogs I follow are Successful Blogging, Pro Blogger, Neil Patel etc.
Medium is another source to find some great content. Expand your following lists with bloggers that write about confidence, businesses, productivity and living a happy life.
Related post: How To Write Perfect Blog Posts That Gain Readers Attention
5- USE SOCIAL MEDIA CHANNELS
The website traffic really depends on where your audience is.
The most important social media channels to drive traffic to your blog are Facebook, Pinterest, and Twitter. If you just focus on these top platforms, you can increase your blog traffic fast. However, every platform works differently.
Pinterest is definitely a big one! Utilize Pinterest more. The continuous use of Pinterest can get you consistent traffic. You should learn to use Pinterest to make it the biggest traffic source. You need to know the algorithm of Pinterest and how does it really work. Join Pinterest group boards to enhance the exposure of your content to a wider audience. Follow these Pinterest tips to drive more traffic!
Instead of pinning at the wrong time, invest in Tailwind so that your pins are scheduled at the peak times.
Get your first free 100 pins with the tailwind.
Facebook groups can get you countless advantages. Most of these groups are free. They allow free blog promotion. It's painless to collect feedback from your target audience. You can easily target your audience, and solve their problems. It allows doing collaborations. It can get you subscribers and obviously, free traffic to your blog. Download 50 Facebook Groups here.
I also have a Facebook group community where bloggers participate in daily threads to grow their blogs. It's a free community to start discussions and seek help. Click to join Bloggers Camp.
Twitter is slightly different. The more engaged, the better. Your twitter profile should update tweets every hour or so. You should engage with your followers on Twitter. Keep them hooked with interesting tweets. Always promote other content and mention them. You can even participate in Twitter chats for increasing traffic fast. Use these top 47 twitter ideas to share every day!
Did you ask how to increase blog traffic?
6- Fascinate users with more visuals
If you want to get blog traffic fast then understand the importance of visuals in blogging. Whether you are adding a blog post, a tweet, an Instagram post or a facebook status visuals play a significant role. It grabs users attention and invites them to click on the link.
Several types of research have shown that content with captivating images performs far better than without images.
With fascinating images, you get more social shares which will increase blog traffic faster than ever.
You've to use images to grasp viewers attention.
Create infographics
Add attention-grabbing photos on social media
Try to create customized images for different social channels
Add different images in blog posts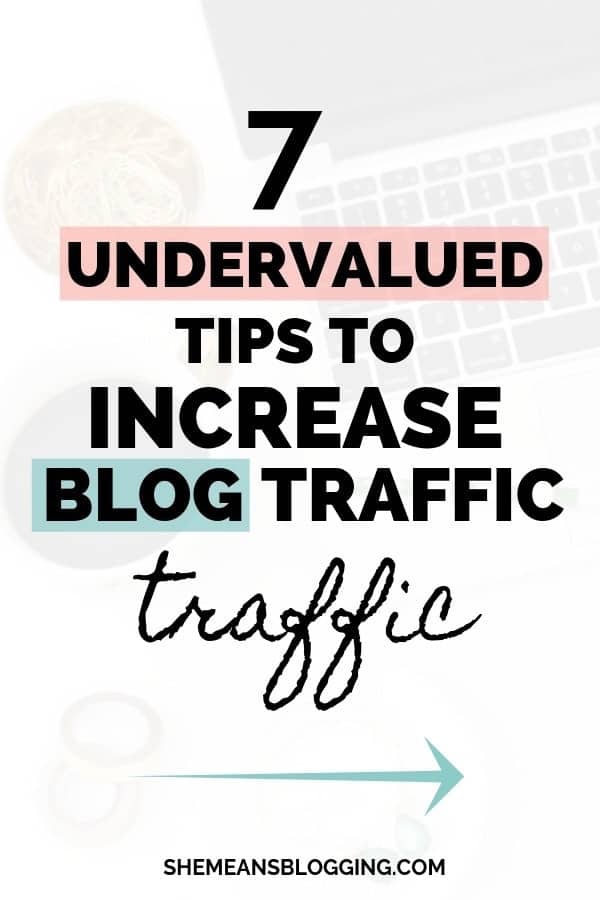 7- Offer freebies
Your chances of getting blog traffic fast rapidly increase if you offer something valuable for free.
It works magically!
I know this can be a lot of hard work but as I said there isn't any magical formula to drive traffic fast to your site.
You've to do endless hours of work and then, expect those good numbers. (45k monthly page views)
Giving something away for free encourages people to subscribe to your blog. It will also help in gaining more followers. So, either way offering freebies is a win-win.
I suggest reading '7 places to put your email sign-up forms to skyrocket your email list'
You can give away a free ebook, secret strategy, cheat sheets, planners, workbooks, inspirational printables, trending ideas, personal tips, growth strategy etc.
The idea is to offer a meaningful resource in exchange for an email address.
If you want more detailed traffic strategies then I recommend reading these posts;
WRAP UP
Is it really simple to gain blog traffic? Yes and No!
You've to play around with different strategies to boost your blog traffic.
Stick to what you're doing and reach out to your audiences. If you are on Instagram, keep your entire focus on growing it. If Pinterest is where you'd like to grow, implement pinning strategies, use Tailwind, and follow what other top Pinterest experts recommend. And, if your SEO is weak, learn more SEO.
Remember, you are growing a blog on your own!
Learn every day.
Ask from experts.
Make investments.
Implement new strategies.
Try an experiment.
What is the key takeaway that you loved this post?
What other strategies have helped you gain blog traffic faster?
I'd love to read your responses.
Feel free to drop a proven tip or comments to encourage others.