We all like motivation but it's safe to say that we all struggle to hustle everyday. Running your own business is lots of fun, excitement and passion. However, not every day is the same.
You want to stay focused.
And, you wish to be creative.
You also want to be enthusiastic about your business goals.
Beyond all other reasons to get inspired for work, a daily dose of motivation is what we want.
I don't forget the day when I was feeling too disappointed and all I did was to go through a couple of quotes to make myself a little better.
Sometimes, motivational words matter a lot. Learning from an entrepreneur's journey is also a great example.
To motivate myself and all other entrepreneurs, I compiled a massive list of 101 hustle quotes for entrepreneurs and bloggers to keep inspired.
Let's take a look.
Make sure to pin, tweet and share these images too 🙂
Affiliate Disclosure: This article contains affiliate links. If someone makes a purchase through affiliate links, I may earn a small compensation. For more, please read on to privacy policy and disclosure.
100+ Hustle Quotes For Entrepreneurs & Bloggers To Keep Going
#1. "I am not what happened to me, I am what I choose to become" – Carl Gustav Jung
#2. "If your hustle is all-pain-nothing-but-pain, you are just a sadist and you're doing it wrong" – Hustle, the power to charge your life with money, meaning, and momentum.
#3. "It's kind of fun to be impossible" – Walt disney
#4. "You have got to love what you do to really make things happen" – Philip Green
#5. "I have got a dream that's worth than my sleep" – quote
#6. "The dream is free, the hustle is sold separately" – quote
#7. "Enthusiasm is the electricity of life. How do you get it? You act enthusiastic until your make it a habit" – Gordon Parks
#8. "Remembering that you are going to die is the best way I know to avoid the trap of thinking you have something to lose. You are already naked. There is no reason not to follow your heart." – Steve Jobs
#9. "Be the CEO of your life" – Hustle inspires hustle
#10. "Empires aren't built in a day" – anonymous
#11. "Train your mind to see the good in every situation" – anonymous
#12. "What were you do if you weren't afraid" – Sheryl Sandberg
#13. "Imagine where you would be next year, start now" – quote
#14. "The key to success is to start before you are ready" – quote
#15. "Hard work beats talent when talent fails to work hard" – quote
#16. "You don't get over the fear of doing something by not doing it" – Zero dean
#17. "Focus on your goal. Don't look in any direction but ahead" – quote
#18. "We may encounter many defeats but we must not be defeated" – Maya Angelou
#19. "At first they'll ask you why you're doing it. Later they'll ask how you did it" – Anonymous
#20. "Courage is taking those first steps towards your dreams even if you can't see the path ahead." – Unknown
#21. "Failure will never overtake me if my determination to succeed is strong enough." – Og Mandino
#22. "It is only when we take chances, when our lives improve. The initial and the most difficult risk that we need to take is to become honest." – Walter Anderson
#23. "If you are working on something that you really care about, you don't have to be pushed. The vision pulls you" – Steve Jobs
#24. "Don't settle for average. Bring your best to the moment. Then, whether it fails or succeeds, at least you know you gave all you had" – Angela Basset
#25. "Take your victories, whatever they may be, cherish them, use them, but don't settle for them" – Mia Hamm
#26. "Life is like riding a bicycle. To keep your balance you must keep moving" – Albert Einstein
#27. "Courage doesn't always roar. Sometimes courage is a quiet voice at the end of the day saying, I will try again tomorrow." – Mary Anne Radmacher
#28. "Our greatest glory is not in never failing, but in rising every time we fall" – Confucius
#29. "Get a good idea and stay with it. Dog it, and work at it until it's done right" – Walt Disney
#30. "Only I can change my life. No one can do it for me." – Carol Burnett
#31. "There is only one thing that makes a dream impossible to achieve: the fear of failure" – Paulo Coelho
#32. "Knowing is not enough; we must apply. Wishing is not enough; we must do" – Johann Von Geothe
#33. "Believe in yourself. Have faith in your abilities. Without humble but reasonable confidence in your own powers, you cannot be successful or happy" – Normen Vicent Peale
#34. "I would rather be a superb meteor, every atom of me in magnificent glow than a sleepy and permanent planet" – Jack London
#35. "I attribute my success to this: I never game or took any excuse." – Florence Nightingale
#36. "Think like a wise man but communicate in the language of the people" – W.B.Yeats
#37. "Do not wait; the time will never be just right. Start where you stand, and work with whatever tools you may have at your command, and better tools will be found as you go along" – George Gerbert
#38. "I never dreamed about success. I worked for it" – Estee Lauder
#39. "Put your heart, mind, intellect and soul even to your smallest acts. This is the secret of success" – Swami Sivananda
#40. "The struggle you're in today is developing the strength you need for tomorrow. Don't give up" – Robert Tew
#41. "Some people want it to happen, some people wish it would happen, and others make it happen" – Michael Jordan
#42. "The more you learn, the more you earn" – Warren Buffet
#43. "You miss the 100% of the shorts you don't take" – Quote
#44. "A breakthrough is when you discover what has been getting in the way, and you go beyond yourself, and your self-imposed limits to do, create or experience the impossible" – Jameswedmore
#45. "The secret to lasting motivation is MOTIVE. Make sure your 'why' is tied to something beyond yourself" – Marie Forleo
#46. "You are never too old to set a new goal or to dream a new dream" – quote
#47. "The worst enemy to creativity is self doubt" – By Sylvia Path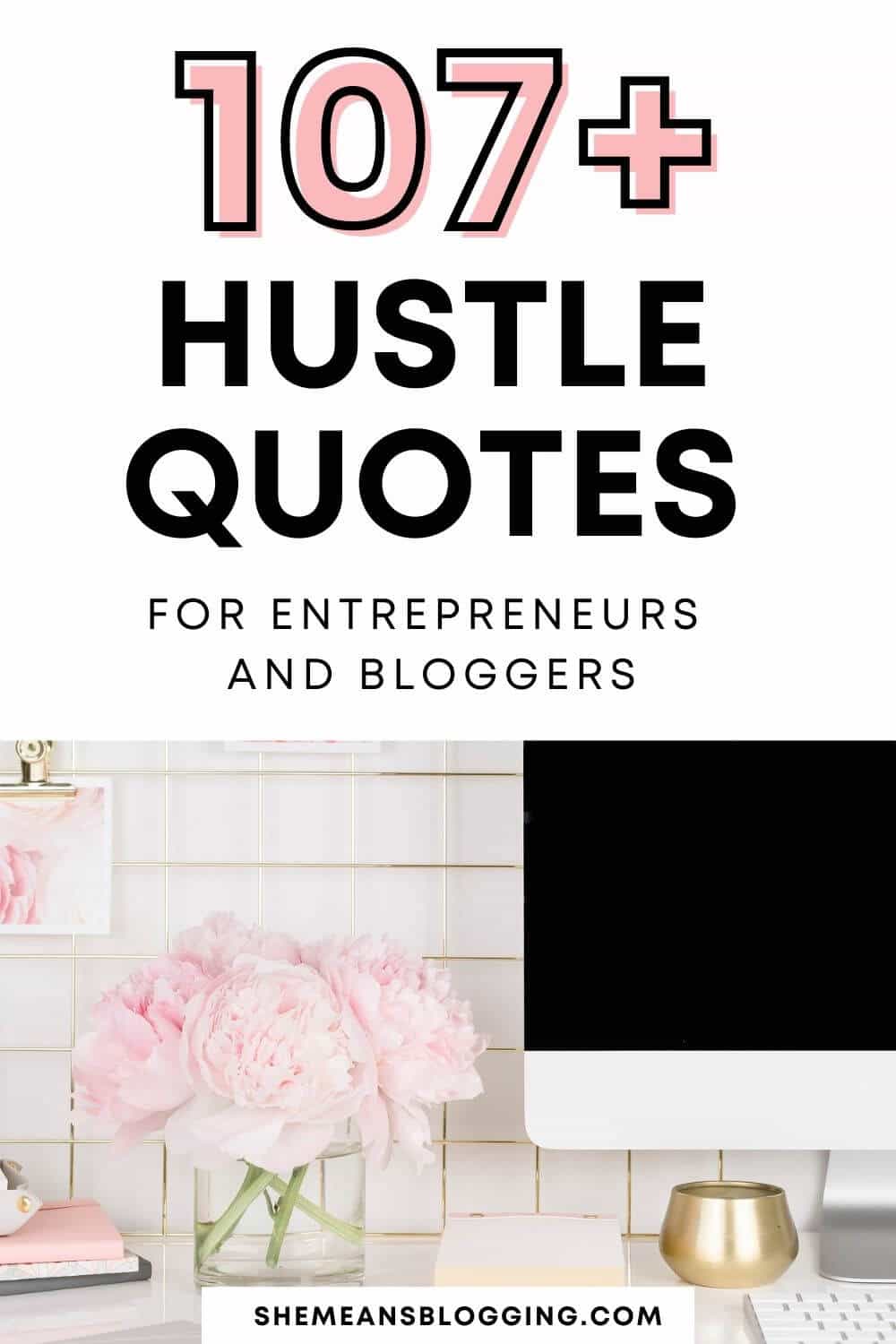 #48. "Success is walking from failure to failure with no loss of enthusiasm" – Winston Churchill
#49. "Be content to act, and leave the talking to others" – Baltasa
#50. "Let your NO be NO even if that is what will take your breakfast awa, you will get a better lunch" – Naira Marley
#51. "Suffer the pain of discipline. Or, suffer the pain of regret"
#52. "There are no shortcuts to any place worth going"
#53. "Grind and hustle for you. Not because you care about what other people think."
#54. "The hustle brings the dollar. The experience brings knowledge. Persistence brings success" – Ross Simmonds
#55. "It may be a slow process but quitting won't speed it up. Keep going."
#56. "She is a lady on the move, hustling and grinding with her beauty and her brain; she's on a mission to be the best her, she can be"
#57. "You have to fight through some bad days to earn the best days of your life" – quote
#58. "Your reality is yours. Stop wasting time looking at someone's else reality while doing nothing about yours" – Steve Harvey
#59. "We are what we repeatedly do. Excellence, then, is not an act but a habit" – Aristotle
#60. "You are not your resume, you are your work." – Seth Godin
#61. "Everyday is a hustle. Do I get tired? Yes. Do I give up? No"
#62. "Mine's a pretty simple strategy. There's a lot of talent here, but there's a lot of hustle. I have been in every place I can, and be busy" – Ryan Seacrest
#63. "I knew if I failed, I wouldn't regret that, but I knew one thing I might regret is not trying" – Jeff Bezos
#64. "Without work, magic won't work" – Rick Ross
#65. "The world is yours and everything in it, it's out there- get on your grind and get it" – Young Jeezy
#66. "Not all hustle is loud. Sometimes hustle is just you, all alone, grinding, while no one hears a sound"
#67. "If you don't want a 9-5 job, be prepared to hustle 24/7"
#68. "Hustle in silence and let your success make the noise"
#69. "Look yourself into the mirror and ask yourself what do I want to do every day for the rest of my life. Do that" – Gary Vaynerchuk
#70. "My hustle is nonstop. I never stop hustling."
#71. "Maybe the cure for any burnout is to work harder"
#72. "It's a matter of time that the money I make becomes a financial cake that I could eat everyday." – Jonathan Anthony Burkett
#73. "Hustle in silence and let your success make the noise"
#74. "When you have time to shine, you have time to grind"
#75. "I don't make excuses. I make results"
#76. "If you can't do great things, do small things in a great way." ― Napoleon Hill
#77. "Be undeniably good. No marketing effort or social media buzzword can be a substitute for that." – Anthony Volodkin
#78. "If people like you, they'll listen to you, but if they trust you, they'll do business with you." — Zig Ziglar
#79. "Your work is going to fill a large part of your life, and the only way to be truly satisfied is to do what you believe is great work. And the only way to do great work is to love what you do." — Steve Jobs
#80. "It's not about ideas. It's about making ideas happen." — Scott Belsky
#81. "The fastest way to change yourself is to hang out with people who are already the way you want to be." — Reid Hoffman
#82. "Don't worry about people stealing your design work. Worry about the day they stop." — Jeffrey Zeldman
#83. "Hold a picture of yourself long and steadily enough in your mind's eye, and you will be drawn toward it." – Napoleon Hill
#84. "Timing, perseverance, and ten years of trying will eventually make you look like an overnight success." – Biz Stone
#85. "Ideas are commodity. Execution of them is not." – Michael Dell
#86. "Embrace what you don't know, especially in the beginning, because what you don't know can become your greatest asset. It ensures that you will absolutely be doing things different from everybody else." — Sara Blakely
#87. "There is no greater agony than bearing an untold story inside you." ―Maya Angelou
#88. "The biggest adventure you can take is to live the life of your dreams."– Michael Jordan
#89. "Success usually comes to those who are too busy to be looking for it." – Henry David Thoreau
#90. "There's no shortage of remarkable ideas, what's missing is the will to execute them." – Seth Godin
#91. "You must either modify your dreams or magnify your skills." – Jim Rohn
#92. "People who succeed have momentum. The more they succeed, the more they want to succeed, and the more they find a way to succeed. Similarly, when someone is failing, the tendency is to get on a downward spiral that can even become a self-fulfilling prophecy." — Tony Robbins
#93. "Success seems to be connected with action. Successful people keep moving. They make mistakes, but they don't quit." — Conrad Hilton
#94. "Often, the more money you make the more money you spend; that's why more money doesn't make you rich – assets make you rich." – Robert Kiyosaki
#95. "If you never want to be criticized, for goodness' sake don't do anything new." – Jeff Bezos
#96. "The question isn't who is going to let me; it's who's going to stop me?" – Ayn Rand
#97. "Obstacles are those frightful things you see when you take your eyes off your goal." – Henry Ford
#98. "Don't downgrade your dream just to fit your reality. Upgrade your conviction to match your destiny." — Unknown
#99. "Doubting yourself is normal. Letting it stop you is a choice." — Mel Robbins
#100. "Stay committed to your decisions, but stay flexible in your approach." — Tony Robbins
#101. "Go confidently in the direction of your dreams! Live the life you've imagined!" -Thoreau
#102. "In any moment of decision, the best thing you can do is the right thing. The next best thing is the wrong thing. The worst thing you can do is nothing." – Theodore Roosevelt
#103. "Don't think about your errors or failures; otherwise, you'll never do a thing." -Bill Murray
#104. "Life is short. Don't be lazy." -Sophia Amoruso
#105. "Whatever the mind can conceive and believe, it can achieve." ― Napoleon Hill
#106. "If you can't do great things, do small things in a great way." ― Napoleon Hill
#107. "Our only limitations are those we set up in our own minds" ― Napoleon Hill
#108. "We drink the can, not the beverage." ― Seth Godin
Related Posts;
A list of 27 all time motivational quotes for bloggers
7 top methods to make money from blogging
How this mom blogger makes money with her online business
Best Hustle Quotes To Inspire You To Get Work Done
There, you go!
I hope these list of hustle quotes for entrepreneurs and bloggers will motivate you to keep working.
If you want to add more inspirational hustle quotes, you can share them in the comments.
Also, share with us your favourite hustle quote.