Do you have the same obvious question when you open your Instagram account? Or, wonder, what to post on Instagram every day? Maybe, you ask yourself or Google, how to find Instagram post ideas?
Guess what – I did the research.
Honestly, the idea of writing a post on Instagram post ideas for bloggers initially came when I started looking for new photo ideas for my own Instagram feed.
If you want to be consistent on Instagram, you need to have your content planned.
Most importantly, Instagram is an eye-pleasing platform.
It's a visual social media outlet where you speak through images. Instagram can be used to make connections, engagement with the audience, collect feedback, launch products, promote new businesses, market campaigns, build brand awareness, and establish a community.
It's a lively platform where colors matter. Instagram is a direct source of communication with your followers. As soon as I started using Instagram, I got to know my audience better. The obvious reason is the immediate feedback. As soon as the Instagram profile grows, the more chances of getting seen increases.
Obviously, there are several other Instagram features which you can experiment. But, this post focuses only on ideas to post on Instagram.
Let's just keep it to Instagram content ideas!
To make your Instagram content shine, you need to collect endless Instagram post ideas. You need to capture pretty pictures so that your profile stands out!
However, gorgeous photographs is another important element when it comes to Instagram. I also read somewhere that taking photographs helps to rejuvenate mood swings and boost creativity skills. Either way, it's a fun activity.
But, again if you've got a business or you sell any products online then you can either buy high-quality photographs or invest in a stock photography monthly subscription.
I'm talking about professional images by pro-photographers.
Just imagine the visual attraction of those quality driven images on Instagram.
In this post, you will find creative photo ideas for Instagram. Seek inspiration from this bunch of Instagram post ideas. And, create a beautiful Instagram feed to inspire your followers.
Now, you can even schedule monthly Instagram content with Tailwind. You can also write the captions and use hashtag finder feature to find hashtags. Sign up for a free trial.
Time to go creative!
Do you have a blog? Would you like to start a blog and make money online? You can simply use my comprehensive tutorial and create your own blog.
61 Instagram Post Ideas For Bloggers And Creatives
Just to make sure you get the best ideas, I have given immense time to complete this post. I went through amazing Instagram profiles so that I could find relevant examples to share with you all.
If you're someone like me then you may also love using pretty stock photos! In this post, I shared 7 perfect places to find feminine stunning stock photos for your blog and business.
If you love this post, make sure you give it social media love 🙂
Don't forget to pin the cute Pinterest image.
Make sure, you follow me @shemeansblogging.
Tip: Bookmark this post so that you can use these ideas for your monthly Instagram content calendar. Just pick favorite photo ideas and add the image to your calendar. You can also further write the caption and hashtags.
Let's make your Instagram feed interesting.
MORE POSTS RELATED TO INSTAGRAM And I highly recommend reading these posts as they will help you go a step ahead with Instagram;
Some links in this post are affiliate links. That means, if somebody makes a purchase through an affiliate link, I will make a small commission with NO extra cost to you. Thanks for always supporting my blog!
1- Share a useful tip
The best instagram post idea for bloggers is to share a tip.
Depending on your experience, and interests you can share a tip with your following. People love consuming tips and expert advice. If there's anything you think would be helpful for your followers – share it away. It doesn't really have to be associated with any business or blog. It could be about anything.
A self-care tip.
A beauty tip.
A productivity tip.
A reading tip.
Time management advice.
Advice for parents.
Tips to train kids.
Any tip to use a product.
A tip for better writing.
2- Behind the Scenes
Everybody sees the final image. But, nobody knows how did you take the photograph? Or, how do you work? What props do you use for capturing Instagram images? Maybe, share a behind the scene image of your new project. Or, share a picture of yourself working on a product or idea.
It could be roughly anything. You can incorporate the natural backgrounds of your workplace. With the help of little editing, you can produce a nice image and of course, an interesting photo idea to share on Instagram.
Look at the example below from @noor_unnahar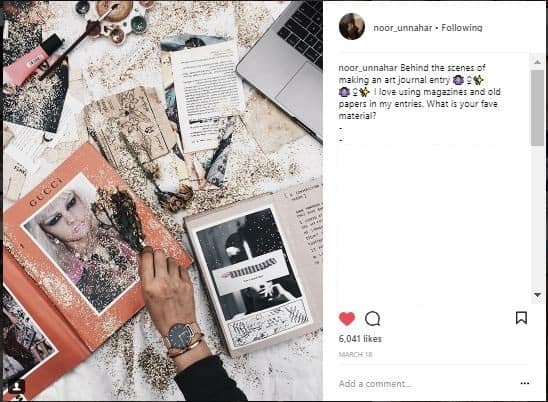 3- Show a unique angle
Try to be creative with instagram blogging ideas.
Show a different angle of the image you already have. You can hold your camera up high to capture a different perspective. Take a panorama shot that is wide enough. Try ant's eye view in which you need to lie down and keep an eye on the exposure. This will give you close-up shot results.
4- Post user-generated content on your profile
The user-generated content simply means the content generated by users. It's the content that's shared by your community, or followers around your brand, or the products. This content format is highly popular for marketing purposes. A brand can never be powerful without the stories of the community.
So, encourage your followers, or community to produce content around your products, or brand. This way, you can find user-generated content for your business. The client stories will also give you more exposure and engagement.
Related : How To Find Top Instagram Hashtags With Instagram Strategy
5- Share a positive message
People love to get positive thoughts, and messages. Why not come up with a positive quote of affirmation? You can use any element to portray positivity.
6- Give a throwback
Remember the time when you attended an event in your locality? How about your last year vacation trip? Or, maybe a birthday celebration?
Dig into your memories and share an image to give a throwback to your followers. Too often, the image is already in the feed, laptop or phone. Just use it again and share it with your audience.
7- Add teasers to hype the announcement
Is your new blog post about to come?
Are you launching a new product?
Are you excited for an event?
Going to travel next year?
Discount/offers?
Share a teaser to create the hype for your next product launch. Or, any discount offer.
You might like to read 121 Lifestyle Blog Post Ideas To Write
8- Ask a question that receives an answer
We all know that questions increase Instagram engagement. So, think about the next question you're going to ask your followers?
Most importantly, the question should get an answer from the followers. Ask any interesting question followed up with an image.
If you are looking for more ideas then you will love these 100+ social media content ideas too! These ideas work great to increase engagement.
9- Create a video
Videos are simple. Just create a video about anything and share it. There are many video ideas to choose from. Record a video of yourself. Shoot a video of your blog. Record a video with your friend. A short video of your cute puppy.
10- Add the story behind the image
People are always interested in knowing the details, and background of the image. How did you come up with the idea of capturing any specific image? How do you get inspiration for your Instagram images? Or, where did you took the image?
Whatever is the story, just share it with your followers.
11- Speak to your audience
Choose any blog related topic and post a random picture to start a conversation with your audience. Directly, communicate with them. Give them a reason to answer you.
Make sure, the picture grabs the attention of users.
12- Give your audience some laugh
It's okay to be funny sometimes. People want to be entertained on social media. Adding a funny graphic, or a meme are few examples. You can also share a funny story from your life. Or, any bloopers, blunders. Look at this cute image from katcupcake.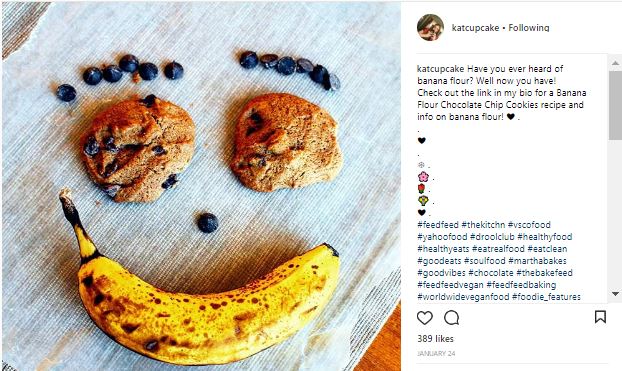 13- Mention someone else on your feed
If you are on social media that means you have social connections. Mention someone else on your profile. Post a picture of their work, and tag them.
Possibilities are that next time, you will get featured on someone else profile.
14- Talk about the new blog post and drive traffic to your blog
I need to admit this.
I often don't talk about my latest blog posts, but I think it's a good idea to keep your followers updated with your content. However, when I share a 'new post' image on Instagram then I do drive traffic. So, this encourages my followers to click on the profile link and read the post.
You should definitely try this.
15- Record a tutorial
Do you know that 'How-to' video tutorials are most watched online? If you have not ever created a tutorial before, do it now.
Try few ideas below;
How to draw a weekly spread on the journal
A makeup tutorial
A hairdo tutorial
How to use a new product
How to create a quiz for your readers? This is a how-to post explaining to create free quizzes.
16- Share your favorite holiday images
No doubt, holidays and travel adventures are wonderful. There's always something new about the holiday, and travel images. Share those breathtaking images with your Instagram fans.
Have you been to a new place recently?
Share it!
Some helpful posts;
High Paying Affiliate Programs For Bloggers
17- What's in your bag? Flatlay!
If you've been on Instagram, you might have seen a lot of flat lay images. Now, it's your turn to take a flat lay shot of your bag accessories. Using bag essentials is just an example.
18- Morning routine
Let your followers know your morning routine. Maybe, a cup of coffee, newspapers, or an alarm. Share a picture of yourself and how do you dress up in the morning. It's always nice to look at morning routine images.
19- Cute pet posts
People love seeing cute posts of pets.
If you have got a pet then make him ready to pose for some Instagram shots 😉
Are you interested in becoming a micro influencer, and make money with Instagram?
Read about Micro Influencer Handbook – Become a micro influencer, and GET PAID even with a small social audience. This post walks you through everything!
20- Share an image of your workstation
Do you have a daily job? Or, are you self-employed? Or, maybe working from home? Capture an image of your workplace and share it.
Here are some more ideas related to work station;
Post picture of a coffee mug.
Post a picture of a water bottle.
Post your desk image
21- Outfit details
This might be more relevant to fashion, and lifestyle bloggers. But, who cares? If you got dressed up well for any outing, just take a full image of yourself and share it.
Caption your image well!
It's OOTD!
Do you have pretty Instagram highlight covers?
Instagram is all about adding those gorgeous & cute elements to your stories, photos and highlights! Check out golden instagram highlight covers in just $9.
22- Favorite product of the month
Have you fallen in love with any tool, accessory, or book? Tell your followers about it. How was your experience wearing that jewelry? Were the shoes comfortable?
Will you recommend people to try the new Instagram editing app?
23- Flowers
Flowers always look pleasing to the eyes. There are lots of ideas to use flowers in an image. Even a single shot of flower is enough to attract Instagram users.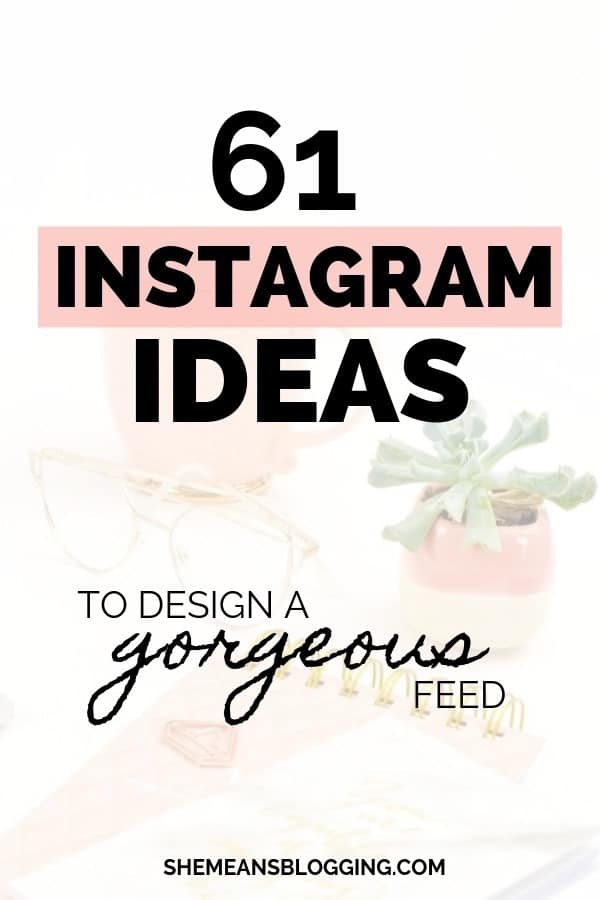 24- Who is someone you follow every day to get inspired?
Let your followers know who you follow to seek inspirational content. It can be a gorgeous Instagram influencer, any blogging friend, or a brand. Maybe, mention their Instagram or write briefly about them.
25- Any DIY project
Have you ever did a DIY project? Anything small that you did to decorate your workplace, closet, home, kitchen etc. Just take a snapshot of DIY and share it with your Instagram fans.
26- Customized social media graphic
Another thing I noticed a lot of Instagrammers do is that they create customized social media graphics that go with their brand color and theme. How about doing that?
Pick any quote, or a motivational word, or maybe an announcement.
If you see below, I designed this image using Canva PRO!
You can find tons of templates, premium elements and photos to design instagram posts. You can also use this link to get first 30-days free.
Looking for a creative Instagram content idea for bloggers?
Try next one!
27- Find an Instagram background wall and take a photograph
Ever seen a wall art, or a gorgeous background? Why not take a photograph and display it on your Instagram profile? We always get attracted to artistic and graffiti walls. I'm sure you might have seen different colored walls on streets or events.
So, next time, make sure you take a snapshot of a beautiful background.
Look at this pretty picture from @ohjoy
29- Your favorite spot/restaurant/coffee shop
Whatever your go-to destination is, share a snapshot of it. Doesn't it look nice to look at new localities of your area? Of course, everybody loves to see beautiful sights.
30- Time management tips
Everybody struggles to get organized, and manage time. What is the one tip you'd like to give to your followers on time management?
31- A bird's eye view of your shoes/floor
Got a cute pair of shoes? Your Instagram profile needs it! Take a bird's eye view of your pretty shoes and share. You can do the same with any artistic floor.
This photo from @studiodiy gives a view of shoes and tiles.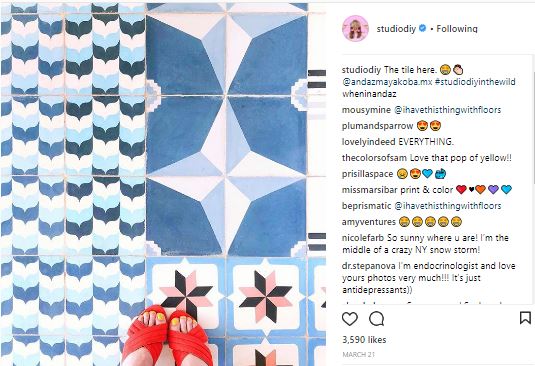 32- Milestone celebration image
There can be several reasons to celebrate a milestone. You can share a celebration for hitting the monthly goals, weight loss, morning routine, fitness regime, Instagram followers, email subscribers etc.
Create a customized image or choose any image from your phone gallery. You got the idea, right?
33- Personal photo
If you are not camera shy then sharing a personal photo in a week can be a nice idea. Followers often like to know who they are following, and what you do every day. Just take a selfie of post a random image of yourself doing something.
34- Host a challenge
Instagram can be a lot of fun for hosting challenges. It could be a 30-day image posting challenge or sharing themed images. You can follow a theme and encourage other friends to do the same. It can be a lot interesting.
35- Quotes
This is pretty obvious. You can use Canva to create customized quotes or use Pinterest to find out some awesome motivational quotes. Find some motivating quotes here and use some ideas for next Instagram post idea.
We should just move to the next one.
36- Currently watching/Listening to
As said, your followers need to know your personal side too. What are you currently watching? Share it with your followers. The current Tv show, or podcasts.
37- Recommend any book
Have you finished reading a book? Write a caption about it. Tell your followers whether they should read it or not. We all know that books can be a wonderful prop for Instagram images. With one book, you can take several shots. It's time to be little creative and polish your photography skills.
Instagram Content Planning Recommendation:

Do you want to plan Instagram posts in advance with creative captions? I highly recommend getting this Social Media Content Calendar by Pixistock!

It's such an excellent content planner to schedule all your content ideas on any channel including Instagram. When you subscribe to their monthly subscription, you will also get 4000+ stock photos, Instagram templates, Instagram captions, Instagram content ideas and so much more. I am part of their annual subscription and totally love it.

<<Check out Pixistock content calendar here yourself>>
38- Any idea that didn't work
Go free. It's also about sharing your trials and errors with your Instagram fam. Talk about insights. Maybe, you got an idea that didn't work. Or, you tried an app which was disappointing. Whatever it is, talk about it.
39- Share your introduction
What was the reason you started using Instagram? Who are you? Every other day, we all get new followers. It's possible that a lot of people don't know who you are, and what you do. It's always a good idea to introduce yourself once in a month.
40- Feature a follower
We all have some amazing followers who always interact and are always excited to see your new image. Feature your best follower on your account. Give some love to your followers. You can even do a challenge so that everybody participates and you can find out the highly engaged follower.
41- Goal of the month/week
What's your goal for the week/month? Let your followers know about it. Maybe, you would like to do an Instagram live story or record a youtube video, or pitch to a few brands, etc.
42- Take opinions and feedback
Always know that your followers are most important to you. So, involve them in everything you do. They can be a great source to collect feedback or opinions. Even if you wish to launch a new product, use another social media channel or start another business venture. You can take the opinion of your followers. It can even be a photography idea, a course idea, or trying a new restaurant in the town, etc.
43- A reminder to join your email list
If you're a business coach or a blogger who understands the importance of building an email list. Then, do tell your followers about it. Tell them to subscribe to your email list for whatever reasons you have. But, you should give a clear idea of what you send in your emails. It helps them to decide whether they should subscribe to your emails, or not. Because there is no reason for having a list of thousands of subscribers where less than 100 are interested in what you offer or say.
Think about it.
Related: How To Build An Email List For Free
44- Tell your followers about ways to connect with you
We know that Instagram is the fastest way to connect with any brand or blogger. But maybe some people would like to connect with you on Facebook, and Twitter as well. Show them that you are also available on other social media channels. Like, when somebody asks me for my content ideas etc then I recommend them to follow me on Pinterest. Because I find that Pinterest is the hub of content. I absolutely love it!
45- Polls
If you ask me, I love taking and doing polls. It helps you to make better decisions for your blog, personal life, and even for your business. Every once in a while, do polls. Create an image of two things and ask people what they like best. Things like these also increase engagement on your profile.
46- Product-focused content
Whatever theme you follow, try to produce content that based on your main product. Try different ideas and promote your main product. You can try multiple ways of using a product etc.
47- Breakfast meal
Yes, you get me right. I'm talking about those beautiful images of oatmeals, coffee, loaves of bread, cakes, tea and other breakfast meals. Share a picture of your breakfast meal with your fans.
They might want need to know what you take in breakfast.
48- How to post
Just create a photo collage of step by step images of performing a task. You can even record a short video of doing an activity.
For example, 'How to start a profitable blog from scratch'. In this post, I have laid out exact steps to create a blog from zero. This post includes a step by step process.
You just need to brainstorm new instagram content ideas to keep your followers engaged and entertained.
49-A fitness routine
Maintaining a fitness routine is always challenging. Some fitness tips, meditation, and body exercises are always helpful. No matter what theme you follow, it's always nice to share healthy fitness ideas. Your photo can have the same theme, but the caption can have the advice.
50- Interesting statistics
Share statistics. Just google to find statistics in your niche. It could be any data for small business owners. New Instagram trends. The latest report for freelancers.
Make sure you credit the source.
51- Current events
Are there any local events evening you are going to attend? Or, any seasonal holiday event on the weekends? Cover it.
Don't forget to announce it first, and show your preps, And, then take cover the event on your profile. Maybe, two pictures.
52- Blog tour
Maybe, you've got a personal blog where you share tidbits of daily life. Or, you are the business owner of an online shop. Or, maybe you've got a youtube channel. Do a visual tour of your online web space.
Let people know about your blogging activities.
53- Freebie
People love to get free incentives, offers, information, and quality resources. Is there anything free you offer on your blog/website? Share it with your Instagram fans. Maybe, they didn't know about it. Give them details about the freebie.
If you haven't noticed, I offer a free blogging book and a free email course for profitable bloggers. There can be anything which you'd like to offer for free. Some photography ideas. Motivational quotes. Free printables. Diet plan.
54- Accomplishment
This can be instagram post idea for bloggers and entrepreneurs.
Share your wins. Have you got 2000 Facebook likes on your page? Did you manage to work for 5 hours every day? Have your freelance pitch got accepted? Did you make more money this month? Did you get a prize? Have you started to work on a new project idea?
Whatever it is – share your wins with your Instagram fans.
55- Friends and Family
Share a photograph of yourself with family. Tell a little bit of themselves and what family matters to you. Or, do you have a crazy BFF? Maybe, share a funny moment with him/her.
This counts among personal Instagram post ideas. You can share a picture with your family, any memory, or even a throwback image.
56- Nature
Nature photography is always breathtaking. And, nature always feels pleasant to the eyes. Share images of green grass. The exotic landscapes. Any portrait which gives a fresh air of breath.
57- Tell a story
Be a storyteller for your audience. Tell a story through your camera eye. Whether it's a product or a human being, you can have the opportunity to share a story with your audience.
58- Keep an eye on the national calendar
In almost every month, there are some holidays. If you just look at the national calendar, you will find several celebration days. So, you can find national days that are associated with your country or whatsoever. But, too often there are days which are celebrated all over the globe. Every time, you create Instagram post ideas, do check the national day's calendar and see if there's any day coming.
59- Your to-do lists or planner image
I personally love planners and bullet journals images. If you don't really do journalling or planning, you can still create a short daily to-do-list and capture an image.
Make it little colorful so that the image turns out attractive. However, it's totally up to you.
Check out this gorgeous planner image from @modplannergirl
60- Coffee / Teacup
Well, that's my favorite! It's pretty common that everybody shares images of mugs and coffee cups.
But, the fact is, we always love those images, right?
If not, bring your smoothie glass!
61- Lit up your own creativity skills
Finally, brighten up your own skills. Everybody has different ideas, thoughts, and skills. Plan out and come up with your own photographs.
Uniqueness will also help you to stand out from the crowd. Make your own visual identity so that people know it's YOUR content. I know it can be hard for someone who's just doing it for fun. But, again it's an enjoyable activity and can be a lot of fun.
Even I have started loving the concept of taking pictures for Instagram 😉 Every week or so, I collect few props and take a bunch of Instagram images.
Hopefully, you have found a month photo ideas on Instagram. I would always suggest you plan out content and put all of your ideas into an Instagram content calendar. It will help you get relaxed and not at all worry about 'what to post on Instagram' every other morning.
Use Tailwind for free 30 scheduled Instagram posts
Further Reading;
The Ultimate Guide To Make Money On Instagram
How To Get Free Instagram Followers: The Only Strategy You Need
How to use Instagram to get more online customers
8 Ways how instagram can work for your business
How to hide Instagram Hashtags to your comments automatically?
21 popular Instagram story ideas for high engagement
Personal Instagram Post Ideas
Many times, you feel stuck on what to post on your personal instagram account.
Personal blogs on Instagram usually share their own story and inspire their followers. A lifestyle Instagram blog.
Here are some personal instagram post ideas to share;
What you do in your free time?
Talk about your day (Where did you go, what did you eat)
Outfit of the day
Share an unpopular opinion
Favorite place in the house
The books you like reading
The songs that are always on repeat
The app you use the most
The last time you went on a travel
The worst salon experience ever
The product you never recommend to anyone
Your memories (Share a throwback picture, memories with family, remember a friend)
What I wish I knew before going to college, starting an instagram blog, doing diet, getting married etc
Talk about birthdays
3 things you are grateful for
Why people hate social media?
Social media detox and what you did
Opinion on a trending topic
Something you are struggling with
Something you are always scared about
How you face challenges in life?
How you get motivated every day?
What's your next plan? Your dreams?
What's in your wish list?
If you ever get a chance to travel, where would you go?
Comment on a youtube video
Share a new restaurant, online site, youtube channel
Morning or evening person?
Instagram Content Ideas for Bloggers
I'm sure I'm missing out some really cool ones.
I definitely want to know your Instagram content ideas. What do you typically post on your Instagram? And, what images get your most likes, and comments?
Feel free to share your creative instagram post ideas.
You can also follow me on Instagram @shemeansblogging for new posts, and ideas.