Instagram stories are getting more eyeballs than Instagram posts. It's a perfect way to connect and engage with your audience. Over 500 million people use Instagram Stories every day to interact with their followers.
People are now more engaged to Instagram stories than ever! Let it be a new product, behind the scenes, or making a new conversation, Instagram stories are winning!
So, if you are not using Instagram stories then you are definitely missing out a lot!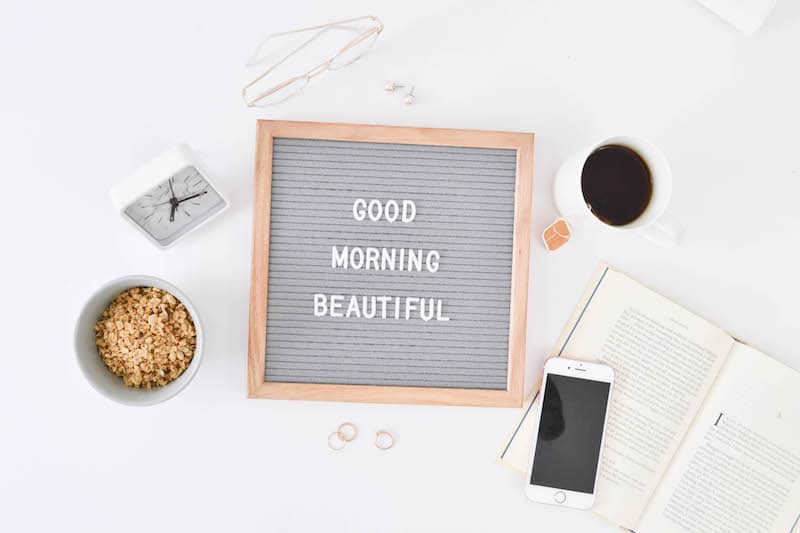 When you post stories on Instagram, you are actually giving a real-life glimpse to your followers. It's not only about your blog or business but it's also about you.
Instagram influencers have an engaging follower base. Your followers want to see a little side of your personality, how you run the business, your work routines, products, and generally, the lifestyle.
When I asked a few of my friends, they said that they watch stories more than posts.
Instagram stories are;
Entertaining
Engaging
Mini Videos
Interactive
Prompts followers to interact
And, a lot of fun too.
But, when it's about ideas to share on Instagram stories and even, instagram post ideas – we usually go blank.
3 Simple Tips To Create Instagram Stories Really Fast
Before I share with you some best instagram story ideas, I thought to write some basic tips to create instagram stories really fast.
Watch other stories and see how they do it. Yes! Instagram marketing is just any other platform where you will have to see your competitor's or other influencers. DO NOT COPY THEM. But, yeah, get inspiration from them. What type of stories they post? What's a new feature they used? Stuff like that.


Note down your Instagram story statistics
If a story works well for you, make sure to note down the statistics in your phone or notes app. This will help you come up with more relevant ideas.


Use apps like Canva to create Instagram story templates in advance. This can be a huge time saving idea! Canva pro has several templates for you to use for free. Just edit and download them.

21 Instagram Story Ideas To Kick off Instagram Engagement
Now, what about instagram story ideas?
This is why I have compiled this list of engaging Instagram story ideas to kick-off your interaction with followers.
#1- Question. Question. Question
As simple as it sounds, asking a question is a great way to engage with your audience. Your followers want to connect with you. They are willing to answer your questions. But, you want to give them something that's in their interest.
Post questions that are in your follower's interests.
Ask them about their personal struggles.
Post questions that start a conversation.
For example, you are a book blogger on Instagram. You can ask questions related to;
–> What are your 3 favorite books?
–> Which book do you want me to review next?
–> What's your book reading routine?
–> How much time does it take you to finish a fiction book?
There are so many ideas to experiment with your questions. It's all in your creative mind inside.
Go, make a list for your next Instagram post ideas where you ask questions.
Affiliate Disclosure: This article contains affiliate links. If someone makes a purchase through affiliate links, I may earn a small compensation. For more, please read on to privacy policy and disclosure.
#2- Post a tutorial
A tutorial doesn't have to be complicated. It's very simple to record a tutorial and share it on your Instagram story.
People love watching stories!
Give them something to take away from your stories. No matter what type of topics you usually topic about, you can record a tutorial and share. The best thing is that you can save your tutorial and re-share it after a few months.
Let's say, you make DIY paper flowers. Just record each step, and make it a moving story. Or, post a tutorial on anything you like.
Apps like Canva and Invideo are super easy to record tutorial videos.
With canva, you can create a photo tutorial. Take snaps of each of your steps and then merge it to make an Instagram story. By latest animation feature, your canva story can still be attractive.
However, with Invideo, you can create a video too! It's a quick tool for creating video tutorials.
#3- Morning Glimpse
The super-simple Instagram story idea is to give a glimpse of your mornings. You can post different and creative stories about your mornings.
Let's check a few of these cute Instagram story ideas;
Share your morning cup of coffee/tea
Share your morning view
Post your picture in PJs
Post your messy hair picture
Take a morning selfie and post it on your Instagram story
Take a shot of your morning breakfast
Your bed after you wakeup
Outfit of the day story
Your 5 affirmation quotes in the morning
Interesting, right?
I love to watch all those morning videos on youtube. I don't know but I just like to watch such videos. Similarly, if someone shares their morning routine on their Instagram stories, I definitely watch them.
Related ==> 5 beginner tips to get Free Instagram followers
#4- Have quizzes – Insta story quiz ideas
Short and interactive quizzes are smart ideas to engage with your followers on Instagram stories. It's up to you what type of quizzes you want to do.
I have a blogging quiz for my website which converts very well. It helps my readers to understand their blogging focus. I explain in this post how I created an interactive quiz for my website.
Are you struggling with blog focus? Not sure where to put your focus in your blogging biz? Answer few questions and find out exactly where you need to put your focus in your blogging journey.

Have 45 seconds? Take my quiz
Here are some quiz ideas for Instagram story;
My favorite icecream is…a) vanilla b) strawberry or c) chocolate
Guess how long I have been married?
My favorite TV show is…
Am I a morning person?
Guess what my blog post is about?
Guess how long I have been on Instagram?
Guess my favorite youtube influencer is…?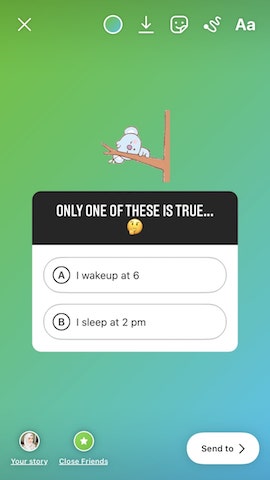 Ask 'Never Ever I ever' questions.
Never ever I ever;
Cut my own hairs
Been arrested
Dropped my phone
Been stuck in an elevator
I'm sure you get many instagram story quiz ideas for yourself.
#5- Product talk
Don't forget that you are on Instagram to make an income too. It's important to talk about your product.
You don't need to be salesy all the time but you got to tell your followers what you are selling.
Do a video and talk about your product
Record a video from your phone about your product details
Sneak peak of your product
What's included in your product?
Who is this product for?
Before and after if someone uses your product
A mockup or image of your product
Share a testimonial of your product
Talk about happy buyers
There are so many things you can post on your Instagram story.
Your product talk can be your weekly instagram story.
There are so many Instagram story templates to choose from. Just look at these story templates from Canva app.
I use canva for all the graphics for my website and social media. I even post how I find canva pro extremely useful here. It shows all the extra premium features of using canva.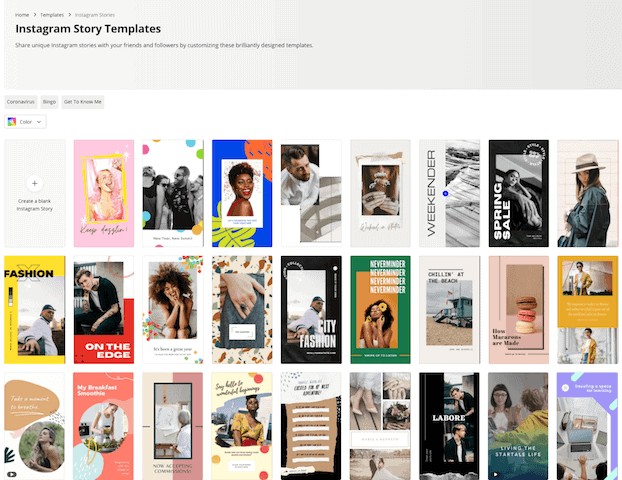 #6- What someone said about you? Testimonial time
Your instagram story idea doesn't have to be all about your followers or what they like.
It can be about you!
It should be about you, your products and your services.
People like to know about you.
What people think about you? Have you well served anyone? Are your clients happy with you? What someone said about your product?
Share it on your Instagram story.
Post a video testimonial
Post someone else's post
Post a testimonial and tag the buyer/client
#7- Mention another account
Online support helps to build your business online. Let it be on Instagram or any other platform, having a supportive network is essential.
Mention another popular account and tell why it's worth following
Mention your friend's account and tell his/her expertise
Post other's content on your instagram story
Post anything trendy
Think of how you can give your followers something extra. And, by doing this, you are actually supporting someone else. Hopefully, they will do the same and return the favor.
==> Related: How to hide Instagram Hashtags to your first comment automatically
#8- An inspirational quote
Admit it or not, we all love those motivational words. If you ever run short of ideas, just pick this instagram story idea and keep up with your stories.
It's easy to say that just post a quote but it can be tricky to find the best inspirational quote that you want to post.
That's where memberships and stock photo subscriptions are extremely useful. You get like hundreds of quotes ready for you to post. I absolutely love using Styled stock society, Ivory Mix and Pixistock.
You can also find tons of templates, educational courses, workshops, stock photos inside these subscriptions. And, all you need is to post them on your Instagram story.
#9- Use Instagram stickers
Finding a new instagram story idea can be challenging when you post every day. Why not use stickers on your instagram stories?
Instagram has rolled out many features for engaging instagram stories. You should definitely use them to make your stories popup! The purpose is to consistently post new stories and engage with your followers.
If you type these words, you will find some cute stickers.
Here are some ideas to use instagram story stickers.
Add the emoji slidebar
Use GIF stickers
Location stickers
Countdown to an event
If you want to find the best stickers, you need to use the relevant term in the search tab.
Keep discovering new instagram stickers to create engaging instagram stories on your profile.
Related ===> The ultimate guide to make money on Instagram
#10- Promote your latest instagram post
It's definitely suggested to post your latest or even, oldest instagram post to your instagram story.
It's not any new or creative instagram story idea but you want more eyeballs on your content.
People who might have not seen your instagram post have another chance to engage with your post through Instagram story. Most people are not active on the time you might have posted. So, posting your latest post again on your story is a great idea to get some love.
#11- Do AMA
You can be a little busy asking me anything every week. But, doing it once or twice a month is a good idea. Your followers have lots of questions to ask you.
They want to ask about your life
Your professional life
Your lifestyle
Your fashion sense
The way you dress up
Your makeup and skincare routines
Your time management
Career choice
Regrets in life
Achievements in life
Try doing an AMA on your instagram story and see what types of questions you recieve. All these questions are actually your ideas for instagram posts and next instagram story. So, use this feature to brainstorm more content ideas.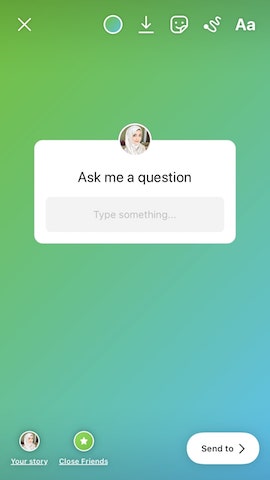 #12- Mention a DM
Go through your private messages and see if you find anything interesting to post.
Some DMs can be funny too. You can post that too!
It doesn't need to be anything long but a simple text is enough to fill up your instagram story.
Related: How to find best instagram hashtags to increase engagement
#13- Behind the scenes
Everybody loves behind the scenes.
Here are few ideas for that;
Show how you take your photos
Show your product creation process
How you record a video
Your props for instagram shoot
How you style up yourself
What steps you follow for styling
Your behind the scene idea can be anything.
Just see how you can use it for your next instagram story.
In the end, you can ask your followers if they want to watch more like such instagram stories?
#14- Do a challenge
Many people on Instagram love doing challenges. If instagram is your main social media channel for marketing or gaining clients then you should definitely do a challenge.
You can do a challenge with other instagram content creators, or lifestyle bloggers.
→ Post 3 things about yourself each day. It can be a 5 day challenge.
→ Do a 3 day challenge where you have to interview someone else on your instagram story.
#15- Tell about yourself
We usually forget doing the introduction stories but they are definitely needed. There might be new followers last month and they even don't know what you do. This can be a monthly or weekly instagram story idea.
Why not introduce yourself on your instagram story?
Who are you?
What do you do?
Who do you serve?
Why do you use Instagram?
Talk about your business/clients/products
Do a video, or the text. It's up to you. But, the idea is to tell people what you do?
How about this Instagram picture idea?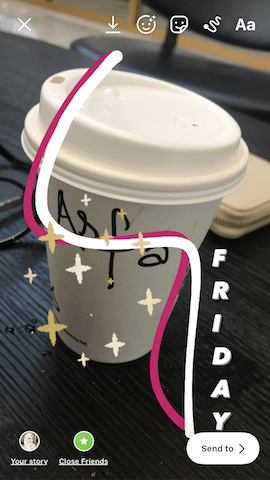 #16- What's trending?
There must be something trending in a week, or the month. During the recent covid health crisis, people want to know about it. You can't just share any medical advice as it's not right to do. But, you can share a post from an authoritative website or doctors. You can post how you are taking precautions etc.
Similarly, if there's any trend happening – you can post about that too. Any recent activity, any news, update etc.
Tired of finding hashtags and regular posting on Instagram? Get a 30-day trial of tailwind app to schedule Instagram posts in advance! Post your content on peak times with best hashtags suggestions.
#17- Do favorites
If you are looking to post creative instagram story ideas then talk about your favorite things.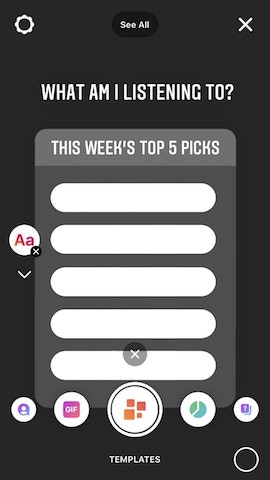 List your favorite things.

It can be;
5 favorite TV shows
3 favorite social media apps you use
5 favorite makeup products
3 favorite songs
Anything can be added to this list.
#18- Do before and after
Before and after can be an excellent idea for instagram stories.
How does a product look now? Post before and after image.
How have you reduced weight? Share an image of your before and after.
What changes have you noticed in your Instagram content? Share what it was before and what's it now.
#19- Instagram story takeover
I remember doing this one with another popular blogger who interviewed other instagram content creators and it was fun!
I even gained new followers who interacted with me later on. I also discovered the new feature and a whole new audience.
Invite someone for instagram story takeover.
Request someone for the same.
Create challenges for instagram story takeover.
#20- Thought of the day
Another popular instagram story idea is to post thought of the day. It does look like a motivational quote idea but it's a great way to be consistent on your instagram stories.
If it's wednesday, post a wednesday thought.
It's a Monday, post a monday quote.
Or, just a random thought you feel in a day.
Post it right away.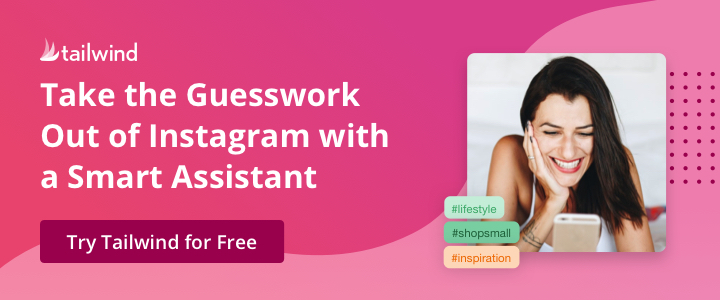 #21- Share a throwback image
Your phone gallery might be full of photos, and videos from this year to years ago. Why not use any of those images?
By posting a throwback image, your most engaging people can trace back to that memory too. It's a good way to talk about your memories or the time you have spent months ago.
Any place you travelled?
Any memory you had?
Any quote you shared that went too popular?
A product you created 2 years ago?
The time when you joined Instagram? Maybe, you first ugly instagram shot you still have.
These are all some creative ways to use on Instagram story ideas.
Do you have other Instagram story ideas?
I really hope you have got some new instagram story ideas for your followers.
There can be several creative ideas for Instagram stories.
Let us know what type of instagram stories do you usually post?