I had no clue where to start when I learned about keyword research for the first time. And, well, here I'm writing a kwfinder review for you to make your decisions about best keyword research tool.
In case you still have no idea, keyword research is an essential part of content creation. If you aim to drive Google traffic to your website, then keyword research should be considered as an important step.
So, you need a keyword research tool such as KWFinder to find the best performing keywords for your blog content. Or, call it 'long tail keywords' that will actually help you rank easily.
But, let me honest here.
When I started out, I was suggested to use Google Keyword Planner and trust me, it was a pain. As a newbie, I was eager to learn how the free keyword planner works, and it was just giving me hints for keyword ideas. But, I failed to obtain any accurate information that helps in Google ranking.
So, I was going nowhere.
The competition is tight, and every website owner wants to get seen on the first pages of Google.
Don't you want that?
We all want that, right?
We love Google for a lot of reasons. The traffic from Google is completely organic. You will have to work hard at the beginning, but then be assured to get fruitful results.
Are you looking to start a blog from scratch? Here's a step by step guide to start your own blog and build organic traffic. It's time to do blogging!
SEO is an important factor for blog growth. It thus takes time to strengthen the website SEO and organic traffic.
Google Keyword Planner only helps to provide an overall volume search for generic keywords. The same free keyword tool used to provide close, and accurate keyword research a few years back. It is still one of the best keyword tools but now it seemed to move more towards Adword users. That means if you have an interest in spending on Ads, then you would love to use it.
But, I don't want to dig into Adwords etc.
So, I tried to look for the best alternative keyword research tools, and I find out KWFinder.
And, I absolutely loved it!
In this post, I will give a brief KWFinder review to help you make a better decision for investing in a keyword tool.
Some links in this post are affiliate links. That means, if you make a purchase through an affiliate link, I might make a small commission, at no additional cost to you. I use affiliate marketing as one of the income methods. It's all possible due to valued readers like you. Thanks for always supporting my blog.
How To Find Keywords With KWFINDER keyword research tool
KWFinder is a great keyword research tool for solving all keyword related queries. It really simplifies the process of keyword research as compared to other available tools. As a non-techie person, I was not sure whether I will be able to easily use this tool or not.
But, I was pleasantly surprised by the user-friendly dashboard.
In brief, KWFinder helps to find out low competition keywords that have high search volume in a matter of a few minutes.
I'm saying this because I know it works.
Related post: How It's Possible To Get Google Traffic To Your Blog For Free
KWFINDER REVIEW: Why KWFinder is the best Keyword Research Tool?
I want to add my personal opinion here.
I see that many solo bloggers struggle with the proper keyword research process. People don't know what steps should be taken to do keyword research for their blogs.
But, they do know that free organic search traffic comes from keyword research. In case you don't know, keywords are ideas and topics that Google users type to conduct a search on Google or any other browser. They are also called 'search queries'.
You start getting organic SEO blog traffic when your content ranks for keywords. There are several other metrics that also help to boost organic traffic. But, finding the right keywords is the most important part.
Simple.
The reason I love to recommend this tool is that it's easy and basic to use for non-techie bloggers. This tool further gives additional features which we will discuss below. Most importantly, the keyword research process is so simple that any new blogger can effortlessly follow it. The interface also looks pretty neat.
KWFinder gives accurate keyword search volume with no hidden data. That means you will not need to switch to another tool if you are using KWFinder correctly.
However, you may upgrade the plans according to your business needs.
Briefly, it's a painless tool to help you collect all the data you would need to find the best keywords for your blog. To be honest, online tools should be user-friendly because everyone is not so technical! And, we cannot spend hours learning a tool. (Or, it's just me)
Find out: How To Do SEO For Your Blog Posts – The Beginner's Guide
KWFINDER features
Let's discuss the features in little detail.
1- Get accurate keyword search volume
Many marketers recommend Kwfinder because of its exact search volume for keywords. It's no doubt that it shows you the accurate monthly search of a certain keyword.
If you compare Google analytics, it might show you something like 10k-100k for a keyword phrase, but when you type the same keyword in Kwfinder, it will show you the exact monthly volume i.e 12,635.
Enter any preferred keyword and get the exact monthly search volume of that keyword. Even you can click on the bar graph, in the trend section, to note down the trend of the keyword over a period of 12 months.
Here's an example to use KWFinder.
I entered keyword ideas for 'chocolate brownie recipes' and I found the following results.
The highlighted keywords are possible to rank.
This takes us to the next kwfinder feature.
2- Find out the keyword SEO difficulty level
The next most important thing we look in Keyword tools is the difficulty level. This particular feature allows you to find out how important it is to rank for a specific keyword phrase.
Is it difficult to rank for specific keywords?
Is it possible to rank?
Is it still easy to get rank?
Kwfinder does not just calculate the difficulty level of a specific keyword but it also shows the numbers which point to easy, hard, very hard levels.
This basically means if a keyword phrase has a hard score level, it's difficult for you to rank for that keyword. So, you should not pick that keyword. But, you can go for keywords with easy, still easy or possible scores.
In KWFinder, the colors and scores identify the strength of the keyword.
Look at the different SEO score difficulty levels and their explanations.
Find out: Most Important SEO Tips To Optimize Your Blog Content
3- Related Keyword suggestions
Now, you can also explore related keywords to your main keyword. To find out all other related keyword suggestions, you just need to click the arrow beside the keyword.
As you click the arrow, it will show a list of related keywords which you can further discover, or use in your upcoming blog post. With one click, you find a new result of keywords which you can smartly use.
So, I clicked the small arrow for more suggestions to 'chocolate brownie recipes'.
Boom! I found a number of low-competitive keywords!
4- Analyze SERP competition Strength
The SERP checker is another attractive feature which helps to evaluate SERP of any given keyword. You can easily find out what are the top pages ranking for a particular keyword, and of course their SEO metrics.
You can further go deep by clicking the 'manage metrics' button where you can use which SEO metrics you would like to show.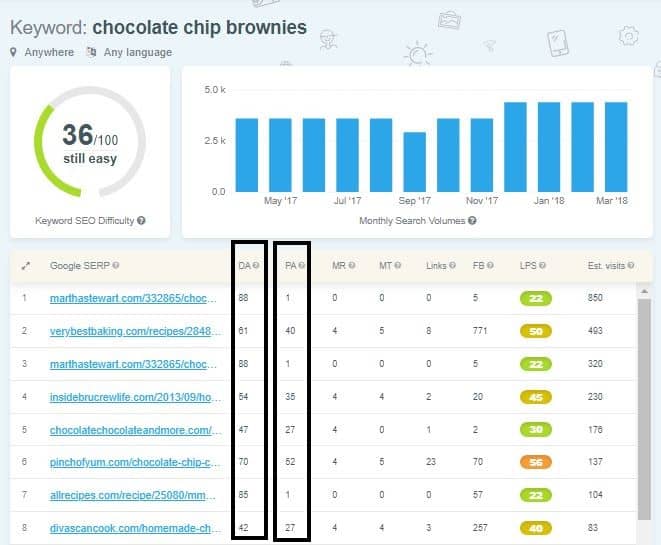 MORE KWFINDER FEATURES YOU WILL ABSOLUTELY LOVE
I have mentioned some main features but I also want you to pay attention to these extra features which truly help in finding the high-ranking keywords.
1- Use 'results filter' to customize the keyword results
2- Location and Language settings to target local keywords
3- Autocomplete and questions feature for keywords
4- Extremely useful SEO metrics
5- Helps to save a list of keywords
KWFINDER PRICING
Below are the prices and limitations.
Even if you use the Basic, or Premium plan, it will still allow you enough keyword searches, and suggestions per 24 hours.
Click here to see the price plans.
PROS OF KWFINDER
It's easy to use for any new blogger.
Kwfinder has a neat, and intuitive dashboard.
Gives an accurate search volume.
Provides an SEO difficulty score for a keyword
Find keywords according to location, and language.
Live chat available
CONS OF KWFINDER
A limited number of keyword suggestions. You will need to upgrade the plan for more suggestions.
SERPchecker opens in a new tab.
Some results are not automatically displayed.
Related: How To Create Topic Clusters To Find Thousands Of Keywords
KWFINDER IS BEST FOR;
Beginner and advanced bloggers
Kwfinder is a perfect tool for bloggers who would prefer tools that are easy to use and gives them the best keywords to rank on Google. If you are just starting out or got 5-year blogging experience, you will still love kwfinder!
Low budget bloggers, and small marketers
It's also an excellent choice for professional bloggers who are looking to invest in a low budget keyword tool. As bloggers, they will probably need this tool to find long tail keywords which help them rank fast. I use this tool, and absolutely love it for many reasons.
Related post: 10 Free Blogging Tools Every Blogger Should Use
Conclusion
If you would like to build organic traffic for your website, then you should look into keyword research tools. I personally found KWFinder a wonderful tool to find best keywords.
Have you found this KWFinder review helpful?
Are you going to use it, or give it a try?