The rise of micro-influencers has clearly shown that how they can influence their small social following, and earn a living online. Whether you're a solopreneur, a small business owner, or a blogger – you can also become a micro-influencer.
Have you ever thought of it?
Let me define you briefly.
Who are micro-influencers?
A micro-influencer is a passionate individual who has a small and targeted social audience. They are truly knowledgeable in their specific category and are more trusted when it comes to recommendations. Due to their authenticity, and dedication to their channels, brands are always looking to reach them for sponsorships, reviews, and partnerships.
A micro influencer is different from a traditional influencer.
A traditional influencer has a large social following, and are mostly celebrities, big-time bloggers and social media mavens. Several big brands approach to these traditional influencers for big advertisements, and sponsorships.
Whereas, a micro-influencer is a blogger or an Instagrammer with a small social media following of 1000 – 20,000 followers. Such small influencers make money through sponsored content, partnering with brands, and collaborations.
Do you want to start a blog and make money? Follow this comprehensive tutorial, and start a new blog. It's time to get self-hosted!
Can you become a micro-influencer and earn a living?
Absolutely!
Starting a blog, and growing a small engaged social media audience is not as complicated as you think. With having a proper pro guidance, resources, and an action plan, you can become a micro-influencer and make money.
Here's what I have for you;
This post includes affiliate links. For more, please read my affiliate disclosure here.
MICRO-INFLUENCER HANDBOOK REVIEW
If you follow my blog, you probably know that I don't really write course reviews in detail. But, I definitely wanted to write a review on 'Micro-Influencer Handbook' to help you make a decision and really invest in something that's a complete package.
I have taken this complete course, and here is what I have concluded.

What this course actually covers?
Everything you will need to become a micro-influencer and start making money. When you enroll in this course, you just have to go through every step and take action.
That's it.
You don't have to read somewhere else because Chelsea, the course creator, has explained everything to the point. She has given details where needed and has mentioned all the possible resources you will need to grow yourself online.
Chelsea is a marketing strategist, designer, and a blogger for over 15 years. She has helped small business owners, big companies and bloggers develop their websites and grow their brands. Recently, she has also sold one of her blogs for $50,000! See I told you, she knows her stuff.
Related posts:
The Blogger's Guide To Make First $100 From Blogging
How To Monetize Your Blog Without Ads?
Best Reasons To Invest In This Course;
Whenever there's an ebook or course available I often read reviews or testimonials. As a buyer, it feels important to read other reviews, and what they found helpful after making the purchase.
I have a special 20% discount code for my readers. If you want to take this course, make sure you avail the discount and save. Use discount code 'EPIFE20'
<<CLICK HERE TO LEARN MORE ABOUT THE COURSE>>
Here are a few reasons I recommend this course;
This content-rich course is detailed and well-explained. You will NOT need to take another course for more information or content.
It has an excellent resource list including affiliate programs, brand networks etc. There's no need to spend hours on internet searching the data and then taking another month to take the steps. This course is exactly meant to provide you with all the knowledge, and expertise to get started with your micro influencer journey.
You cannot really find expert tips anywhere else. Chelsea shares some tricky secret advice to speed up your income, and growth.
This course is for the lifetime. Yes, you can come back to it, and revise the lessons whenever you want.
How has this course helped me?
As bloggers, it's time-consuming to find rich-content to understand the concepts of building a brand, growing social audience, and profitable monetization strategies.
In this course, I've found 300+ affiliate programs and profitable influencer networks. This course also covers email marketing, and lead generation which is excellent advice for micro-influencers to grow their own tribe.
The content on pitching to brands, and working with them is really helpful. There are so many things a blogger needs to focus on a plan to work with a company.
If you're a beginner blogger and you want a complete package to become a micro-influencer or a profitable blogger then this course is the best investment.
Click here to check out the course here and use EPIFE20 to avail 20% discount
What's included in Micro Influencer Handbook?
This course covers;
WEBSITE CREATION;
Setting up your website
Hosting & Domain setup
Plugins & theme
Setting up pages
Creating killer content
INFLUENCER BUSINESS DEVELOPMENT
How To Create A Business Plan With Actionable & Attainable Goals You Will Be Excited To Reach
Learn How To Create A Media Kit That Stands Out From The Rest
How To Confidently Approach, Pitch To & Work With Brands For Paid Sponsorships
Access To My List Of Brands Accepting Micro-Influencers For Paid Projects
How To Get Your Name On Brand PR Lists As An In-Demand Influencer So You Can Be Included In Product Launches, Sponsored Projects & Given Free Products To Review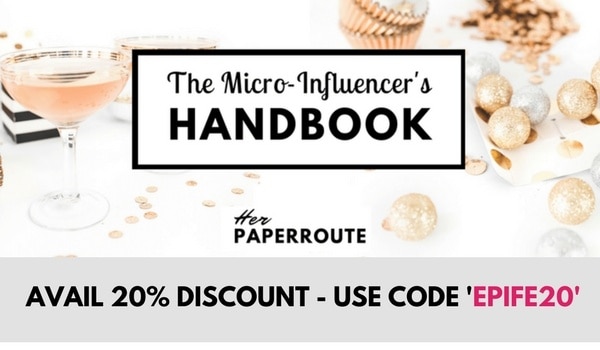 INFLUENCER MARKETING
Social Media Marketing, Social Media Strategy Development
Instagram Marketing, Gaining Engaged Followers & Beating The Algorithm
How To Make Your Social Profiles Professional, Beautiful & Attractive To Brands
Training On The Best Social Media Tools & Tech
Email Marketing, Why Growing Your List Is So Important As An Influencer, And How To Do It Like A Pro
How To Get Complementary Products, Clothes, Hotel Stays, And Other Valuable Goods
EARNING A LIVING AS AN INFLUENCER
How To Create A Powerful Blog That Generates Income And Influence, One That Brands Will Notice And Want Their Products Featured On
Understanding And Implementing Affiliate Marketing
How To Write High-Converting Content That Earns Commissions, Ad Revenue & More Sponsorships
How To Get Approved For Sponsorship & Affiliate Programs Every Time
How To Sell On Your Blog & Social Accounts
For more, I would suggest checking out the full course 'Influencer Handbook Course' details. Make sure, you can avail the 20% discount by using code EPIFE20.
<<CLICK HERE TO CHECK OUT THE COURSE DETAILS>>
Micro-Influencer Handbook is a course for micro-influencers and bloggers who want to grow their own channels and earn income online.
If this is you, this course will help you become a micro-influencer in many ways.