Pinterest is evolving. It is constantly changing for better experiences for users, businesses, and marketers. With that, today, we talk about Pinterest sections. How to use Pinterest sections? And, are Pinterest sections searchable by users?
In this post, you're going to learn all about using Pinterest sections as a Pinterest user, and also as a content creator.
The Pinterest section is a Pinterest feature to organize your pins for the audience. It also helps to clean your Pinterest board. By using Pinterest sections, you can make it easier to find pins about a specific topic, or interest.
Let's say, I have a personal board on DIY ideas (Well, I do have a secret one). As a pinner, I add tons of DIY pins to that board. But, how am I going to find a DIY pin related to cardboards, or a DIY gift ideas pin? Isn't it too complicated to find the gift ideas pin I want from 500 pins to that board? Well, this is why Pinterest sections are created.
Basically, these sections are created to arrange all the subtopics under the mainboard topic. Making it easier to sort out all the pins and putting them into small folders.
You don't have to get confused. I will show you exactly how to add new sections to your Pinterest boards. Read on to keep learning.
Before you go, here are some other Pinterest posts that you would find helpful;
Post 1 – How to use keywords on Pinterest? The exact steps you need to follow
Post 2 – The beginner's guide to Pinterest SEO to increase organic traffic
Post 3 – 7 Pinterest tips to make your pin go viral
Post 4 – 3 Big Pinterest mistakes you must avoid making!
Post 5 – The ultimate guide to creating pinterest images that get clicked everytime.
Let's get started.
What are Pinterest sections?
A Pinterest section is the subfolder inside the main Pinterest board. You can even call sections 'subsets' or 'mini folders'. These sections are created to organize a single Pinterest board with different topics. You can simply add small niche topics to the mainboard.
For example, you have a craft ideas board. You can create sub-sections like;
Sewing crafts project
DIY crafts ideas
Crafts ideas for kids
Crafts ideas for adults
Papercraft ideas
By creating these sections, you're actually making it easier for a user to find the relevant pins. In fact, you're making it easier for yourself. Thus, these sections help with organizing pins.
How do I use sections on Pinterest?
Here, I'm showing my own Pinterest board and Pinterest sections. I don't usually create sections for all of my boards but I do create sections to boards that cover multiple topics.
If your business or blog has multiple topics then sections will definitely help you for organizational purposes.
If you have a board on hairstyles then you can create sections on wedding hairstyles, easy hairstyles, braided hairstyles, hairstyles ornaments, etc. Whenever someone visits your board, they will check out sections to find relevant ideas.
On my shemeansblogging board, I created a few sections to organize my pins. If you go to this board, you will find money-making pins in the money-making section.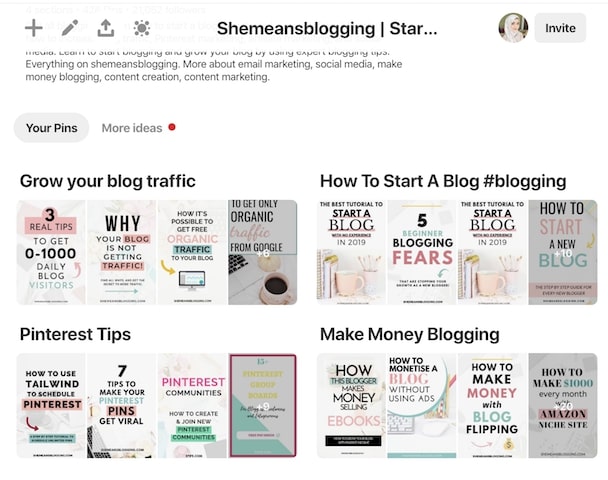 In the next steps, I am going to teach you how to add sections to your board, and how to move pins inside your board. I also have a video tutorial to show you all the steps.
Why use sections on Pinterest?
According to Pinterest, sections are purely for organizational purposes. That means they are created to organize your personal and group boards.
How to use sections to organize your pins?
Sort out your pins – If you have hundreds and thousands of pins in one board, you can simply move similar pins to sections and find them easily.
Clean your boards – By using sections, you have a more clean board. It simplifies all the pins in an arrangement and subfolders. It also further helps to niche down the board and divide it into subsets which makes it easier for the audience to navigate the board.
How many sections can you have on Pinterest?
So, how many sections can you create on pinterest boards? Well, there's no specific answer or any defined limit to using pinterest sections. There are some boards with 20+ sections on pinterest. You can create as many sections as you want. You can easily add several sections to your personal boards and pinterest group boards.
How to create a section to Pinterest boards?
If you like a step by step video tutorial on Pinterest sections, then watch the video below. However, there are other notes on using Pinterest sections below. I have also answered some most common questions related to using sections on Pinterest. Keep reading.
VIDEO TUTORIAL
For step by step images, and other questions, keep reading.
Step 1– Choose one board from your profile, and click 'add sections'.
Step 2– Give a title and add your section.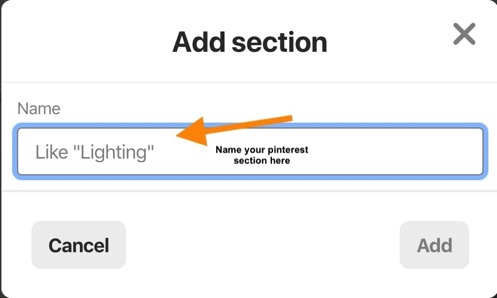 Step 3– Click 'organize' to select pins that you want to move to your new section. Then, click 'move'.

Step 4- Now move those pins to the section you just created. All the selected pins have now added to the section.
See how I have shown in the image below.
That's it.
Moving on, I also shared some tips below.
Simple tips to use Pinterest sections to organize pins
As Pinterest has made it clear that sections are only created to organize your content. Here is another example.
Let's say you want to move a pin from a board to a section. Remember that when you move a pin, it will no longer be available on that board. It means, that pin moved to section.
What if you want to keep the pin to board, and also to the section?
Click 'copy' instead of move.
Then copy the selected pins to the board and section you want.
How to merge board sections on Pinterest?
Let's say you want to merge two sections and make it one?
Step 1– Open a board with sections.
Step 2– Click on a board section that you want to merge. Click the edit button to make changes.
Now, merge.

Step 3 – Choose a section to merge with, and click move. Once your pins are moved to another section, you can simply delete the section.
Are Pinterest sections searchable?
Do pinterest sections boost SEO and search visibility on pinterest? This is the most common question asked by content creators and marketers.
No, Pinterest sections are not searchable.
Pinterest makes it clear on their page by saying 'they don't influence how your content search in ranks'.

Using Pinterest sections doesn't help with visibility on Pinterest. That means sections don't boost Pinterest SEO at all.
The only purpose of adding sections is to organize your pins. With these subfolders, it's easier to find and locate pins on big boards. You don't have to scroll through thousands of pins to find a specific topic. Just create sections and put all of your pins that fall into a specific interest to that section.
Few posts that should help you grow your Pinterest traffic;
1 – Are you making these common Pinterest mistakes? It's time to fix!
2 – 3 No-fail Pinterest tips to boost blog traffic today
Should you create sections as a content creator or not?
It's totally up to. Pinterest sections are for ease. If you want to organize your board then definitely use these sections. If you want easy access for any pinner who land on your board and wants to find pins.
However, I don't recommend spending hours creating sections for your profile. It's just a Pinterest feature for pin arrangement.
If you think, you need it. Then, do add sections.
For example, I have sections on my main board of shemeansblogging. I can easily move pins and find pins when I want.
Although, I haven't created sections in my group boards.
First, it's a lot of work. I will have to move and copy pins every day for a clean group board.
Second, even if I add sections, most of my contributors will not add a pin to the respective section. If you use Tailwind to schedule pins, then tailwind doesn't allow you to add pins to sections. It allows us to schedule pins to boards directly.
If you have been waiting to use tailwind for unlimited scheduling, I highly recommend going through my step by step tutorial. I showed all the steps I do to schedule my pins. When you use my link to upgrade, you also enjoy a free month. A win-win.
How to delete a section on Pinterest?
1- Go to your board with sections.
2- Click the section you want to delete.
3- Now, click the edit icon and then delete it.
Know that all your pins in these sections will be deleted from Pinterest. If you want, you can always copy the pins and move them to some other board before deleting the section.
Do you want to learn some pin design tips? Enroll in my FREE Pinterest masterclass to find out 3 Pinterest mistakes and exclusive tips to improve your pins today! Click here to grab your free ticket!
That's a wrap for using sections on pinterest
It was easy, right?
I hope you watched my video tutorial to understand it more easily.
Sections help with organizing your Pinterest content. It makes boards look arranged, and clean. With sections, you are making it easier for pinners to navigate your board and click the pins they want.
Are you going to add sections to your Pinterest boards? Does it help you organize your pins?
If you have any questions, do let me know below.