Pinterest is crazy! As soon as you start using Pinterest to promote your blog, you will find out amazing things to do with Pinterest. We can use Pinterest to grow blog traffic. It can be further used to find new ideas, inspiration, businesses, creativity and millions of blogs. In this post, you will find out 3 simple Pinterest tips to get more blog traffic.
Can we use Pinterest to drive traffic to our blogs?
Absolutely, yes! It is a traffic-generating machine. People are driving millions of page views from Pinterest every month. Thus, it increases their total income.
Who doesn't want blog traffic and blog income?
Everybody wants that.
When we consider Pinterest, there are so many things to talk about. It's not a social media network. In fact, it's a search engine. In fact, it's a search engine with a human component. It's not so easy to get millions of pageviews from pinterest without any strategy. It wants you to put efforts in your Pinterest profile.
Pinterest is a visual platform where images do matter. However, it's a platform which is constantly changing. Every month or other, there's a new thing that affects the traffic, and follower growth. As Pinterest is still new as compared to other platforms, you can expect fluctuation.
Now, it has become a point of discussion for a multitude of reasons. Many businesses use it to drive sales. Bloggers use Pinterest to increase traffic to their blogs. People make money on Pinterest. Millions of users are using it to find answers in the form of ideas, recipes, products, services, online stores, trends etc.
It deserves to become an eye-pleasing platform.
Would you like to start a new blog? Head over to 'How To Start A Blog' that shows you step by step process to start blogging. It's time to do it!
So, this post will help you find best Pinterest tips to get more blog traffic.
I have been using Pinterest for years. But, I do regret that I didn't use it to the fullest of it's potential because I didn't really pay attention to high traffic. The only reason was that I love writing so I just wanted to improve my content every day.
Now, it is one of my favorite platforms to visit every day. I wish I should have started using it earlier. That is the reason I often recommend new bloggers to join Pinterest as soon as they start a blog.
FEW IMPORTANT things I want to mention;
I used to be a manual pinner. Even today, I spend few minutes pinning everyday. Now, I use a combination of manual pinning and scheduling.

I use Pinterest to read content, find ideas, recipes, and trends. I love being on Pinterest.

I'm not any trained graphic designer. I designed few attractive pins whereas few were trash. So, I love to experiment different designs. I don't stick to one theme which may not be a good idea but this is what I've been doing. Just being honest.

I use Canva Pro to design pins.

I also designed readymade Pinterest templates which make my pinning process easier. You can also get these templates.

Now, Pinterest loves fresh content. My aim is to add a few pins manually or even schedule it. Let it be a 1 pin a day.
One more thing.
If you would like to learn more organic traffic or Google traffic then steal my proven system to learn 'How to get Google traffic for free'. In this post, I have mentioned all the steps you should take to improve your SEO, and organic traffic!
3 Pinterest Tips To Get More Blog Traffic
Some links in this post are affiliate links. That means if you make a purchase through affiliate links, I will make a small commission. But, I also need to make it clear that I only promote products I have personally used or tested. Thanks for always supporting my blog.
I would also want you to read few of my other posts that are relevant to Pinterest. These posts give you loaded free information if you'd like to grow your profile on Pinterest fast. The more information you read, the more ideas you get to experiment on Pinterest. Just my own thoughts.
Related post;
1- What Is Pinterest And How Does Pinterest Work?
2- 10 Easy Rules To Use Pinterest For Bloggers
3- How to create clickable pinterest images? 27 tips!
Anyways, let's uncover three no-brainer Pinterest tips to increase traffic to your blog.
#1-

Implement Pinterest SEO
Pinterest is more like a search engine. Think of using pinterest the way you use google. When you use google, you type the search term and find relevant links on the google pages. Similarly, when you enter the search term in the Pinterest search bar, you find relevant pins on the page.
How do you rank content on Google?
By following search engine optimization. The content gets seen on google if it's keyword-optimized, the site is trusted by Google and contains the answers people are looking for. Of course, it's not a piece of cake to show up on Google SERPs and drive free traffic every day. But, this is how it works.
Now, how to rank on Pinterest?
By implementing Pinterest SEO techniques. If you follow Pinterest SEO tips then your content can easily get you direct traffic without doing manual pinning, and scheduling. If your Pinterest profile and pins are optimized with keywords then your content can be found by Pinterest users.
The image below ranks on Pinterest when a user types 'Pinterest group boards'. It's one of my pins that bring me daily pageviews.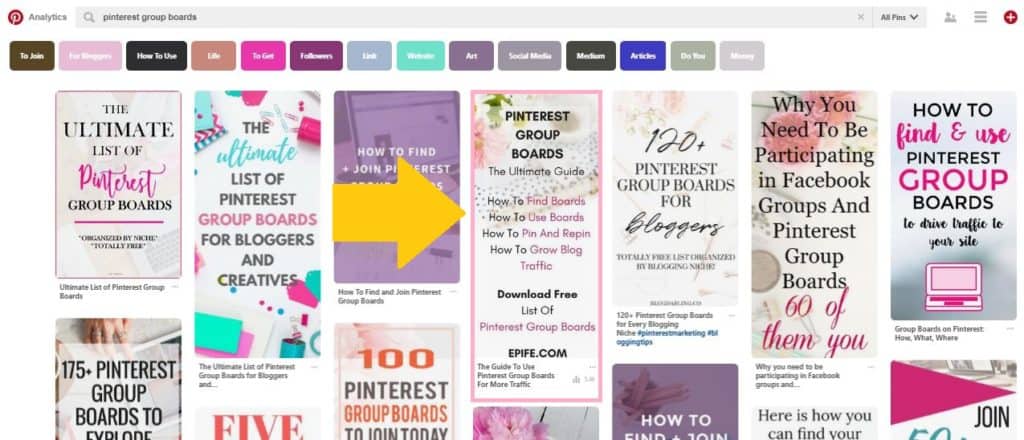 At several times, the search fails to show the exact keyword optimized pins but most of the time, they do display relevant pins.
The first Pinterest tip is to optimize your profile with relevant keywords. Make your Pinterest account SEO friendly.
Follow all necessary Pinterest SEO tips so that Pinterest displays your pins on a user's query. As soon as your pins start ranking on Pinterest, the number of impressions clicks and repins to your pins will also increase.
If you'd really like to grow your blog traffic with Pinterest then start optimizing your pins. Add keywords to all of your boards. Include keywords in your pin descriptions. Improve your Pinterest account and include keywords in your profile.
You can navigate to my post 'Pinterest SEO Guide For Bloggers ' to learn all about Pinterest SEO.
And, when you follow the right pinterest strategy, you expect to get thousands of views and clicks.
If you look below, my account has got more than 1 million views. But, I also want to mention that views are not always important. What matter is ACTUAL CLICKS to your site!
And, that is what you need to focus on when growing pinterest traffic.
Ana has created a new ebook 'Making Pinterest possible' where she has talked about how Pinterest can be a source of traffic, new opportunities, and more blog income. Click here to check her wonderful 170+ page ebook where she has included a case study of 20 bloggers, including me, and how they use Pinterest.
#2-

Do Manual Pinning
Pinterest loves it when you use Pinterest. The time you spent on Pinterest doesn't really go to waste. With manual pinning, you are developing a strategy to grow your blog traffic.
I also agree that manual pinning takes time, and it's not that simple to spend an hour on Pinterest every day. Keeping track of spreadsheets is a time-consuming process which is not easy to follow. But, if you follow a strategy with manual pinning then you will be blown with the results.
My best advice is to spend time on Pinterest.
Here are some manual pinning practice you can do to boost traffic and gain visibility on pinterest;
Open your Pinterest mobile app and save some 3rd party pins to your boards.
Go to your website and visit any of your posts. Add a pin to Pinterest. Make sure pin is optimized with keywords, and other SEO practices.
Repin pins from the activity tab.
Go to your following feed and pin.
Figure out the best times to pin on Pinterest.
The time you pin matters the most! Your pins should go at the time when you have more chances of getting repins. Make sure you add pins in the best times.
Add new and fresh pins to Pinterest.
Pin to your relevant boards first, and then group boards. If you want, you can participate in Pinterest threads to give a boost to your new pin. The only negative point is that it may lead your pin to irrelevant group boards but if you're completely new to pinterest then you can do this to get some repins.
Along with your own content, you should also pin others content. Mostly, the reason for getting massive impressions on my pins is that I do share others content. I share pins that people may love to click or repin.
Pinterest has said and cleared it many times that PINTEREST FAVORS FRESH CONTENT as compared to saves and repins.
I pin every day on Pinterest.
Whether it's 3 pins or 5 pins, I make sure to add my fresh content to Pinterest.
With over 3+ years experience in doing Pinterest marketing, I shared a new process for saving time creating pinterest pins really fast! This post talks also discusses a tool that makes your pinning creation process faster.
How to easily add more fresh pins for traffic?
Create PINS regularly. You can create pins every week.

Use templates. I use Canva pro and I also use some amazing templates that make my pin design faster.

Use quality stock photos! There are multiple stock photo sites that offer affordable subscription rates. For example, Ivory Mix is a beautiful stock subscription site with thousands of photos. I also love and use Styled Stock Society and Pixistock images.

You can even find some other stock photo sites in this post.

Use Pinterest video feature to experiment videos. To design videos, you can use Canva pro, and Invideo. These are some easy tools.
Make your pinning game strong!
Most new pinners are new and they commit mistakes. Here are 3 pinterest mistakes you must avoid and what you can do!
Here's what Ieva, Author of The Random Passion project has to say about Pinterest and what works best for her.
"Figuring out what Pinterest algorithms want from me has been like a nice 5-year-long challenge… Besides that, what works one day, might not work the next one, doesn't that sound like fun? 🙂 I have a contradicting opinion on whether or not a blogger should pin manually. On one hand, Pinterest has said that they don't care whether it's manual or scheduled pinning, as long as you provide fresh and consistent content. On the other hand, when I test it on my Pinterest, I always see at least a bit of traffic increase when pinning manually! In this case, I don't think the message is "scheduling is bad". Instead, it's more like "don't forget to show up!". You do have to hop on the platform to do some manual work so they know you're around. My perfect formula is to schedule on Tailwind for most of the content and then do manual pinning when I feel like it, maybe several times per week. If you're looking forward to growing your traffic on Pinterest, give yourself some time to experiment and see what works the best!"
Let's talk about the 3rd tip.
Before I share the last tip, I want you to read my latest post where I discussed 11 steps you must do if your Pinterest traffic drops. Yes, these are the steps I took to rebuild my own Pinterest account when it declined. I highly suggest reading this post for 2021! A lot of things have changed so read the post right now.
3-

Use Tailwind
You may probably ask that if I use manual pinning then what is the reason to use Tailwind for Pinterest?
I understand that.
My friend, you definitely need Tailwind for many reasons. Tailwind can help to schedule your pin on peak times. It's definitely the one reason I recommend everybody to use Tailwind.
<<You can schedule first 100 pins for free.>>
The next is to use the tailwind tribes. Tribes are massive.
These tribes have the potential to increase your monthly impressions which will ultimately give a boost to your repins, and clicks. It's an amazing feature you should use to skyrocket your traffic. If someone with a massive following repins your pin to a board or group board then it will send you traffic. However, tribes are free to use.
After that, you can still use Tailwind tribes to find high-quality content from peers and pin it manually to your boards.
When you go for a monthly subscription, then you can enjoy 80 submissions to Tailwind tribes. If you write in the blogging and business niche then join my tailwind tribe for free!
The board lists is another feature that lets you schedule your pin to several boards at the same time.
Tailwind is an excellent tool to save your time and increase the reach of your pins. Another brilliant feature is the tailwind analytics. I have found out that many of my boards were without description which was really bad. Even, I figured out best-performing pins, personal boards, and group boards on my profile through Tailwind analytics.
I sat down for a day or two to read the analytics so that I can make changes to my Pinterest. All these things summed up to make my profile strong which helps me gain consistent traffic from Pinterest every day.
The bottom line is, to start using Tailwind today.
So, these were my main three Pinterest tips for increasing blog traffic.
Do these things;
Follow Pinterest SEO
Spend few minutes every day for manual pinning
Use Tailwind to schedule pins
Bonus:
Audit your Pinterest account
Create new pins
Do A/B testing of pins
Pin from trending section
Pin at peak times
Importantly, use Tailwind to save time and scheduling in advance. That way, you don't have to worry about pinterest marketing efforts.
Want to read other articles about Pinterest Marketing?
Here are some other posts that will certainly help you increase your pinterest traffic.
How to use keywords on Pinterest? This step by step guide will help you determine pinterest keywords and how to use them.
The ultimate guide to creating Pinterest images that get clicks.
3 big pinterest mistakes you must avoid making everytime. [Plus, watch this free masterclass]
5 affordable Pinterest marketing courses that drive maximum traffic
Do you have more Pinterest tips to share?
I would love to read what really works for you.
When it comes to Pinterest, I'm a nerd for taking bits of advice, and tips.
Let me know how you share pins on Pinterest?