It was all doing well unless you noticed a significant Pinterest traffic drop? You see that Pinterest views are going down and the pinning strategy is not working at all.
What might be wrong with Pinterest?
Is Pinterest not working?
Is Pinterest marketing still relevant for traffic?
Most of all, what do I do to increase traffic from Pinterest?
All of these questions are everywhere. To be honest, it is frustrating for content creators. Most bloggers rely on Pinterest traffic. If Pinterest traffic drops, it directly affects total income earnings, email list growth, and website traffic.
Let's go straight to figure out;
Why are pinterest impressions going down?
What to do when Pinterest traffic drops?
How to increase pinterest traffic when it's declining?
And, if there is anything specific to get more pinterest followers?
These are the most important questions and topics for this blog post. I want you to stick through the post and find some help.
If you do have some questions regarding Pinterest, drop them in the comments. I will make sure to answer with my experience and knowledge.
Affiliate Disclosure: This article contains affiliate links. If someone makes a purchase through affiliate links, I may earn a small compensation. For more, please read on to privacy policy and disclosure.
Why are my Pinterest Impressions Decreasing?
The number of pinterest impressions you get depends on how well or poorly your content was distributed across the platform. In simple terms, your content gets less distribution and your impressions decline.
It also means your content is not being seen by a lot of people. Understand that just like other platforms, fluctuations also occur on Pinterest.
You get less pinterest impressions depending on seasonal changes, trends, followers interests for content, or any updates that Pinterest makes. When a pin do well on Pinterest, it gets high impressions, saves and clicks.
Not every pin you post on Pinterest will get you clicks, or saves.
What's my perspective over this?
I think that overall pinterest impressions are important to a degree that it will certainly have a direct effect on audience's engagement, saves and pin clicks.
But, it's important to understand that ups and downs happen all the time on Pinterest. I have been using Pinterest for more than 3 years and I can say that numbers fluctuate all the time. And, the truth is, you cannot just spend hours every day to grow your Pinterest account.
I reached out to Pinterest and this is the response to why Pinterest impressions going down;
Importantly, do not expect your statistics to always go up.
Some reasons can be;
Followers are not looking for that content anymore
Pinterest adds a new update
Your pin needs a new look
Note: Pinterest has been changing the terms from sometime. There are no pinterest views now. As in 2021, Pinterest shows impressions, total audience, engagements, engaged audience etc. The website clicks are now represented as outbound clicks. However, the pin clicks refer to how people have clicked on that pin from feed on Pinterest to get details.
Affiliate Disclosure: This article contains affiliate links. If someone makes a purchase through affiliate links, I may earn a small compensation. For more, please read on to privacy policy and disclosure.
Pinterest Traffic Dropped: What I did?

I felt bad about it.
I shared the frustration with my friend.
Googled some questions.
Read similar questions in Facebook groups.
Send an email to Pinterest support (At least, that's one thing with Pinterest that we can reach out to them and seek some help)
Accepted it and created a new Pinning strategy

Trust me, that's all you can do too.
But, I was so curious to figure out what was the killer for my Pinterest traffic? Where did I do wrong with Pinterest? Or, what should I do now to increase my pinterest traffic?
I know what it feels like when there is a drop in Pinterest traffic but there got to be some solution. Pinterest is weird and you never know what might go wrong. I love figuring out how the platform changes and everything.
Importantly, we have high expectations from Pinterest. It is truly a wonderful source of traffic for websites. Let it be bloggers, businesses, or marketers. Pinterest can drive thousands of views. This is the truth and Pinterest still works!
Below, I share some steps to do when you notice Pinterest traffic drop.
11 Pinterest Tips to Increase Views after Pinterest Traffic Drop
On a funny note, just to remind you that Pinterest likes to test our patience 🙂
If you notice that Pinterest traffic is declining or you see a sudden Pinterest traffic drop then you have to accept it.
Whether it's about regaining organic traffic or social traffic, it will take time and consistency.
Pinterest has continued to drive traffic to my website even when I was not pinning but it was less as compared to when I am pinning content.
Give your new Pinterest strategy time.
Understand how Pinterest works.
Spend at least 3 months on the platform with all the new steps and a marketing plan. I understand the frustration that you get with daily pinning etc but once, it starts to work, you will be grateful.
I will share some tips along the way that will keep you sane with your daily pinning strategy 🙂 At least, whatever worked for me.
1. Read Google Analytics (not only Pinterest analytics)
You only start to identify your traffic decline when you notice graph lines falling down.
The best way to study your Pinterest traffic is by using Google Analytics and Pinterest analytics. I think both are helpful and extremely useful.
Go to your Pinterest analytics to find out impressions, engagement, saves, and outbound click rate.
The little red arrow will show you the declining rate. It indicates that something is not working and you need to pay attention.
You will find out that engagement has dropped. People are not saving your pins. Not clicking on them.
Be sure that you check your website under the claimed account and your pins under the source tab. Sometimes, the reason for fewer impressions could be because of someone else's pin you saved months ago. In that case, it's not something you have to worry about. You are in no control of that.

But, it should give you an idea about the content that has potential on Pinterest. If it's something in your niche, write about it.
Now, visit Google analytics and see when you have noticed a traffic drop on Pinterest.
Go to Acquisitions → Social → Network referrals → Pinterest.
Then, click on Pinterest to find out posts that drive most clicks.
Do the finding and see which pins were bringing you the most traffic. If they worked before then they will have high chances of performing well again.
Click on Pinterest to find out your top pins.
Recreate that article. Update it with new content. Most importantly, create fresh pins to increase traffic.
I was able to find out a bunch of my posts that have stopped driving me traffic. And, this is one of the reasons my pinterest traffic dropped. Now, I can get back to those posts and create intentional pins.
This is only a little tip to get boost to your old pins. In order get Pinterest views back, use a strategy.
2. Revise Your Pinterest Strategy
Turn off all automations and it's time to recreate your pinterest strategy. You can keep on trying making some changes but I suggest working on a new pinning strategy.
Once a month, take out time to reconsider your pinterest strategy.

Here are few areas to pay attention to;
Turn off any automated pins in your tailwind account (turn off smartloops)
Look at your personal boards. Create a few new boards about relevant categories or blog topics
Leave any irrelevant pinterest group boards. If you are not pinning in any group boards, you can simply leave them. You can even consider joining a few relevant group boards for your content.
Follow and engage with relevant content on Pinterest. Curate your pinterest home feed
Take a look at your pinning activity. How many pins are you pinning? What needs to be changed?
Find ways on how to spend time on pinterest. Do you even spend time to engage with other creators?
Remember that your pinterest strategy can be different from what's working for me. So, you need to closely examine your own account, content, audience engagement and so many other factors.
3. Look at your Pin Designs Again
Your pin designs can be a reason why you are not getting traffic from Pinterest. If other bloggers in the niche are getting Pinterest views then you should also build traffic.
Take a look at other related pins in your niche
Double check if your pins are clickable
Are they different and unique in some way?
Do you follow a color theme?
Is it easy for your followers to recognize your pins and click them?
Do you A/B test pin designs?
Do you use paid stock photos?
There are so many styles to choose from. You can make collages for list types of posts. Try using a big font on your pins.
I also did an exclusive training with my friend, a pinterest coach. There are golden nuggets for everyone who wants to learn more about Pin designing tips. Please sign up below and watch the training. It's free!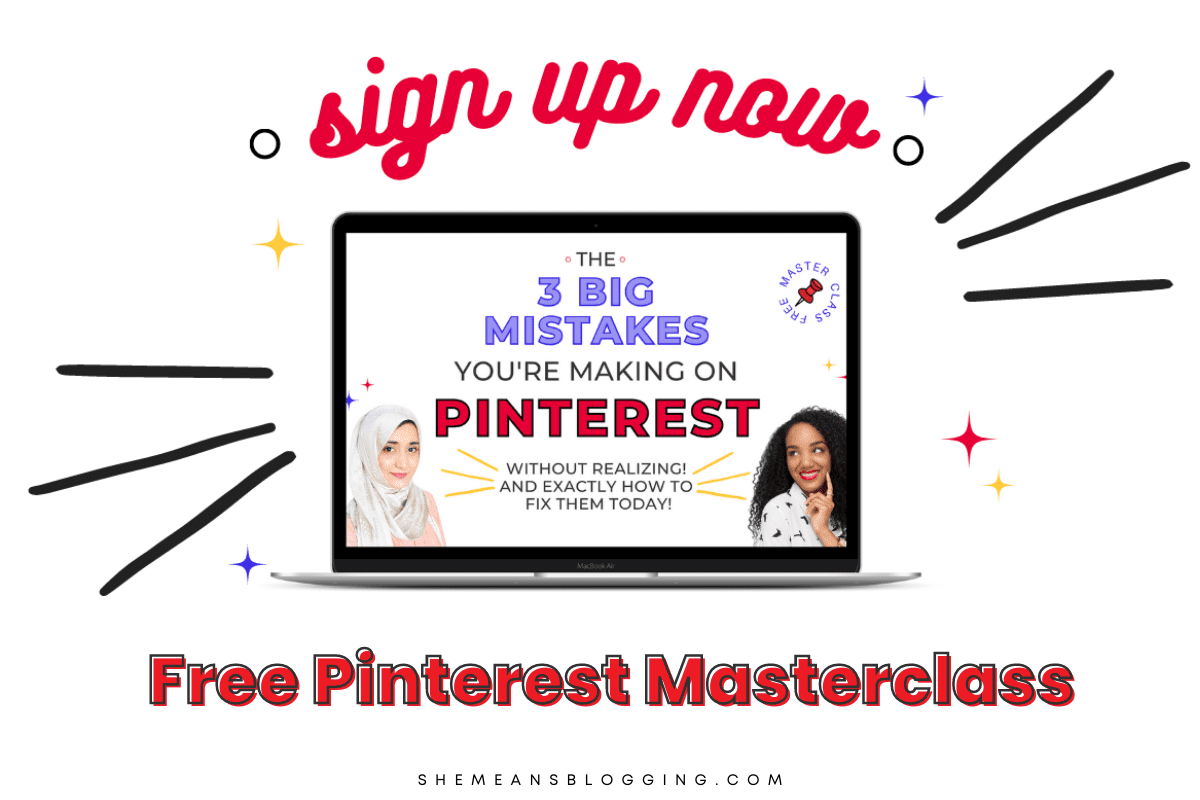 What I suggest for better pin designs?
Use unique and premium stock photos. If you are a lifestyle or business blogger then Pixistock, styled stock society and Ivorymix are beautiful stock photo sites for female bloggers. Other great options are Deposit Photos and Shutter Stock.

Get clickable Pinterest templates. Try using a few templates to see if this helps in click-through rates. I noticed an increase in impressions and clicks when I use a paid template for my pins

Use a catchy title that makes people click on your pin

Don't use too small fonts
You can check out this guide on the 27 best tips to create killer pinterest images. It should help you with better Pinterest designs.
4. Post New Content On Pinterest
I know you have read this everywhere but that's the truth. Pinterest wants fresh content for the platform. They want users to get inspiration and ideas with new content over old content.
A good practice would be to publish 1-2 articles a week and then, share those pins on Pinterest. But, if you can't keep up with this content schedule then at least publish an article every week. This way, you are adding one completely new pin and a few new pins of old posts.
Yes, you can design new pins for old posts, pages, freebies, and products. I do it and I haven't noticed any change.
Start creating idea pins on Pinterest. I guarantee that if you keep adding idea pins, your impressions will boost up thus resulting in strong Pinterest profile. Your followers will connect and interact more with your pins. Even thought idea pins do not have link option but it's still great for boosting up profile performance.
You can go through and learn everything about creating idea pins on Pinterest. Find examples and ideas for your next idea pins.
5. Pay Attention to Pinterest Trends
Seasonal and trending content do really well on Pinterest. The best way to pay attention to popular Pinterest trends and seasonal content is to plan your content in advance.
In case, trends are not available in your region like I don't have them, you can download this free pinterest planner.
In multiple niches, seasonal content works really well.
You should keep an eye on what's trending on Pinterest. For example, Mother's day comes in May so you should start planning your content in February. Start creating blog post topics and write content. You should also start pinning and promoting such pins in early April.
That way, you are preparing for traffic already.
Another tip is to look at your analytics to find out what similar posts brought you the most traffic last year. Maybe, it's time to refresh those old pins with new title, and images.
6. Use Video Pins
Video pins are the latest format for increasing Pinterest impressions. It's time to use video pins in your Pinterest strategy. The chances of getting impressions on video pins are very high as compared to regular pins.
Did you know that 8 out of 10 people have purchased a software or product after watching a video on social media? The study mentions that Videos are consumers' favorite content type.
Pinterest users find video pins engaging
Users love watching short video pins that are useful, entertaining and helpful.
Just like other platforms, video content is getting traction on Pinterest too. But, the only thing is that video pins do not sufficiently drive website traffic. And, as content creators, it's a bit disappointing to keep creating videos and not getting clicks.
The results with video pins are good, not too bad. I have had amazing results with video pins before also so I think video pins do work.
But, it also depends on the niche.
I posted a video animated pin on Pinterest. You can find the pin here. And, I got these results.
Looking at the stats below, I got;
8 saves on this pin
5 clicks to my blog post
After a few days, I checked the same pin.
The stats are below;
If you want to increase Pinterest impressions then video pins are the best strategy. However, if you want to increase massive traffic from Pinterest then only video pins will not help.
I suggest using a combination of different pin formats.
Animated pins
Proper video pins (or tutorials)
Regular pins
There is a helpful training on creating Video pins in Canva and I absolutely loved it! You will learn how to create video pins and also, video pin templates that are so amazing. Check out the masterclass here.
7. Use Keywords on Pinterest
Just to remind you that Pinterest is a search engine.
Follow Pinterest SEO practices to help people find your pins on the Pinterest website. That's the simplest way to increase organic traffic from Pinterest.
Is there any keyword tool for Pinterest?
The platform itself is a great tool for finding keywords. Use the Pinterest home feed to find keyword ideas. Look at other pins to find out what keywords they are using to rank their pins. I suggest using Pinterest keywords in these 9 places.
Pinterest has also introduced alt tags so be sure to add tags while adding new pins to Pinterest.
8. Reply to Comments
Pinterest likes when content creators spend time on Pinterest. The simple way is to increase engagement on your pins. If you get comments on your pin then you need to respond to those comments.
Say a little thank you
Invite them to check out your website
Reply with an answer

And, don't forget to delete spam comments.
I notice too many spam comments on my Pins. I learned this from somewhere and I started deleting those comments. It certainly helps in bringing those pins to life. If you are keeping spam comments then it's just giving bad signals to Pinterest.
9. Stop using Hashtags
If you haven't read it anywhere then I am telling you to stop using hashtags. I sent an email to Pinterest people and they told me to stop using hashtags.
While I was working on a new Pinterest strategy so I stopped using hashtags and it helped my profile.
We have been hearing from so long that hashtags help with Pinterest SEO but recently, I got to know that they are not helpful.
Pinterest keeps changing and we have to keep revising our pinterest strategies.
10. Create a New Pinning Schedule
I am sharing this from my personal experience.
Pinterest marketing takes time. From image designing, content ideas, and scheduling, it's proper marketing with ups and downs.
I believe in consistency so I made sure to only add 2 pins every day. But, I guess, those were not enough. I increased the daily pin ratio to 5 pins and started to increase traffic from Pinterest.
Figure out the best times to pin on Pinterest. Pinning at peak times is another great way to get extra views.
I know it's hard to cope up with this number but if you think you can do it, try it out. Otherwise, just add new pins per week. New accounts don't usually have that much content so it's fair if you only add a couple of pins every week. Maybe, 1 pin a day.
Should you use Tailwind or not?
I think tailwind is still helpful in many areas. It allows scheduling pins in advance so we don't have to spend time every week on Pinterest. The Tailwind communities are still useful in driving traffic. Newly launched, Tailwind create is a quick pin designing tool.
Now, it's up to you if you want to use.
I use a combination of manual pinning, Tailwind and even, scheduling from Pinterest too.
11. Learn the Art of Batching
Batching is perfect for Pinterest marketing. You can spend hours on Pinterest every day if you don't follow a plan.
You need fresh pins
Pinterest descriptions are important
Scheduling pins or posting them manually everyday is time consuming
Add great titles every time
It is a lot of work and we can't deny that.
The best tip to be consistent on Pinterest is with content batching.
Create monthly pins one day or maybe, few hours
Spend a few hours the next day to schedule all your pins with Tailwind or even Pinterest
That is it.
Try to be stress-free with Pinterest.
You can use Tailwind Create for designing multiple pins. I think that's a time-saving tool. Simply use 1 blog post title and create 5 different pins around. Then, schedule that 1 pin every week or maybe, twice a month.
The time you spend on Pinterest depends on how much content you add frequently on the platform.
Related –> How to save time creating pins with Tailwind Create
How to Rebuild Traffic after Pinterest Traffic Drop?
Keep tweaking your pinning strategy to find out what works best for you. If you think pinterest is not working for you then don't feel afraid to take a break. I took several breaks and maybe, that's another reason why my traffic started to decline but that's fine.
I do have great organic traffic and regular Pinterest traffic to which I am very grateful for.
Don't overthink. It happens.
Take a Pinterest course for the direction
Ask questions
Reach out to Pinterest support if something bad happens (in case of account gets blocked)
Here are 5 affordable Pinterest courses you want to check out.
Pinterest Resource Recommendation
Pinterest Strategies – This course is excellent! It shows all the best practices to use Pinterest. Use the code 'PINNING5' to get $5 discount.
Pinterest with Ell – If you want a great pinning strategy with someone who gets thousands of views from Pinterest, I highly recommend taking this affordable course.
FAQ
How long does it take to increase traffic from Pinterest?
It takes at least 3-6 months for a completely new Pinterest account to build consistent traffic. Don't quit on the platform too early. As soon as your numbers go up, it indicates that your pinterest strategy is working for you.
Has Pinterest changed their algorithm?
Pinterest keeps changing the algorithm and makes updates to it. Due to that, there are ups and downs in Pinterest analytics. They introduced a new ranking model to show different pin formats including story pins, video pins, regular pins, products tagging etc.
Is Pinterest still popular in 2021?
Even with recent changes and updates, Pinterest is still an important platform for many business, ecommerce, and content creators. Pinterest users spend time over making purchases, and getting inspiration for new ideas. If you use a smart pinterest marketing strategy, you can generate leads, buyers and traffic from Pinterest.
Final Thoughts On Pinterest Traffic Drop
Pinterest is a brilliant source for attracting new visitors. Honestly, it takes proper time, strategic planning, investment, and consistency.
If you are ready to use Pinterest for your blog then it's definitely worth. Know that you might notice ups and downs but you got to keep up with your Pinterest strategy.
I hope this post adds some value to your Pinterest knowledge.
If you have any questions, please drop them below. I would be happy to respond them.
Related Posts on Pinterest
Are Pinterest sections searchable? Plus, a video tutorial!
How to Post content on Pinterest?
The right way to add keywords on Pinterest – 9 steps to follow
3 big Pinterest mistakes you need to stop making
How to create viral pins? 7 tips to make your pins go viral
How I use tailwind to schedule unlimited pins
How to use pinterest group boards to boost traffic
3 no-fail pinterest tips to boost blog traffic