Are you trying to figure out, how to sell Canva templates and make money?
People are making big businesses with selling Canva templates. To get started, the first step is to learn how to sell canva templates and make money. Many bloggers are creating canva templates as a side hustle or a part-time activity.
To end the confusion, you don't have to be a pro at graphic designing skills to sell Canva templates. Anyone with basic designing skills, and creativity can sell Canva templates and make money online.
Affiliate Disclosure: This article contains affiliate links. If someone makes a purchase through affiliate links, I may earn a small compensation. For more, please read on to privacy policy and disclosure.
Is it easy to make templates on Canva? I would say, yes!
Canva is the simplest graphic designing tool for beginners. If you want to make money with Canva templates then this post is for you.
Learn everything on how to sell canva templates, how to make templates on canva and where to sell canva templates in this article.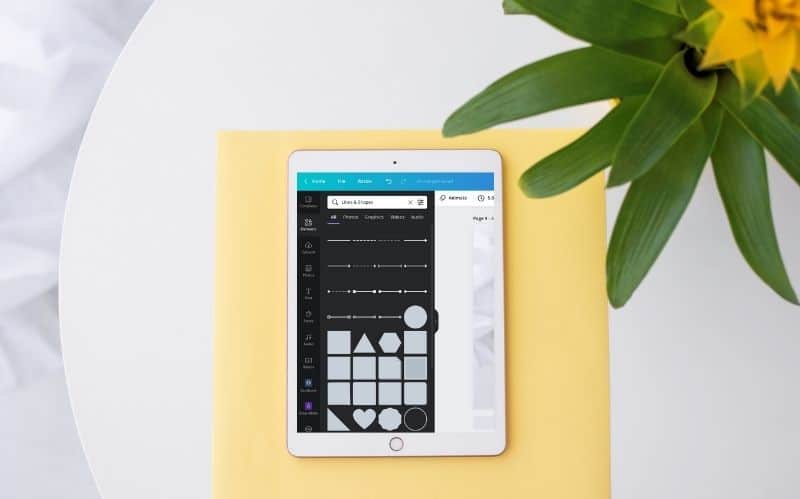 What is Canva?
Canva is a free and paid graphic designing tool for creatives. It's the perfect tool to create attractive graphics and beautiful templates from scratch. However, the free version is enough for starters to learn and practice.
But, Canva Pro gives you everything you need to design stunning canva templates to sell. The paid Canva allows the use of premium unlimited elements, creative graphics, premium fonts, unique stock photos and other inspiration ideas.
The elements on Canva pro are so beautiful that you'll never stop using them in your designs. I was a canva free user too but when I took a few days trial, I never looked back and loved Canva pro every minute. It gives so much freedom to play with designing elements, clear fonts, beautiful stock photos, effects, and so much more. You can learn my personal experience of using canva pro here.
I encourage you to sign up for Canva pro and use the free trial. You will love it too! Just spend a few minutes and go through the libraries to explore the app yourself. There's so much you can do with it and even launch a canva templates business.
As you go on reading, you will learn how to sell templates on canva.
Can You Sell Canva Templates and Who Buys Canva Templates?
Absolutely! Selling canva templates is a profitable business online. People use templates for almost everything. Businesses use social media templates to create consistent content. Coaches use templates to run their businesses. Bloggers use canva templates for almost everything. Youtubers use canva templates to design attractive thumbnails.
There's a big buyer's market for canva templates.
All you need is to create the right product and sell it to them.
Templates make content creation a lot easier. That is why most virtual assistants, entrepreneurs and businesses buy templates all the time.
Canva templates business is a profitable idea for anyone with basic design skills, and creativity. Learn everything on how to make templates to sell, and make money #makemoneyonline #sidehustle
Is Selling Canva Templates Profitable?
Yes, selling Canva templates can be a profitable venture if done strategically. Canva is a popular graphic design tool that allows users to create a wide range of visual content, including templates for various purposes such as social media posts, presentations, brochures, and more.
Here are some factors to consider before you use Canva:
Demand: Canva templates are in high demand among individuals, small businesses, entrepreneurs, and marketers. There is a growing market for customizable and ready-to-use templates.

Quality and Uniqueness: Creating high-quality and unique templates will set you apart from the competition. There is competition in the templates niche so make sure your canva templates stand out.

Pricing and Licensing: Set competitive prices for your templates while considering the effort, time, and value you put into creating them. You can offer single-use licenses or provide options for extended licensing. You must also read Canva terms and conditions.
How to Sell Canva Templates Online to Make Money?
Here's a brief process on how to sell canva templates online;
Step #1: Sign up for Canva
Step #2: Decide on Canva products to sell
Step #3: Create Canva Templates
Step #4: How to deliver Canva template to buyer
Step #5: Create a product image/mockup
Step #6: Set a price
Step #7: Where to sell Canva templates?
Step #8: Promote your products
Let's get into more detail;
Step #1.
Sign Up for Canva
To get started, sign up with Canva. It's a free and paid tool. As a canva free user, you can still design templates but the pro version gives access to unlimited premium tools, elements, and graphics to use. It enhances your skills as a graphic designer and provides you more flexibility to play with creative elements and assets.
If you like using, just upgrade.
Take a tour on Canva to see templates, elements and graphics. There is a huge variety of templates available. From business cards, to youtube thumbnails, you will find beautiful pre-made canva templates. Just go through to get inspiration for your own templates and products.
Step #2.
Decide on Canva Products to Sell
After you sign up for Canva, it's easy to get overwhelmed with so many things to do. But, I suggest you assess your skills and realize what kind of products you can sell.
Are you good at designing instagram posts?
Can you design workbooks?
Can you create planner templates?
How about ebook templates on Canva, and ebook cover?
Ask yourself and see what you are good at! Here are 51 best digital product ideas to sell online. These are some great ideas to make passive income and you can make most of these products from Canva.
Be specific with niche, and products.
When you are starting to create canva templates to sell, you should understand the demand of those templates.
Do people buy if I sell workbooks for coaches?

Should I create templates for business owners, bloggers, coaches, real estate agencies, entrepreneurs, clothing boutiques etc?
Similarly, when I was new to Canva, I thought the same. As I use Pinterest almost daily so I knew pinterest templates is one thing I love to do every day. I love to design pins for weekly schedule. I create templates for my own blog and people have always appreciated my designs. I have been asked many times if I offer any pin designing service.
So, what I did?
I created a pack of Canva pinterest templates! That's right. It's available on shemeansblogging shop and if you use pinterest for marketing then you would love these templates.
And, I make money with these templates every month.
A little research goes a long way. The best idea is to take a look on popular platforms like Creative Market, Etsy, Dribble etc.
As you can see the 'Peach boho Instagram templates' are popular on Etsy. Buyers are looking for color-specific and themed templates for social media. You can even design a social media pack based on different colour themes and businesses.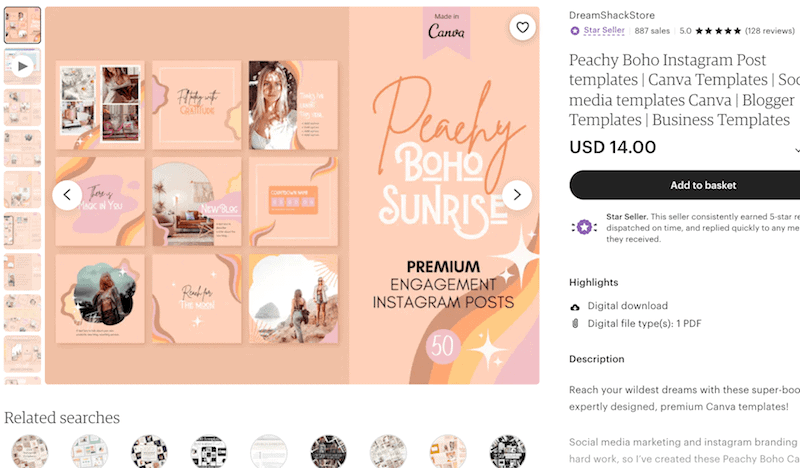 Know the audience first
Think about the audience you want to serve. You don't create templates for everyone. There are literally templates on everything but start to know your audience, and create products for them specifically.
Always keep ahead of trends. For example, black friday campaigns are very profitable for every business owner. A designer could create black friday templates for ecommerce stores. That way, the templates are more focused on specific audience.
Don't try to create dozens of templates without an idea about target buyers and the market. Just choose 3-4 editable canva template ideas and start making templates to sell.
Related => 50+ best canva keyboard shortcuts to save time
Related => 40+ best canva fonts for Pinterest pins
Step #3.
Make Canva Templates
The most common question….
How to create templates on Canva and make money?
Start learning Canva. There are so many tutorials on youtube that show each and every step on using Canva. Watch those to make basic templates and see if you could play around with the tool yourself. It's such an ease to work on Canva as compared to other tools like Photoshop, Indesign etc.
I have personally learned a lot just by using Canva. I used to spend an hour daily to come up with my pin templates, lead magnets, social media graphics etc. Now, it's easier with templates.
Open Canva and choose what you want to create. If you want to work on a plain A4 document then just choose that.
Make sure to create a design from scratch. Don't use pre-made canva templates. You can take a look at them to seek inspiration and ideas but don't just replicate them. Makes no sense and it's against the rules. Your product needs to be creative, and unique.
Let's say, we want to design an Instagram animated template or instagram ad. Or, you can also learn how to create a pinterest pin in Canva. You can go through all steps and even video tutorial on youtube.
Choose the design template and use your ideas. There are many free templates for canva users. But, I really like canva pro templates. They are less common, and unique.
Few tips to make beautiful canva templates;
Use Canva pro to get unlimited graphics, elements
Follow the popular and creative creators on Canva. Go through their designs and learn
Try new elements
Search Canva image library to find thousands of premium and unique photos
Make your own elements
Don't be afraid to go bold with your designs
Understand color patterns and themes
Get familiar with industry-based designs, and concepts
Take a course to learn new design tricks
Spend time to create your own portfolio
You can also check out list of best Canva pair fonts. Use this list as an inspiration to design appealing visuals on Canva.
Step #4.
How to Deliver Canva Templates to Buyer
After you have designed your template, save the link as a template.
Go to your template and click on share.
You will get three options;
Share a link to edit
Share a link to use as a template
Share a link to view
Choose the second option 'to use as a template' and copy the link.
Now, design a plain pdf document and insert your link.
Create a blank pdf document of A4 or any other size. Add your shop branding or anything you like to say.
'Thank you for purchasing my template. Here's the link for the Instagram ad template. Feel free to edit it and use it for designing cute instagram ads"
In the document, hyperlink the copied link of the template and download the document as a pdf. Now, your product is ready to sell.
But, one final step.
Note: Click below to Pin/Save the pinterest image below to Pinterest boards.
Step #5.
Create a Product Image/Mockup
Don't forget to design a product image or a mockup image. Most buyers want to see how their product looks. If I am buying a workbook for my students, I want to see how the workbook looks. How many pages are there? What kind of pages should I expect?
Design attractive product images so that people buy as they see it! You can find lots of ideas on product images on sites like Etsy, Creative Market, design bundles etc.
This is how you can display your graphics in a beautiful product display.
Ebook canva workbook template by Miri Campell
Step #6.
Set a Price and Write Description
How to price your canva templates? If you are a beginner, you don't want to price your templates high because there's already too much competition but there's potential in the templates business too.
If your designs are unique then you can charge high because good designs do sell!
Write a good description about your products. Tell your buyers about everything they expect in a document. Most buyers are new to buying templates so your easy description can help you gain more sales. Explain the process of how to download and use the templates.
Step #7.
Where to Sell Canva Templates?
There are so many places to sell canva templates online.
Here are some ways to sell Canva templates;
Sell templates on your own blog
Set up a Woocommerce Store
Sell on Etsy
Creative Market
Design Bundles
Dribble
Step #8:
Promote your Canva Templates
Finally, spend time promoting your canva templates. You can design hundreds of templates and products but if you have no marketing strategy then no one would buy from you.
Use Pinterest to build an audience and grab some sales.
Set up your own personal blog or website to sell your product. All you need is a domain and hosting to set up a website. Install a woocommerce website theme and get going. Or, you can simply sell your templates via Gumroad. As simple as that.
Get domain from Namecheap.
Get your website hosting from WPX hosting as it's best for e-commerce platforms.
Use ecommerce based themes and setup your online store.
Or, use Gumroad to sell your templates online. Simple and easy. It only charges a specific percentage for every sale.
Here are some other ideas to get more sales on templates;
Collaborate with other successful bloggers in your niche, and see how you could build an audience.
Create free templates and offer them as a lead magnet.
Introduce bundles and packs for easy sells.
Use social media to promote your templates.
Can you make money selling Canva templates online? The step by step guide to sell canva templates online #sidehustle #makemoney
Best Canva Templates Ideas
What type of templates to create on Canva? There are different template ideas to sell on Canva! Some designers create templates for coaches while other target social media agencies who always need templates for their businesses.
Check out this list of 51 best digital product ideas to sell online. I also included some different easy to create ideas to this post.
These are some best canva template ideas to make money;
Canva workbooks
Blog planners
Editable worksheets
Canva ebooks
Instagram post templates
Instagram carousel posts
Facebook ads
Instagram ads
Youtube thumbnail
Instagram bundles and packages
Invitation template card
Youtube channel art
Social media planners
Printables
And, so much more! The best way is to visit places like Etsy and Creative Market to have different templates ideas.
How to Create Canva Templates: Step by Step Video
Here's a detailed video to learn how to start using Canva for creating templates. Once, you know how to design templates, you can start selling these templates on your website, online store and Etsy.
How to Make Money Selling Canva Templates?
The simple process is as explained below;
Brainstorm templates product line
Have a target audience
Make outstanding templates on Canva
Create your templates unique and attractive
Set up your own online shop
Or, use Woocommerce or Shopify to set up an online store
Use Etsy to sell templates
Promote your products
Make sales and earn money
How to Get Started With Canva Templates?
First, sign up with Canva. Enjoy the pro version trial and experiment with new designs and elements. See what type of products you can create on Canva.
Learn about different Canva design tricks, and elements. You can even follow some creatives on Canva and use their designs.
Then, start making first Canva template. You can even join this amazing Canva facebook group where the community is so helpful and supportive.
All the best! 🙂
Frequently Asked Questions FAQ
Is it legal to sell Canva templates?

Yes, absolutely! You can make any template on Canva and sell it online. The best and safest way is to make designs from scratch and not use any pre-made templates in the Canva library.
Can I use canva designs?

Yes, you can. It's allowed to use any Canva content for your personal and commercial uses. If you are selling templates then be sure to use free elements as anyone who buys your templates can get access to all templates even with a free account. However, if you use a pro element then a buyer may not have license to use that element.