Starting a lifestyle blog in 2022 is no less than a beautiful goal. Here, I help you learn how to start a successful lifestyle blog from scratch so that you get a little closer to your goal. I will show you all the important steps you should know about lifestyle blogging and how to be a lifestyle blogger. I have been asked this from my followers to do a lifestyle blogging tutorial on the blog.
So, here it is!
First,
What is a Lifestyle Blog?
A lifestyle blog is a more general blog which is less niche specific but it is equally valuable. It can be a little tricky to actually describe what a lifestyle blog is all about but it can be done easily. When you choose to start a lifestyle blog, you just need to be transparent of who you are, and what you're going to do with your blog.
Most importantly, you should have a unique point of view about your lifestyle. This will help you find a blogging voice. Let me remind you. Lifestyle bloggers are successful as niche bloggers, but those bloggers define their blogs well. In lifestyle blogging, you can write, and share almost every category including food, fitness, home decor, budgeting, happiness, career, beauty, etc.
The most important thing which will get your lifestyle blog noticed is your own lifestyle.
Figure out what it is, and how it will affect others?
Ask yourself, how do you become a blogger and talk about lifestyle?
Here's what you learn on starting a lifestyle blog;
How to start a lifestyle blog to make money
Choose your blog niche
Pick a domain name
Decide on a Blogging Platform
Get website hosting
Install a lifestyle blog theme
Enable WordPress settings
Blogging tips to make a successful lifestyle blog
How to set blogging goals
How to make money with a lifestyle blog
How to start a Lifestyle Blog In 2022: Blogging For Beginners
Many bloggers are not sure what steps to take to create a lifestyle blog from the beginning. Read this tutorial as you take steps to create your own blog.
Blogging is a lot of fun and creativity. Just remember to put your heart and soul to it, and you will have a wonderful blog. Be authentic, help your readers, hone blogging skills and learn to be an awesome blogger.
Briefly, enjoy blogging!
It doesn't have to be a typical boring activity. It should keep your creative juices flowing. Your posts should affect other lives in some way. Honestly, there's so much you can do with even with a lifestyle blog.
The best thing about lifestyle blogging is that it gives you more freedom to write on a variety of topics.
This is what exactly you can do to inspire others.
How to Start a Lifestyle Blog in 6 Steps
Here are 6 important steps to help you learn all about how to start a successful lifestyle blog from the beginning. This process will walk you through significant steps you can take today to start a self-hosted website that you can monetize also to make money from a lifestyle blog.
Let's get started.
1. Choose your Blog Niche
The first step in lifestyle blogging is choosing a niche. Even if you want to create a lifestyle blog, a niche is important. There's too much competition in blogging that you need to give people a really good reason to come to your blog over other blogs.
So, how to choose a niche for a lifestyle blog?
Have a clear focus. You need to have a clear purpose to get successful in lifestyle blogging. Think of some combinations of 'College girl lifestyle' or 'Young mommy lifestyle lessons'. In both of these examples, it clearly shows that who you are, and what you're going to do on your blog. You can also choose two main niches and combine them into one. The main tip here is to develop a crystal-clear focus. Your blog should define what it is all about, and who you are you. I hope you get the idea.
By the way, it's okay to write on different topics, but make sure to set clear dimensions.
Pick a niche = Figure out who you are, define your niche and the aspects you're going to cover on your blog.
If you are a bit indecisive, this post on finding a profitable blog niche is going to help you select a niche.
Next step in starting a lifestyle blog is to choose a domain.
2. Pick a Domain Name
Before we get into the blogging platform and hosting, you have to decide a domain name. It's so important to have a custom domain for your blog.
Your domain will look something like this 'yournewlifestyleblog.com'. The custom domain doesn't have to be associated with wordpress.com, blogspot.com or wix.com. This custom domain gives you the complete ownership of the domain and no one will ever claim your domain.
I use Namecheap to make all domain name purchases. It's so simple, and easy that I love using it every time. Check your domain name availability on Namecheap.
There are few options you can go with. First, simply use your own name as domain name. The second option is to merge your name with a creative word. Another option could be to come up with a completely different, unique name. But, always try to pick the domain with the same name of your lifestyle blog. Choose a name that's easy to use, and remember.
Or, when you go with bluehost as I discussed below, you will get a FREE DOMAIN name for one year. If you are starting a blog for the first time, then, of course, it's savings!
You can even search for your domain name availability below.
If you want to name your lifestyle blog, check out 63 new lifestyle blog name ideas that are available and not taken yet. I made this entire list of blog names for lifestyle bloggers and these names are available.
3. Decide a Blogging Platform
The next important step to starting a lifestyle blog is to choose a blogging platform.
For blogging platforms, I wholeheartedly recommend WordPress.org for a lot of reasons. As a blogger, you spend a lot of time on your website for performing different tasks. Your website adds a unique value to your personality. Of course, as a lifestyle blogger, you would want to personalize it on your own. That's where we need the best blogging platform, which gives us flexibility, friendly user experience, and tutorials to get started.
WordPress clearly wins it! Even if you have zero technical skills, WordPress.org is still easy to operate. You will just have to spend a few hours, and there, you love it.
You can't start a self-hosted WordPress blog without hosting. Your website needs hosting!
This takes us to our next point, website hosting.
Read this post to find out the difference between wordpress.com and wordpress.org – what you should use?
4. Get Website Hosting for Lifestyle Blog
There are many websites hostings that allow you to host your website at different plans. As you're just getting started, the basic plan will be the best to host your new lifestyle blog.
I happily suggest to get started with Bluehost for a lot of reasons.
Awesome PRICE. It's comparatively the best host when it comes to price features. As low as $3.95/m, you can start a money-making blog.

WordPress PRO – Get detailed wordpress analytics, security and other backups in one place.

FREE domain for one year

FREE SSL certificate

One-click wordpress installation

24/7 support
If you want to learn more, here's a quick bluehost review.
If you use my special link, you get an additional discount and get started with only $3.95! CLICK HERE FOR SPECIAL PRICE.
Now, let me help you with all the steps so that it gets super easy for you to create a lifestyle blog.
STEP 1: Choose the plan.
Click here and choose the basic shared hosting plan for only $2.95/m. You can choose other plans if you want to have more than 1 websites in future.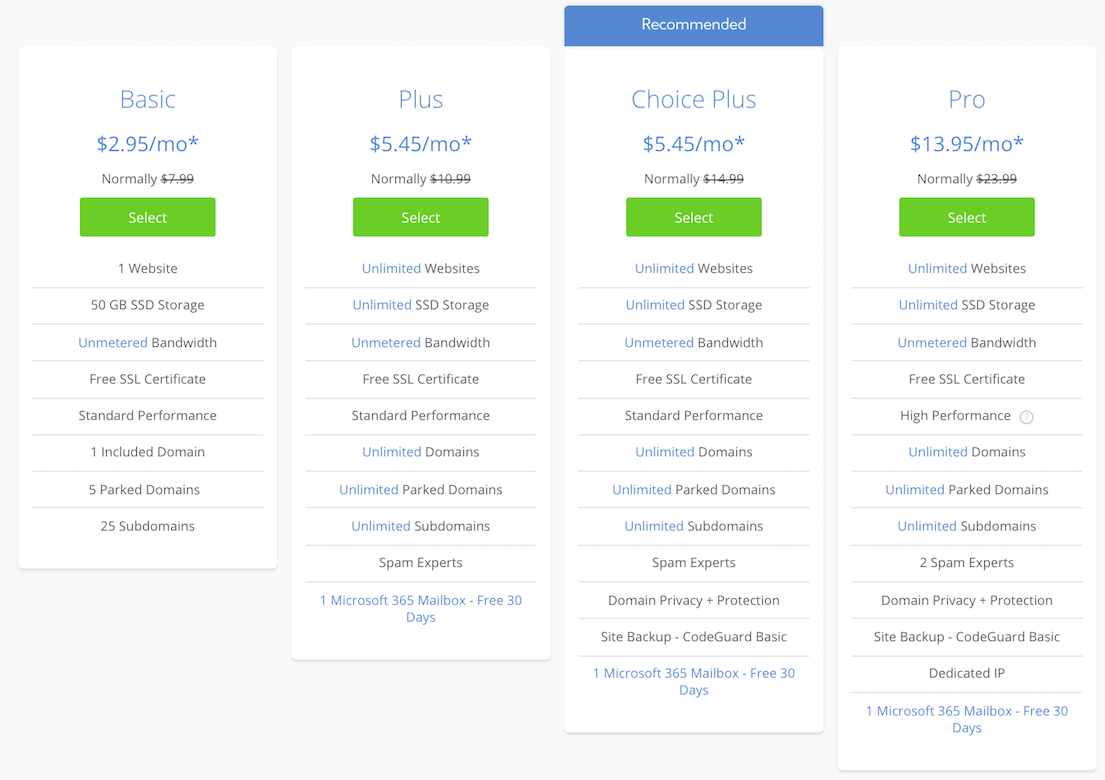 STEP 2: Choose a FREE domain name. If you have already got a domain name, just add your domain name and click 'next'.
Step 3 : Fill out the necessary details and just choose the plan you want to use. For beginners, the basic plan is perfect to get started with.
Step 4 – Pay the amount and choose a password for your new bluehost account.
The other steps are easy and seamless to follow.
Step 5 – Login to your bluehost account
Step 6 – Just pick a random free wordpress theme and build your website.
And, just keep working on your site!
Moreover, you can start my most comprehensive tutorial to start and launch your site with bluehost.
So, your account is created!
Now, get access to your new blog and start making it pretty!
But, if you are looking for other options, feel free to check out this post on best website host for beginners. It includes at least 5 industry recommended best and affordable hosting companies.
Lifestyle Blog Name Ideas Inspiration
If you are a bit indecisive to your lifestyle blog name, don't worry. I have created a whole list of 63+ amazing blog name ideas for lifestyle bloggers.
Usually, these lifestyle blogs are created with the blogger name. For example, blogwithana or Mollyjourney. Anything like that. But, you can go creative with your blog name. I guess, choose a name that's catchy and memorable.
Get inspired with these lifestyle blog name ideas.
Find a Theme for a Lifestyle Blog
A theme represents the overall appearance of your blog. It depends on how would you like the design of your blog. As I said earlier, you can always personalize your blog on your own by making little tweaks, and customization.
The aesthetic appeal of the website really matters. It includes color, fonts, images, widgets, etc. Most importantly, the website responsiveness and a user-friendly experience matter. Your website theme gives the first impression of your blog readers. The first visitors will most likely come to your blog again if it's appealing and provide great value to them.
For lifestyle blogs, there are many options to choose from. I would definitely recommend a theme that's affordable, pretty and strong.
When you go self-hosted, you can also download and use any free theme available like this one.
However, if you have some budget, then I highly recommend choosing a premium theme as it's customizable, competitive, fast and also offers customer support.
Investing in a premium theme will give you benefits for a long term. However, if you are tight on budget, you can always go with free themes, and later invest in a paid theme.
Check out all feminine WordPress themes in this post!
Create & Publish Valuable Blog Posts
Starting a lifestyle blog is easy. The most important step is creating valuable content for your blog. Initially, you can list down all of your blog post ideas in a spreadsheet, and write one pain point you're going to solve for your readers.
The WordPress dashboard is easy to understand. The more you use it, the easy it becomes.
A spreadsheet or a blog planner keeps you more organized when there's so much to write about. I know the feeling when a new blog gets published, and you're excited to write more every day. So, this can make you overwhelming.
Related :
==> 121 best trending lifestyle topics to write
==> 47 new lifestyle blog post ideas to start writing on your blog
==> 181 beauty blog post ideas for bloggers to write
A simple blog planner will help you identify your goals and results.
You can also download my FREE 12-MONTH blog plan below, which will guide you all steps for a profitable blog.
Blogging Tips to Make a Successful Lifestyle blog
Congratulations! Your new lifestyle blog is all up.
Here are some extra blogging tips which help you take your blog in a better direction.
Create social media profiles
As soon as you have decided your domain, and blog name, look for available social media profiles with the same name. If your blog name is unique, you will easily get the same social media profiles on all networks but even if they are not available, add a new word that looks similar. Make sure you create profiles on all networks even if you don't plan to use it now.
Design a logo
A logo is very important for your blog visibility. Nowadays, creating a logo is so simple to create. There are pre-made templates available online.
Canva is another free and premium tool to make logos and gorgeous graphics. It has premade elements, fonts, and texts which you can simply use to design a logo. I use Canva pro for designing all my website graphics, elements, banners and everything. So, I love it for sure!
Set up website menu
Create a simple menu for now. You can easily find it under the appearance section of the WordPress dashboard. The menu has main pages of your website including home, blog, privacy policy, contact, and about pages. Create all the important pages for your website.
You can also follow this post to do 20 things right after you install wordpress on your site.
Install WordPress Plugins
WordPress is a pool of plugins for almost everything. Too many plugins can even slower your website. So, I don't recommend installing every plugin. Consider installing Yoast plugin for SEO, Akismet plugin, W3 total cache, Jetpack, Contact Form and Sharebuttons by AddThis.
Related: 17 Free WordPress Plugins You Should Consider Using On Your Site
Set Blogging Goals
Don't consider this a waste of time. Don't!
At first, set achievable goals. I have been blogging for more than 4 years now and I'm saying this from experience that blogging goals are a must. There can be days when you will feel unmotivated and stressed. It's also possible that other daily activities turn into big obstacles, and you discontinue blogging. I know this happens with many bloggers.
I would suggest you do goal setting for your new blog. Write it down daily, weekly, and monthly goals for your blog. There should be a blogging to-do-list prepared for you in advance so that you don't get overwhelmed and keep your focus on blogging. Simply use a planner!
Types of Lifestyle Blogs
I personally love reading lifestyle blogs. Those have such awesome vibes for readers! Here are some most profitable and high paid lifestyle bloggers.
#1. A Cup of Jo : She writes about everything including relationship, style, design, travel, motherhood, food etc. Her blog is so popular among all lifestyle blogs. You can check it out here. So beautiful too!
#2. Color me Courtney: That's such colourful and beautiful lifestyle blog. She writes about ideas, inspirations, styling, adventures, fashion etc. She has highlighted four main categories including style, adventure, lifestyle and powder room! Just look at her blog here.
#3. Chasing Foxes. Silas and Grace are the owner of this amazing blog. Their lifestyle blog revolves around traveling, lifestyle, blogging to food. Check the blog here.
How to Make Money With Lifestyle Blog
As a new blogger, you will have to first keep your website running, and write content. After that, you need to choose blog monetization methods. How are you going to make money from your website?
Do you have physical products to sell?
Do you want to make money with ads?
Are you interested in affiliate marketing?
Do you have the skills to teach?
Initially, just have a clear purpose of how you'll make money. I have comprehensive blog posts on several of these topics so you won't have trouble getting the information. But, at the starting, have a goal.
Trust me, making money is totally possible if you know what you are doing!
Lifestyle bloggers make money online through several methods including affiliate marketing, ad income, sponsored content, brand collaboration, product sales etc.
Simply, get started with bluehost as low as $2.95/m. And, follow the instructions to make a wordpress-ready website.
Invest in Lifestyle Blog
I'm teaching you things as you're my best friend, or family. I definitely encourage you to invest in blogging. Accept it or not, if you want to grow your blog and make it a profitable source of income you will need to invest. Again, I'm saying this from experience.
You can start looking at these 20 cheap things to invest in your blog.
It's okay if you don't have a budget now. Save some money, and invest in your blog. It can be paid tools, courses, ebooks, or services. You can also grab my popular ebook on Evergreen Content Strategies that is everything you need to create content for your blog. The latest Fast Track Blog Traffic is all about building up blog traffic.
Invest in blogging education and follow the step by step process! If you think you will just buy things, and throw them in your drive then you don't need to invest. Blogging has become a full-time field and people are making thousands of dollars. And, even if you ask a successful blogger then he/she will most likely tell you the amount of expense they made in their blogging journey and they continue to do so to keep their business running.
My FREE 7-day email course covers all this in detail, and also tell you popular income streams for blogging. Click the image below to get started!
Related ==> How to start a beauty blog? The step by step guide to create a beauty blog.
Tips for Starting a Lifestyle Blog
Upon visiting hundreds of lifestyle blogs, I can say that lifestyle blogging is really unique, and wonderful! You decide yourself, and then, show a lifestyle with your folllowers.
Here are few tips that should help you in starting a lifestyle blog;
Get some inspiration from women lifestyle blogs. You would see creativity, difference niche selection, blogging style, and content style.

Think about your passion and interests. Lifestyle blogging should be more fun and creativity. It's obvious that you should pick niches that also allow you to make money from lifestyle blog.

Plan content ideas, and photography. Most lifestyle bloggers capture their own photos and make real connection with their followers.

Make a plan on how you intend to monetize your lifestyle blog.

Collaboration with other bloggers is a big idea for lifestyle bloggers.

Choose one social channel like Instagram to build an audience too.
Be a consistent blogger
Consistency will certainly get you successful in lifestyle blogging. Whether it's an Instagram account, Facebook page, or a complete blog, you need to be active there to get successful.
All your efforts go in vain if you fail to achieve consistency. Make a blogging routine, and stick to it. Find your audience, and help them with their problems. Here are some tips on becoming consistent with blogging.
That's all for now.
I really hope that this post answered all of your questions.
How to be a Lifestyle Blogger
As for now, you get the idea of lifestyle blogging. You can become a lifestyle blogger and inspire others with your own lifestyle. There are various options for starting a lifestyle blog online.
You can become a lifestyle blogger and have your own website.
You can become a lifestyle blogger on Instagram. Learn everything about starting a blog on Instagram.
You can create your lifestyle portfolio online and inspire others.
These are some simple tips to help you become a lifestyle blogger;
Decide a lifestyle blogging niche
Choose domain name (here are some lifestyle blog name ideas for inspiration)
Pick hosting service
Set up WordPress site
Choose 3-4 categories for your blog
Design your blog using themes and templates
Create a vision and how you want to inspire others
Write content for lifestyle blog
Create essential pages
Set brand guidelines and create media kit
Set up social media presence to form an audience online
Engage with other lifestyle bloggers
Have a lifestyle blog strategy
The list goes on. The main idea here is to get started with lifestyle blog niche. Get visibility and clarity of what kind of blogger you want to become.
How to Start a Successful Lifestyle Blog: Final Takeaway
Lifestyle blogging demands creativity, consistency and passion. If you have a lot of ideas and you want to inspire others by showing a lifestyle then start it right now.
The process to learn how to start a successful lifestyle blog on WordPress is simple.
Find your lifestyle focus.
Choose a lifestyle blogging niche.
Pick the blogging platform.
Get website hosting and domain.
Name your lifestyle blog.
Set up your WordPress website.
Install theme and create pages.
Get your social media handles.
Start publishing content.
There, you go!
You have everything to create a successful lifestyle blog and grow it.
FAQ: Start a Lifestyle Blog to Make Money
Do lifestyle bloggers make money?
Can you make money as a lifestyle blogger? Absolutely. There are many lifestyle bloggers who are making more than $5000 with lifestyle blogs. The best ways to make money with lifestyle blog is with ad networks, sponsored content and affiliate marketing.
How do I start a lifestyle blog and make money?
To get started, choose a lifestyle blog niche. Pick a blogging platform. Find your blog name. Choose website hosting. Set up your website. Install a theme. Publish your post.
What makes a good lifestyle blog?
Creativity and authenticity. People come to lifestyle blogs for connection and relatability. If you be honest, and do what you love, then you can become a successful lifestyle blogger.
What do lifestyle bloggers sell?
Lifestyle bloggers sell ebooks, Capsule wardrobe checklist, printables, editing presets, cookbooks, recipe books, travel guide, printables, styling ebook, etc