You are tired of reading posts where bloggers share traffic reports but in real, their website traffic strategies no longer work?
Or, maybe it frustrates when your blog is not getting any traffic at all. It also makes you wonder why it's happening? What are the reasons you're not getting blog traffic?
I totally get you!
I used to feel exactly the same when I started out. Even, I used to check my blog statistics every hour. Can you believe this? I know, I was eagerly excited about blogging.
But, as time grows, I learned a lot and my top lessons were 'patience' and 'persistence'.
Wait, I'm not going to talk about patience!

I know, as a new blogger, you're eagerly excited to grow traffic to your blog too so I'm leaving all reasons in this post of why your blog is not getting traffic.
And, if you could relate to any of those reasons do let me know in the comments section below so I can cheer you up and answer any question that might trouble you at this moment.
But, first – the big question.
WHY MY BLOG IS NOT GETTING ANY TRAFFIC?
There can be so many reasons for zero or low website traffic but then, we also have solutions because that's how bloggers are still getting traffic every day and strategies still work.
And, one more thing…
You're not alone!
Even if you just take a minute and ask the same question in any Facebook group you'll have so many people coming up with same problem.
I don't get 100 views a day.

I don't know why my blog is not growing.

No one sees my post.

No one comments.

I'm struggling with more pageviews.
I don't feel the urge to write anymore – I'm lost.
You know what I did?

I asked.
I recently asked what's the main goal of quarter 1 of 2019. Someone just commented 'to get 1000 pageviews a month'. As you see, more than 3 bloggers commented at the same time and shared, how they're struggling with traffic too.
And, honestly, this made me write this post!

My facebook group audience is definitely the best because they share, participate and are excited to learn. If you're interested in becoming a free facebook member, it's free to join!
Moving on…
If you have recently started blogging and you're super new to this blogging world then listen(okay, read) to me.
You're going to take a little more time in growing your blog as compared to others who've been blogging already, or have some experience already.
But, if you're a baby born blogger but are determined to work hard, and implement strategies then you'll easily get traffic to your blog.
I'm not joking because I know, you can!
All it requires is a full-time dedication in taking your blog to the next level.
So, let's find out why your blog isn't getting traffic at all. As soon as you figure out the why's, you will have to find the solution and take action right away.

All clear.

Let's jump on some reasons why blogs don't get traffic.
17 REASONS YOUR BLOG ISN'T GETTING TRAFFIC?
Here are some real things you might be missing or doing wrong on your blog. Just figure out those errors, and rectify them. If you're new then don't worry at all. You will still be able to get more traffic to your blog and it's totally achievable.

I have included recommended posts in this ultimate guide so make sure you click and read other articles as every other post has a solution to offer.
1- YOUR READERS ARE NOT INTERESTED IN WHAT YOU WRITE
Just think about it.
What if your readers are not interested in what you write? Or, your content is totally irrelevant to your audience? It's not working either way.
If that's your situation, you have to sort it out by knowing two things.
1- Find the right people
2- Write engaging content on topics that interest them
Start knowing and understanding your audience first. There are multiple ways through which you can target the right audience who's actually waiting for you to show up so that they reach to you. This could be the first mistake you might be making with your blog.
If you're guilty of targeting the wrong people and producing irrelevant content then your blog is not going to get any targeted traffic which means no growth.
First, find the right people and start showing up! Let them know what your blog is about and how your blog is the right place to find the content they've been looking for.
How to find & target your blog audience? Grab this worksheet to find your ideal blog readers.
2- YOU DON'T PUBLISH TIMELESS CONTENT
But, what is timeless content?
A timeless content is any content that does not have an expiry date which means it does not go dated. Remains evergreen! I strongly believe in creating more evergreen content so that your blog gets a regular traffic and readers.
Many bloggers are not familiar with evergreen content and that is why they don't even include creation of such content in their content strategies.
Even if you publish 10 posts every month, try to make at least 2 evergreen blog post so that you can promote it every day, week, month or every year.
Instead of writing a 300-word post, invest more time in creating long pieces so that it can drive consistent traffic over a period of time.
If you want to go deep, I highly suggest buying my ebook on 'Evergreen Content Strategies'. In this ebook, I share all hidden secrets to create content that lasts forever. Check out the ebook here and get all the details.
3- YOU ARE AFRAID OF PROMOTING YOUR POSTS
Tell me, how much time you devote for promotion?
Twice a week, and is only facebook? I wonder.
As a new blogger, you may not know hundreds of other ways to drive traffic but you should know that there are so many ideas to promote your one blog post. Imagine, if you follow a plan and promote blog posts using multiple ideas?
Sometimes, new bloggers are also afraid of their reader's reactions. What if someone leaves a bad comment? What if no one reads my blog? And, What if people criticize my opinions?

Forget all what if's.
Stop thinking that way!
If someone leaves a bad comment, reply with a GOOOOD answer or if it's inappropriate just delete the comment. It's YOUR blog, and you're the boss here.
If no one is reading your blog, figure out why and start working on it. As simple as that. This is how we all got better with time.
If people criticize your opinions, spare a minute and think if their criticism is worth spending time for? Or, they're just letting you down for no reason. Give them a shut-up call and FOCUS.
No matter how many posts you write but if you're not promoting it, they are of no use! Focus on promoting your post on every single platform from day 1.

Yes, I strongly urge you to promote. I don't mean to spam but do meaningful promotions.
Advice: Use these 61+ crazy blog traffic ideas to promote your blog post.
4- YOUR POSTS ARE NOT OPTIMIZED FOR SEO
Let me ask.
Have you optimized your blog for search engines?
If yes, then start working on your posts and wait to see the SEO magic which means free organic traffic.
If not, start optimizing every single blog post.
In order to be get indexed by search engines like Google, you need to make your site available for search engines. That means, make your blog post ready for SEO.
Here are a few blog posts to help you get started with SEO;
1- The Ultimate Guide To Drive Only Organic Traffic To Your Blog
2- How To Do SEO for every blog post
3- Image SEO : Steps to optimize blog images
Organic traffic is the best free quality traffic every blogger wants. Once, your site starts getting some organic traffic – you'll have to spend less time worrying about traffic numbers and more on generating leads. But, it does require some efforts and time.

Organic traffic doesn't result in a matter of a few days. A right SEO strategy results in high-quality traffic from search engines.

That's what we want, right?

I also encourage you to sign up for 5-days free blog traffic course to get actionable strategies to get more blog traffic. Here, I share easy tactics to build up real traffic and form a massive audience online.
5- YOU NEVER CONNECT WITH OTHER BLOGGERS
Do you constantly look at your own blog, and imagine the magical traffic? Well, it won't work!

You got to show up and connect with other bloggers.
Blogging isn't something boring. Make it more fun. Enjoy blogging.
Start meeting other bloggers. Read their blogs and leave comments on their blog posts. Let them know you're new to blogging and you write on this topic. Take part in any collaboration. Engage with new bloggers.
Start doing these three things;
Make thoughtful comments on 5 blogs every day
Read new blogs and improve your knowledge
Engage with new bloggers on social media. Like and share their posts. Give them shout outs on your social media profiles.
I know many of my blogging friends who truly connect and engage. Some of good blogging fellows are;

Ryan Biddulph
Estine Muki
Lisa Sicard
Moss Clement
Hassaan Khan
Make a blogging network. In this post, you learn 2 steps to build blogging connections.
6- YOU DON'T USE PINTEREST FOR TRAFFIC
If you're new to blogging then know that PINTEREST is a big thing! Nowadays, bloggers and business owners are using pinterest daily for making money, getting endless traffic, making sales, building connections, finding inspiration and what not.
Just like any other marketing channel, pinterest also requires some simple rules to follow and when you do that, you grow.
If you're just starting out then I highly recommend you to read the following post before you read point 7.
First – How does Pinterest work? The very first lesson!
Second – 10 simple Pinterest rules for bloggers and business owners
Third – Follow these 3 pinterest tips to boost your blog traffic
Fourth – The PINTEREST SEO guide for bloggers

Five – Create stunning Pinterest images using 27+ tips
Six – How to create pinterest pins really fast with Tailwind Create?
7- NOT USING ALL MARKETING STRATEGIES (EMAIL MARKETING)
Expecting hundreds of views every hour will not work, but trying and experimenting new strategies might get new traffic to your blog. Instead of scratching your head every time when you see low traffic numbers, make a commitment and use a new marketing strategy to promote your blog post.
But, what are new ideas?
Build an email list to promote your blog posts
Create landing pages and collect email subscribers
Use twitter to promote new posts
Create videos and use video marketing
Start youtube and create videos around significant topics
Design infographics and promote them
Use Instagram to drive new users to your blog
Be active on facebook page
Email marketing is going big and it's the best time to build your own email list. When you grow your email list and set up automation series, it's super easy to get consistent traffic from email subscribers.

Emails are not only used for promoting content, but also for building a trustworthy relationship with your readers so that they become a regular reader, and customers.
Ready to create an email list for your blog? Here's how to build an email list for free.
8- HEADLINES ARE POORLY WRITTEN
Spend a few minutes and check your headlines.
Now, tell me.
Are they good enough to attract readers to click your post, and read what's inside? Do they incite curiosity among people? Do you ever rewrite your headline to see if it attracts more clicks to your website? Do you know how to convert your blog posts?
Look at this example;
Headline #1 – Cake recipes to try at home
Headline #2 – 8 delicious cake recipes every cake lover MUST try at home
Which one would get more clicks?
The second one, right?
Next time, when you write your blog post – make sure to create different headline versions and pick the one that makes people click your post.
A well-written headline can actually pull readers in. It also increases the click through rate, which thus ultimately gets more clicks.

To be honest, I have struggled with headlines too and it wasn't easy to come up with an extra-ordinary headline. To help myself and other bloggers, I published 7 headline formulas to produce catchy headlines for blog posts.

You can also multiple headline tools discussed in this post.
9- YOU ARE NOT FOCUSED
Are you just blogging for fun? If yes, then enjoy it!
Don't get into the loop of getting more traffic numbers.
But, the real thing is no one likes the fact that only two people read the post no matter how hard they try.
Become more focused. Have a clear vision of your blog. Define your blogging goals clearly, and prepare an action plan to achieve those goals. Spend some time in figuring out what do you want from your blog.
Nadalie Bardo has answered some common FAQ's on goal setting and I'm so sure this will help you if you're less focused.
10- YOU DON'T GIVE ENOUGH TIME
Are you guilty of spending less time on blogging?
If yes – THIS WON'T WORK!
Blogging is a full-time work, but even if you do it in your free hours then make sure, you're spending your time efficiently.
As a blogger, you're responsible for so many tasks including planning, researching, writing, connecting, marketing, social media, networking, image designing and so many other things.
Of course, you can outsource blogging tasks to others but as a newbie, you may find this extra expense.
The best thing is to start giving more time to your blog, and learn more about blogging. Every day, do one blogging task that will help you get closer to your blogging goal.
Here are some best tips on time management for bloggers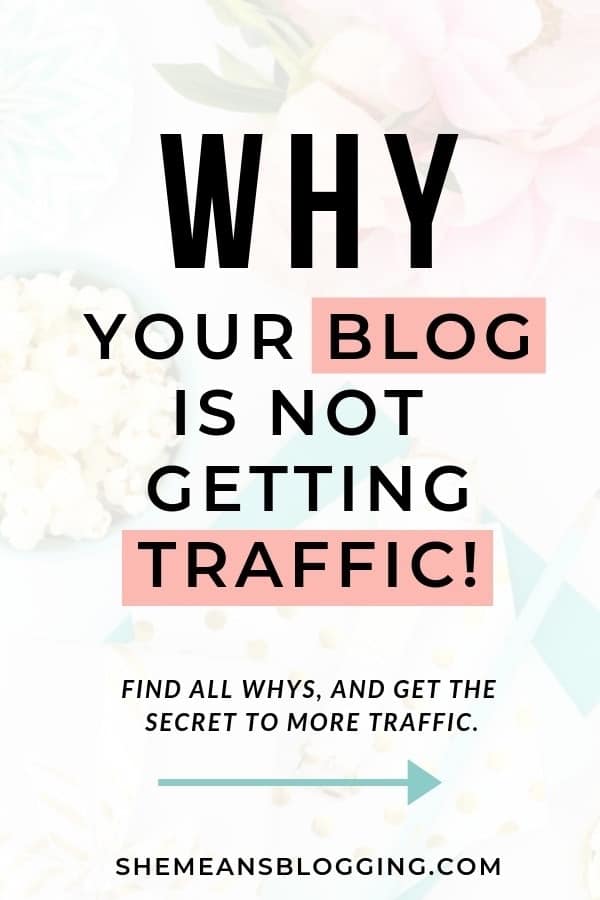 11- YOU DON'T POST FREQUENTLY
I have to tell you one thing here.
Blogging is about consistency! In order to grow yourself as a blogger, and build continuous traffic, you need to be persistent and determined.
Even today, when I take a short break from blogging I notice some fall in traffic and subscribers. Why? Because, I was not being consistent on the platform.
Many of us still struggle with inconsistency but this is the most important thing that helps you to stay on the platform, and grow.
Here are some tips to help you become consistent;
Plan ahead
Always schedule your content in advance
Try to be active on 1-2 social media channels
Let your followers and readers know where they can easily reach out
Do small blogging activities that cheer you up and motivate
Read other blogs to stay inspired
12- YOU'RE SCARED OF INVESTING
You may ask what is this relation between investment and traffic?
Well, there is!
Gone are those times when you just pick a free platform like wordpress.com and start writing blogs. It was easier to gain traffic, and connect. But, things are not same today.
You need to treat your blog like a small business.
Go self-hosted and choose wordpress.org – not wordpress.com. For choosing a self hosted wordpress.org blog – you pay less than $4 a month but this small investment is a lot better than waiting for years to build traffic and grow your blog.
Don't scare to invest in blogging tools that automate your marketing. And, Don't scare to invest in educational material like ebooks, or courses. Don't scare to hire a coach. Don't scare to buy a SEO tool subscription. These are all investment in your blog/business that will make you money and help you grow online. I have also shared 20+ small things to invest in your blog business.
Take out a limited amount and spend carefully on your blog.
For example, if you use Pinterest then investing in tailwind will help you automate unlimited pins. I use tailwind to schedule my pins and trust me, it's my best ever investment.
I also recommend checking out Ready Set Blog Traffic, a course by Elna Cain. I've recently taken this course and I can't tell you how much this course has helped me learn effective blog traffic strategies.
Not just this course walks you through fundamentals of blog traffic but also, SEO, Pinterest, and content creation tips to skyrocket your traffic. In addition to that, you also get all updates and lifetime access to this course. That means you've all the tutorials and content with you forever. Elna is a total pro in content creation, growing blog and traffic strategies.
Ask any successful blogger and they will tell you how much they have invested and how much they invest every month to build their blogs.
This is an investment, and when you successfully grow your blog, you can easily retrieve your expenses in the form of income.
13- YOU DO NOT USE THE POWER OF SOCIAL MEDIA
Social media is a fast and free marketing channel for growing any online business. Similarly, bloggers are using social media to build their audience. Nowadays, everyone uses social media to get entertained, stay updated and whatnot.
Know that your audience is already there, and they are waiting for you to share some content.
If you're a new blogger then I don't recommend you use all social media channels at the same time. Even the best advice is to choose one channel and stick to it.
If you think your insta-fam responses you well then learn to master at Instagram and use to to drive traffic.
Facebook pages are big in multiple entertaining niches so definitely use your facebook page to build traffic and following. Shemeansblogging also has a brand new facebook page to share best blogging advice.
Use Facebook groups to participate in threads.
Start using twitter to engage and connect with other bloggers.
14- YOU'RE LESS PASSIONATE
Nothing will work, if you're not passionate!
Even I have been blogging continuously for more than 2 years but I still feel that the only thing that has kept me stick to my blog is my passion.
And, to be honest, blogging will not work if you are not enthusiastic about it.
At times, blogging can be boring too but you need to make your blog interesting. Do blogging for fun sometimes. Enjoy doing activities that bring you joy.

Engage with other bloggers and make a small community.
15- WEBSITE DESIGN IS POOR
Have you ever stopped visiting a website just because it has a pathetic design? Or, maybe poor navigation. Too much clutter. Bad layout?
Well, I have stopped visiting such websites because they are poorly designed. That is true.
I'm sure you must have too!
As a reader or user point of view, a website design is the most important and attractive feature. If you have a more professional, and clean layout, your readers will come back to your site and be there for a long time.
Consider spending some minutes over your website and figure out what are some bad points that may lead visitors to leave your site.
Once you've figured out, look for more professional theme options and give a new look to your website.

15+ Professional Website Themes For Bloggers, And Small Business Owners

However, if you want to take a look at the website design I use then definitely try Genesis Framework. It is the most strong, responsive, & SEO-competitive theme combination most bloggers and businesses use.

Genesis Framework – What It Is & How To Get It For Your Blog?
Some other tips are;
Use simple fonts – not fancy ones
Add more white space
Make categories and pages clear
Use pretty photos from sites like pixistock to attract readers
16- YOU DON'T ASK FOR SOCIAL SHARES
You literally have to ASK readers to share your post.
Yes, you do have to!
First, install a social media plugin and enable it on your website. If you're already doing it then check if the buttons are working.
Use free plugins like Marshare, social warfare or social pug.
Make sharing effortless for your readers. Active your social share buttons in different places to test out. Display social media sharing buttons on top of the page or bottom.
Secondly, add a click to action at the end of post.

Ask your readers to share the post. We are more likely to take action when someone asks us to do. Similarly, ask your followers to share your post on facebook, or twitter.

Ask them to save the pin!
Are you willing to spend a little on your blog? Here are 20 small things to invest in your blog for growth.
17- YOU ARE NOT GIVING ENOUGH VALUE
The last but most important thing is that YOU'RE NOT ADDING ENOUGH VALUE!
Don't take me wrong or rude but blogging is becoming competitive and challenging. You need to stand out from the crowd and your competitors.
As a new blogger, you need to create quality-rich content and attractive images to drive reader's attention.
Choose unique topics that add more value. Write for your readers, and offer them free help in form of excellent content, freebies or maybe, a community.
Research a little bit before you write. Make your content eye-pleasing to make it visually attractive.
HOW TO GET BLOG TRAFFIC?
Here are few posts to help you find out how to get more traffic to your website;
THE BEST ADVICE FOR GETTING BLOG TRAFFIC
Dedicate more hours each day in learning, and implementing strategies that work insanely.

Produce more blog posts, promote them heavily on different platforms.

You will start getting more traffic. It is easy, and you can definitely do it. But, the commitment is to dedicate more hours in generating extraordinary content that attracts more readers.
I would also encourage you to check out Ready Set Blog Traffic. This course is a complete solution to blog traffic! Highly recommend this course, and implement all the lessons you learn from this course.
Just be true to your blog, and you will see there are so many possibilities to grow online. And, you know it, right?

Now, I want you to tell me what could be the big reason for not driving good traffic, and what are your next steps?

Let's chat in the comments below.