Email marketing is no new term. In fact, email newsletters have been around for years, but they are still popular. People still find emails an instant form of business communication and the fastest method of marketing. If you've been blogging for a while, you already know that email marketing is a hot topic but you probably don't know why you should start an email list as a blogger!
In this post, I will cover some quick reasons why exactly you need to start an email list, what tool I use to send my emails and the astounding benefits of growing an email list.
Are you planning to start a blog and make money? Jump straight to this comprehensive post where you will find a detailed guide to start a profitable blog from day 1 and discount too!
Before we read the significance of starting an email list, here are some email marketing statistics I want you to know;
The number of email users worldwide is forecasted to rise to 2.9 billion by 2019.
Nearly 105 billion emails are sent each day; this number is expected to reach 246 billion before 2020.
78 % of teenagers still use email despite the rise of social messaging apps, say Adestra.
Despite the rise of social messaging apps, 78% of teenagers use email, say Adestra. They actually consider email a "fact of everyday life".
Now, you probably get the idea of why experts and bloggers recommend building an email list from day 1. But, I want you to spend few minutes and read the other reasons for starting an email list.
Because I know that growing an email list can actually do wonders for you!
If you're ready to get subscribers, and grow your own email list then I have got you covered. Follow this two-step process to build an email list for FREE!
9 REASONS YOU SHOULD START AN EMAIL LIST AS A BLOGGER
Let's find it out.
1- You have full control over your email list – it's all yours!
We all know that social media is the popular channel to communicate and speak to your audience. But, do you have full control over it? No!
Instagram is fun to make connections, but who knows when the new algorithm will beat all of your efforts? Facebook is a popular platform to find an ideal audience and sell to them. Are you sure that Facebook newsfeed shows all of your posts in front of the right audience? Social media is changing every time. Sometimes, the algorithm change and sometimes, the content distribution differ.
Your email list is the only place where you've full control. You can decide what to send, and when to send. Even if social media algorithm changes, you still have your email list who is ready to open your emails, and read it.
2- Email subscribers are more likely to be action takers
Have you ever thought of selling or recommending products? Then, an email list is a must! When people allow you to send them emails about any new blog post, any offer, or a new service this shows that they want to hear from you.
Remember that people who have subscribed to your email list with consent are real followers, not fake follow4follow bots! They want to engage and interact with you.
They want to read what you say. Your opinion, advice and lessons matter to them. They find value in it, and they are ready to take action right away.
Related: How To Get First 500 Email Subscribers [5-Step Plan Launch]
3- Emails are perfect to communicate, and stay in contact
Email newsletters are still read the most, and email marketing still works. That means emails can be used for instant communication. Most importantly, if your business is online then emails are an absolute recommended form to communicate with your audience and buyers.
With email service providers, you can schedule the timings, and date to send an email newsletter. Of course, there are several other features which we will discuss below.
4- An email list brings you closer to your audience
The solid benefit of having an email list is knowing your audience closely. As soon as I grew my email list, I got emails from my subscribers and they tell me how much they enjoy reading my content.
They send me personal emails and ask questions they don't often ask on the blog, or social media. Emails bring you closer to your audience, and also is a clean way to speak directly to your subscribers.
Related post: How To Network With Other Bloggers, Without Advertising Yourself
5- Sell products & services to your email list
As I have earlier mentioned that email subscribers are mostly action takers. They have trust in your services, and products. If you have an email list, you can sell your products to them. Remember that people only become subscribers when they truly want to read more from you and your business. They are the people, who are actually product buyers and often make purchases directly through the email newsletters.
Basically, emails are helpful to make money for your business.
If you are into some business, then you definitely need an email list from day 1.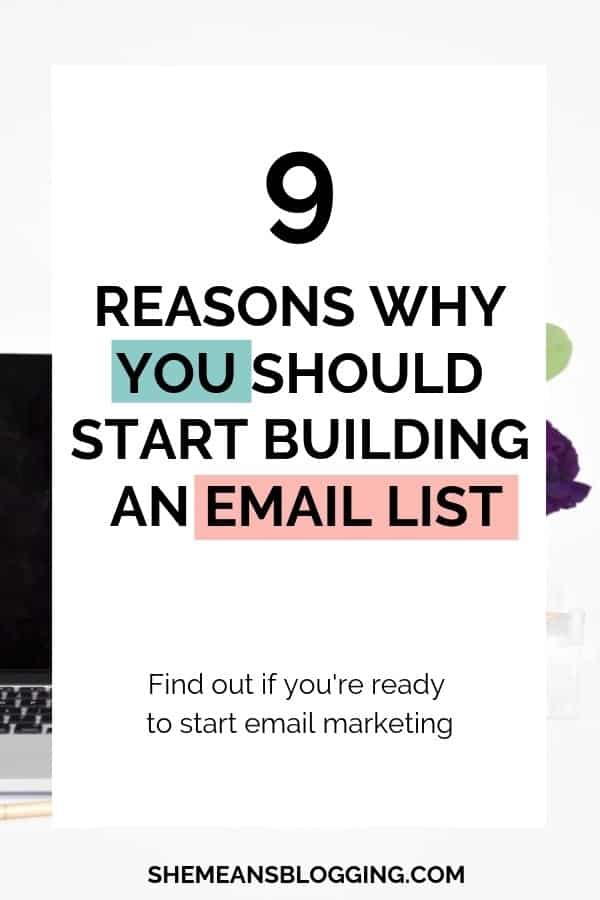 6- Send announcements, and events
Social media is fast, and there's no second thought. But, if you want to send special announcements and events dates to a targeted audience then building an email list is a must.
As a subscriber, they will get notified whenever there's a new event. In most cases, email marketing is used for instant marketing where conversions are far better than other marketing channels.
7- Get more pageviews with a huge email list
As soon as you build and grow your email list, the number of subscribers also increase. One email can be sent to a number of subscribers at a time which results in more page views.
Some bloggers notify subscribers about their new blog post by RSS campaigns whereas some bloggers write a regular email and add a link to their new post. This is all your choice!
The point is to send your subscribers to your blog and increase more clicks on your website.
Related post: 61 Crazy Blog Traffic Tricks To Skyrocket Your Pageviews
8- Give special discount codes, and offers
It's not easy to write about every small offer in your blog posts. You cannot write a new post an offer which will expire soon. This is where you need an email list.
You can literally send special discount codes and offers to loyal subscribers because they really deserve that incentive. They should be the first ones to avail any shopping discount, free vouchers or sales. Everybody likes treating special!
Make sure you treat your subscribers well.
If you are on my email list, you already know that I send out personal discount codes, collaboration details and other hidden offers to help you save some money. These are some juicy perks of having a trustworthy email list.
9- Take immediate feedback
Just like online surveys, emails can also be used to read your subscriber's mind. Send short surveys, and collect their opinions on specific things. Take their feedback on a new blog post.
Ask them what they'd like to read more on your blog?
What products do they want you to create?
Which social media channel they actively use?
Treat your email subscribers as your genuine followers as they take out the time to open your emails, read them and actually take an action.
Aren't they really valuable?
Some other helpful posts;
7 High Converting Places To Add Email Sign Up Forms To Grow Subscribers
How To Make First $100 From Blogging
10 Free Ways To Get Backlinks To Your Blog
So,
If you have no idea how to build an email list, read my new post on starting an email list for your blog. I have shown all steps you need to do in detail so that you just get started and send your first email.
What are some other reasons for bloggers to start an email list?
I would like to read your thoughts on building an email list.