Hi, I welcome you to Shemeansblogging.
I'm Arfa Nazeer. My journey has been adventurous in terms of career and education. I completed a Masters in Mass Communication but fell in love with the inspirational blogging world. I never realized I could be an enthusiastic full-time freelance blogger whose passion would be to teach others about blogging and working from home. If you want to enjoy the flexibility to work from home and make some money then I'm at your help!
The first year of blogging was a lesson. Yes, I don't feel shy about it because blogging is a continuous long journey with trials, and errors. Hundreds of ups, and downs. You are stressed one day and then, there is a day when you celebrate and do a happy dance.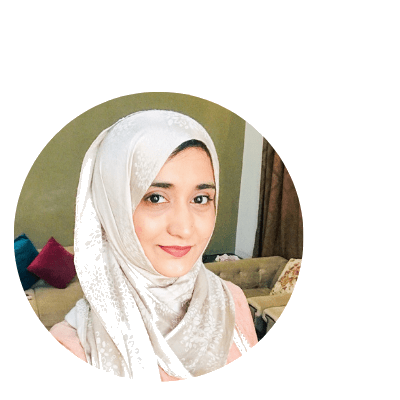 I'm pursuing blogging as a full-time career and I also do freelance writing as part-time to make additional money.
But, I understand why you are here.
When I was at your place – I was numb and almost blank. Even, I wasn't familiar with the technical terms of blogging.
But, the magic happened.
Shemeansblogging was created.
And, I was able to build my own audience.
I got a platform, an online space to showcase my experience with my readers. You are one too!
I have given sleepless nights and packed days to craft KILLER content for shemeansblogging. I may sound a bit selfish here but, I honestly did. I started learning and working like an eager beaver.
I'm PROUD of myself!
But, I'm helping you out. Easy Peasy.
You are landing at the right blogging place;
If you want to learn about starting a profitable blog.
If blogging has inspired you.
If making an online income is your ultimate dream.
If blog traffic is your number-one concern.
If writing the perfect blog content is your major obstacle.
If you are looking for strategies to boost up engagement on your blog.
If building a side-hustle is your need.
If you plan to start a blogging career and work from home.
If you want Pinterest to be the biggest source of traffic + money.
This website is all about giving value to the readers.
I also created some awesome freebies that includes;
I hope you enjoy all these super in-depth and useful blogging content for FREE.
Above that, my flagship product 'Evergreen Content' strategies ebook is the content creation concept I strongly believe in!
This ebook includes all concepts one needs to follow while creating content for your blog. It includes monetisation and conversation tricks for a single blog post.
You can check out the ebook here.
Below are my top blog posts that have helped readers a lot, a lot!
At SMB, you'll only get the best content (no-fluff)
I only share tips that actually work and give you the confidence to take quick steps on your blog.
Want to ask anything, please send me your query arfa(at)shemeansblogging(dot)com
In case you want to know where I'm from?
I'm from Pakistan. Yes, you read it right. I had a dream of starting a profitable blog that could up-level my expertise as a writer and a communicator. Successfully, the blog is booming!
I send out the best resources, tips, and strategies in the monthly newsletter.
I'm thankful to you for being here.
Get social.