Do you wonder, if there's any legal guide for bloggers? This post outlines legal tips for bloggers from a lawyer so you know exactly what you must follow as a blogger to legally protect your blog online.
I often get questions like how do bloggers protect their blogs? What legal pages do bloggers create for their websites? How exactly to follow the legal side of blogging? And, if there's a step by step legal guide for bloggers?
Today, I asked Amira, a practicing lawyer, and a business coach to contribute a guest post as a legal guide for bloggers.
Here's what she has to say on blogging legally.
When you start a blog, the legal side of blogging and how it impacts your online business is often the last thing on your mind. But learning how to blog legally is very important if you don't want to get sued!
Yet figuring out how to write all the blog legal policies (or legal pages as I say it) can be confusing, intimidating and difficult!
So I've put together this comprehensive legal guide for bloggers to make things easier for you.
We will discuss the 3 blog legal pages you must have on your blog BEFORE you launch and how to create them quickly and easily. Then we will also go over other important legal contracts you may need as a blogger.

Before we get started, here's my legal disclaimer –
Disclaimer: Although I'm a lawyer by profession, I'm not YOUR lawyer. This article is for informational and educational purposes only, does not constitute legal advice and does not establish any kind of attorney-client relationship with me. I'm not liable or responsible for any damages resulting from or related to your use of this information.
The 6 Big Reasons Why You Need Blog Legal Pages From Day One
In a nutshell, there are 6 big reasons why you need legal pages on your blog before you launch:
Prevent Lawsuits – having the correct legal pages written by a lawyer will ensure you have all the appropriate legal protections you need for your blogging business!
Comply with the Law – There are tons of different privacy laws you need to comply with such as the General Data Protection Regulation (GDPR) and non-compliance with that alone will cost you millions in lawsuits!
Protect Your Intellectual Property Rights – protect your blog content from being stolen or copied by others.
Deny Personal Liability – you don't want to be personally held liable for the content you publish on your blog. Without proper blog legal disclaimers, someone could easily hold you legally responsible for anything you publish if they rely on it as "advice" and suffer a bad consequence.
Discuss Your Website Rules – your blog legal pages are where you explain your website rules to your visitors in detail such as what is permitted on your site, how and where you will handle legal disputes, what are your legal policies on the products and services you sell, etc
Give Mandatory Disclosures– the Federal Trade Commission (FTC) requires legal disclosures you must give for any affiliate links or sponsored content you publish on your blog. You need to be able to explain all this clearly in your blog legal pages.
The 3 Blog Legal Pages You Must Have
Now that you know why you need legal pages on your blog, let's talk about what 3 blog legal pages you must have!
Before you launch your blog, here are the 3 blog legal pages you must have on your site to protect yourself from lawsuits and to comply with all your legal requirements:
Privacy Policy page
Disclaimer (including Disclosures) page
Terms and Conditions page
Each blog legal page above serves a different purpose and you need all 3 for different reasons to fully protect you legally. This ultimate legal guide for bloggers covers everything.
Affiliate Disclosure: This article contains affiliate links. If someone makes a purchase through affiliate links, I may earn a small compensation. For more, please read on to privacy policy and disclosure.
1- Privacy Policy for Blogs
It's so important to create a Privacy Policy for your blog before you launch because you are legally required to have one if you collect personal information from your visitors.
Every website collects some sort of personal information from its visitors in the form of names, email addresses, through Google Analytics, through comments or cookies on your site, credit card information when someone purchases from your website, etc.
Tons of online companies are sued every day for not protecting the privacy of their visitors or not having a proper Privacy Policy.
Look at Google and Facebook among other online companies being sued as examples here.
So you need to have a Privacy Policy that clearly outlines what information you are collecting from your visitors and how you are going to use that information.
A solid professionally written Privacy Policy with full disclosures will limit your legal liability and also ensure your compliance with the law.
Make your Privacy Policy easily accessible on your blog in the footer section so anyone visiting your site can quickly find it.
Privacy Policy Template For Blogs
There are tons of important legal provisions that need to be included in your Privacy Policy such as:
Information you are collecting and how you will use it
Your Cookie Policy
Rights of Users under the GDPR
Your Email Marketing compliance
Protecting Children's Privacy
Your Comment Policy
Disclosure to Third Parties
Notification of Changes to Your Privacy Policy
Your Contact Information
And much more!

These are just basic topics you need to cover when writing your Privacy Policy but to have a Privacy Policy that's accurate, thorough and GDPR compliant, use my Privacy Policy template here to make things easier for you!
2. Disclaimers and Disclosures for Blogs
Disclaimers on your blog are like warning signs. They serve to limit your legal liability for the content you publish, so your readers don't take anything on your website as "advice" and later sue you for relying on that information.
You must have seen disclaimers in books or movies too. The purpose is the same to limit your legal liability for anything you publish.
For example, let's say you sell health supplements on your site but what if someone takes your health supplement or medical information on your site as advice and later suffers a negative side effect? That person could now file a lawsuit against you!

It's always better to be safe by ensuring you have general or specific disclaimers on your blog that your readers can easily find. You should also tailor your disclaimers based on your blog's niche and the type of content you publish.
Look at my legal disclaimer above as an example because as a lawyer, I'm writing about the legal stuff and need to tailor my disclaimer to that specific niche.
Same way, if you were writing about health, finance, tax or any other topic, you would need to have those specific disclaimers limiting your legal liability so your readers know not to take that information as professional advice.
If you are engaged in affiliate marketing and publish affiliate links on your blog then you also need an affiliate disclaimer to protect you legally.
Related post: How bloggers make money online? [Most profitable methods to make money blogging]
Blog Disclosures You Must Have On Your Blog
Blog disclosures are different than your blog disclaimers. While blog disclaimers are important to lower your risk of lawsuits, blog disclosures on the other hand are legally required in cases where you promote other people's products on your site or get paid to write sponsored content for instance.
It's a legal statement that informs your readers about your relationship with the products, brands and affiliate partners you recommend on your blog.
Blog disclosures are legally required by the FTC to make sure your readers fully understand the financial rewards or incentives you received to promote something.
So you need blog disclosures for sponsored posts you publish and for the affiliate products you share with your readers on your blog.

Blog Disclaimer Template For Your Blog
Grab my Disclaimer template here to get done with your blog disclaimers and disclosures in minutes! It includes all kinds of important legalese you need on your blog to limit your legal liability in case of lawsuits.
My blog disclaimer template also includes instructions on how you can easily customize it to your specific blog niche plus it comes with your affiliate disclaimers, sponsored posts disclaimers, earnings disclaimers and tons of other bonuses!
Check out the Disclaimer template for your blog here.
Related post: How to start making money with blog flipping?
3. Terms and Conditions for Blogs
It's very important to have terms and conditions on your blog. You may have also heard of them as Terms of Service or Terms or Use. They form a legal contract between you and the visitors of your website. So think of them as your website rules and regulations.
Most bloggers forget to include these on their website and later when they run into a legal issue, that's when they realize their mistake!
For example, let's say I buy your ebook or any other product from your website and later we run into a legal dispute and I want a complete refund but you didn't spell out your refund or exchange policies in your terms and conditions. What do you think will happen?
You will lose money and issue a refund to me because you didn't have this clearly outlined in your terms and conditions. This is just one of the many ways you get into a legal jam by failing to have proper terms and conditions on your blog.
Related post: 20 small things to invest in your blog for profit and success
Writing Your Terms and Conditions
In your terms and conditions, you can include your blogging rules and guidelines you want your readers or users to adhere to.
Here are some of the important topics to discuss in your terms and conditions page:
Your intellectual property rights to prevent content theft and put others on notice that your blog content is protected by copyright law.
Explaining lawful use of your blog to prevent abuse by others
Governing Law, so your readers know how and where you will resolve legal disputes
Termination clause, so you can terminate someone's use of your website if they violate your terms and conditions
Your payment terms, refund or exchange policies for the products and services you offer on your blog to avoid disagreements and lawsuits with customers
Your contact information, so readers can easily reach you
And much more!
Your terms and conditions page is just as important as your Privacy Policy and Disclaimer legal pages, so you should defer to a lawyer to write these for you.
This way, you will ensure that you didn't miss any important legal provision exposing you to lawsuits!
Terms and Conditions Template For You
Writing terms and conditions for your blog is difficult and if you don't have them clearly outlined then chances are that your terms and conditions won't be upheld in court.

So it's important to trust terms and conditions template written by a lawyer that is comprehensive and protects you from lawsuits. You can use my Terms and Conditions template here to quickly get done with this legal page for your blog and save yourself tons of time and headache!
How to Create all 3 Legal Pages For Your Blog With My Legal Bundle
You cannot copy anyone's legal pages because that's copyright infringement. So don't make the legal mistake of stealing other people's legal pages or any other blog content.
You can hire a lawyer to write all 3 legal pages for your blog – your Privacy Policy, Disclaimer and Terms and Conditions but that would cost you thousands of dollars!
I'm a lawyer, and I know what lawyers like me charge for custom writing these blog legal pages for you. But I'm also a blogger, and I wanted to make it easy for my fellow bloggers to become compliant with the law and protect their online business legally!

So I used more than 8 years of my legal expertise to create a Legal Bundle of my 3 best selling legal templates + 9 awesome bonuses worth $1175! This is the only Legal Bundle you need to blog legally and protect yourself from lawsuits!
But don't worry, it won't cost you thousands!
It's super affordable and with the Legal Bundle, your blog will be legally compliant within 15 minutes or less. It's that easy!
These are the same professionally written legal templates I provide to my clients in my legal practice but you get them for a fraction of the price!
Plus for a limited time, I'm giving away these 9 bonuses worth $1175 to save you more money, time and headache down the road:
Bonus #1, GDPR visitor rights policy, so you know what information you must include on your site for EU visitors ($150 Value)
Bonus #2, GDPR compliance / Email Marketing policy, so you are in compliance with the email marketing laws ($150 Value)
Bonus #3, Cookie Policy, so your users know how and where cookies are used on your website ($100 Value)
Bonus #4, Earnings Disclaimer, you need it if you publish any income reports or success results on your website ($75 Value)
Bonus #5, Testimonials and Product Reviews Disclaimer, you need it if you publish product reviews or testimonials on your website ($75 Value)
Bonus #6, Sponsored Posts Disclaimer, you need it if you publish any sponsored posts on your website ($75 Value)
Bonus #7, Lawful Use of Your Website Clause, so you can prevent abuse ($150 Value)
Bonus #8, Third Party Links Disclaimer, to prevent risk of legal liability from third party links on your website ($150 Value)
Bonus #9 Mandatory Arbitration Clause, to lower your risk of legal liability and long expensive lawsuits! ($250 Value)
This total package of bonuses worth $1175 is free for you with the Legal Bundle!
The Legal Bundle has helped thousands of bloggers and my clients already and you can watch and read what other bloggers like you are saying about it here.
<<Snag your Legal Bundle here>>
If you are a blogger, freelancer, business owner or a coach then you are most likely interested in other legal templates to secure your online business.
Don't forget to check out VIP legal bundle and the templates.

Other Important Legal Contracts for Bloggers
Once you have made sure your blog is legally compliant, you have to start thinking about other legal contracts you may need as a blogger.

As a blogger, freelancer or entrepreneur, you run a legitimate online business and should always protect yourself legally by putting your contracts in writing.

It could be anything like:
Working with clients as a freelancer writing blog posts or editing content for them
Hiring virtual assistants to help you with your business
Getting paid by brands to write sponsored posts
Discussing your business confidential ideas with a friend or another business owner for collaboration
Providing coaching services to clients
Whatever it may be, depending on the type of service you are providing, you will need a written contract to ensure your legal and financial interests are protected!
Below are some important legal contract templates you will need for your business from time to time: Read on to continue legal guide for bloggers.
Independent Contractor Agreement (Freelance Contract) Template For Your Business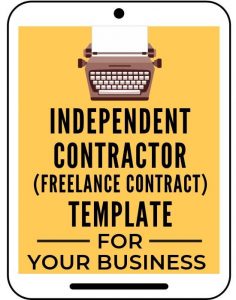 This is a written contract you need when you work with clients as a freelancer to do any kind of work. Both the freelancer and the client need this written contract to work together.
This freelance contract template includes essential terms like:
Who are the parties to the contract?
Independent contractor status for the freelancer – this is an important distinction for tax and legal purposes
Services that the freelancer will provide for the client
Term – when will the freelancer begin and end his or her work for the client
Compensation – how will the freelancer get paid
Termination – how either party can terminate the contract
Governing law – how and where the legal disputes will be resolved
Ownership of intellectual property rights – who owns the intellectual property rights to the content freelancer created?
Much more! Check out this freelance contract template that works for both the client and the freelancer and also comes with 3 additional bonuses valued at $500!
Confidentiality Agreement (Non-Disclosure) NDA Template For Your Business
A Confidentiality Agreement is most commonly known as the Non-disclosure Agreement (NDA). Some of you may have heard about it or even signed it during your employment for instance.

A Confidentiality Agreement is most commonly known as the Non-disclosure Agreement (NDA). Some of you may have heard about it or even signed it during your employment for instance.
This legal contract is needed to protect your "secret sauce" as they say, meaning protecting your business confidential and proprietary information, so others don't steal your ideas, trade secrets and become competitors.
Employers often get this NDA signed by their employees to protect their business confidential information from being disclosed or shared with others.
You should have this contract in place before you start talking to anyone about your business such as:
Talking to a friend to bounce off ideas on your new product
Discussing a partnership opportunity with someone
Hiring a virtual assistant to help you with your business
Collaborating with others in your business
Discussing a joint venture proposal
Basically any time you discuss your business with someone, you should have that person sign this NDA first. This is the only way you can freely discuss your business with that person without worrying about them stealing your idea and becoming your competitor.
For a limited time, you can grab your NDA template here at a special price and receive 3 additional bonuses worth $500 for free with your purchase!
This legal guide for bloggers covers everything from sponsored posts to the privacy policy and terms and condition templates.
Sponsored Posts Contract Template for Your Business
As a blogger, you may have heard about sponsored posts or even written one.
Sponsored posts are a great way to make money blogging. You get to work with your favorite brands and get paid to write sponsored content for them!
But just like all other contracts, you need a legal contract to work with brands. Sometimes the brands will provide their own contract for you to sign but other times, you will need to provide them one!
Arfa's note: How to make money with sponsored blog posts.
Having a written sponsored posts contract will ensure you get paid on time for your sponsored work and both you and the brand will be on the same page as to what's expected from each other. This will eliminate any future disagreements, so you both can build lasting relationships!
Here's my sponsored posts contract template that I personally use to work with brands and this includes everything you need! For a limited time, it also comes with 3 awesome bonuses for free. See key features of this template and grab your copy here.
Check out all the legal templates available for your blogging business here.
Please comment below if you found this legal guide for bloggers helpful. Where are you in your blogging journey and are you blogging legally?
Amira Irfan is a lawyer, blogger and business coach. She blogs at ASelfGuru.com where she teaches you how to protect your online business legally along with the business skills you need to become your own boss! Check out her newsletter to get free business and legal tips here.

You can connect with her on Facebook | Instagram | Pinterest | Twitter.