The word 'blogging' can actually instill fears into new aspiring bloggers. It's not their fault. Beginner blogging fears are common and most bloggers struggle with those fears. It's just that they don't know how interesting blogging is and how they can start a blog of their own.
Starting a blog can be a difficult decision. As soon as you start thinking of having your own blog your mind will start worrying about a number of questions. A lot of What if's and How's. The continuous blogging fear of what if's can discourage you to make a decision.
And, that makes us wonder whether you should start a blog now or not?
Most bloggers start facing questions like,
What if nobody likes reading my blog? What if I'm not good at writing good content? What if my niche is saturated? How would I network? What if I failed with blogging? What would I do if someone doesn't like what I write? What if I couldn't grow my blog?
These beginners blogging fears can continue to go on if you let them inside.
I would also like to tell you that every blogger has a fear.
Those deadly fears that stop you to take the immediate action. Trust me, it's not just YOU. I also went through this. But, it was the best time when I finally planned to start professional blogging. I prefer calling it one of my best decisions.
Here's my ultimate blogging guide to help you start your own blog. This guide has been used by many aspiring bloggers to start their own blogs. I highly suggest you go through this ultimate tutorial to clear any thoughts you might have.
Blogging is amazing.
It rewards you for the efforts you put into maintaining a blog. It gives a boost to your internal voice. Also, it polishes your abilities and confidence. Blogging introduces to a wonderful online world where you interact with like-minded individuals who are equally passionate and enthusiastic.
Do you feel rejuvenated to read those inspiring stories from your blogging friends?
The blogging world enhances your knowledge in different fields. That's something truly rewarding.
In the beginning, you might have some blogging fears. Or, you feel overwhelmed. Or, you just feel afraid to start a blog when you don't have enough time.
But, if you don't start – you are wasting an opportunity to hone your skills and bringing it to a wider audience.
The most important thing about blogging is,
The sooner, the better.
Having a few blogging fears is alright. But, you should also learn how to get over those deadly fears.
Nothing in life is to be feared, it is only to be understood. Now is the time to understand more, so that we may fear less. – Marie Curie
FIVE BEGINNERS BLOGGING FEARS YOU CAN EASILY OVERCOME
Let's talk about beginners blogging fears that hinder your dream of having your own blog.
1- Not Knowing Enough
As a blogger, you are needed to be committed to a few things.
Understanding the back end work. The stuff like adding links, publishing content, adding images, etc
Knowing a little knowledge about setting up a blog and the responsive theme.
Following the blog ethics and adopting the strategies to build an audience.
I agree with all this.
But, don't let these few things stop you from creating a blog. Honestly, the internet is full of free stuff and even affordable resources by experts to walk you through every single step. Initially, you may just need to find a great blogging resource to get started.
You can simply trust this blogging tutorial that has helped more than hundreds of bloggers to launch their own blogs.
And, you are on SheMeansBlogging.
My content guides are super detailed and packed with informative key points to help you grow your blog. Just take a tour of a few posts and enjoy reading them.
The passionate people find a way to get things done. So, be a passionate blogger. No matter what your niche is. Your voice is enough to make an impression.
Learning how to blog and what to blog about is not that complicated.
Steps To Take Now;
List your stumbling blocks.
Do the research and note down the go-to resources.
Make an action list and push yourself to work.
Find your interest and pick a topic for your blog
Enroll in this free blogging course to launch your blog in 7 days!
Tip: The willingness to learn more about your blogging niche and the technical subjects is always profitable. I encourage bloggers for doing it. But, avoid getting addicted to doing research and taking no steps at all. Emphasis more on DOING.
2- The Fear Of Networking
'I don't know how to network'
'I love being in my zone. I'm not ready to socialize my blog life'
Maybe, you also feel networking is one major obstacle that comes along with blogging. That doesn't mean you will have to send 100 cold emails to connect with bloggers. Or, you'd have to act like a spy on other blogs and collect reader's information.
For more, here's the post on 'How To Do Networking Without Advertising Yourself'
My friend, this is where powerful social media comes in. Social media has made networking a smooth, seamless task. It's just like connecting with a like-minded individual and sharing insights.
Using social media strategically is the driveway for interacting and collaborating with niche-based bloggers. Moreover, it's a fast way to get instant feedback and responses. All you need to do is understand the social media channels and their purposes.
Steps to take now
Make a list of bloggers you'd like to network. Grow your own blogging network.
Follow their pages and profiles to share thoughtful comments and feedback.
Join social media communities like Facebook groups, LinkedIn groups, Google Plus communities.
Follow hashtags on Twitter and Instagram.
All set! You are making connections. People will know you as a skillful blogger and would appreciate your content. This way, they can also connect with you and your activities.
Do you want to join a free blogging community to share your thoughts, and ask questions? I invite you to join my own Facebook group 'Bloggers Camp' to avail free advice and participate in daily threads. Feel free to ask any question. Click here to join!
3- Lack Of Confidence
Recently I asked my Facebook community about their blogging fears and I got multiple answers. The most common was a lack of confidence.
'What if nobody reads what I write?'
'Do my ideas matter at all?'
'Are people interested in my thoughts?'
A number of bloggers just don't take the first step of starting a blog because they believe no one is going to read their blog. If you are one such blogger – stop thinking like that!
If that is the case, why there are hundreds of bloggers writing about similar topics?
Why are people still blogging?
Why is blogging is still alive?
Because people love blogging. And, there's an audience that loves to read what YOU write. There's a crowd looking for answers on the internet. An endless audience that wants to read the new stuff with a new perspective.
My friend, don't let overthinking hijack your creative brain.
I agree that most popular niches are crowded and top peers are actually nailing the niches. But, you haven't actually jumped in. Even if you choose a saturated niche there's always a chance for YOU. Because people haven't read from you. There have been hundreds of bloggers before but definitely, not YOU. In order to stand out in your niche, you've to become confident and passionate about what you do. Be creative. Do all the research work and give voice to your inner soul.
Don't give space to self-doubts. Sometimes, extra self-talks can even kill your blog goals. Focus on building your blog a spectacular web space where your readers become your true fans.
Having bad confidence will ultimately lead you to failures. It's alright to make mistakes in the blogging journey but improving them at best is a real success.
Steps to take now;
Position yourself as a smart blogger.
Determine what makes you less confident about your blog? Now, crush it under your feet!
Pick any topic of your interest and write a short note or a social media status, and publish it on your profile. Let the world hear your message.
When others tell you that blogging is no more effective, ignore and start working more!

Work on a new strategy.

Speak to a blogging friend.

Audit your blog & see everything is at it's place.

But – don't QUIT!

Growing slowly is fine but don't let this stop you from #blogging

— Arfa | SheMeansBlogging (@ArfaNazeer3) May 14, 2019
4- Not Being Consistent
Are you scared of maintaining your blog?
Or, maybe you think of not being able to become consistent with your blogging routine?
It's fine. When I started blogging, I faced this a lot. It was a battle for me. I had to manage the blog along with my University. Then, I also started freelance writing. So, it was quite difficult to be consistent with my blog and freelance writing jobs.
But, I realized it's possible. I knew it's not an easy task. But, it can be done. All you need is smart planning. A proper blog plan. Then, I actually decided to set blogging goals and take out time to achieve those goals.
Consistency is achievable. It does ask for putting extra efforts and energy into it. But, it's totally possible.
Blogging doesn't ask you to write every day. It doesn't ask for social media updates every minute. A surefire blog strategy plan and a goal setting planner is enough to remain consistent with your blog.
Your blog strategy plan will have the content strategy kit, the social media strategy, and all the things you are going to do on your blog. And, a goal setting planner will help you to write down all the goals and measure them at the end of the month.
Depending on your tough or busy routine, you can set your blog strategy plan. Take my example. I don't write every day. But, I prefer writing one blog post in a week. Also, I try to schedule my social media content once a week. Once a week, I give myself a complete break. No writing at all, only interactions.
Some messages, and emails.
Blogging is easy. But, the difficulty lies in setting plans and strategies.
Don't let the fear of not being consistent stop you from taking the initiative. This goes for every step you take in life.
Steps to take now;
Calculate your free hours and note down the timings.
Set up a blog strategy plan and write down your goals in a planner.
Pick one or two tasks in a week and accomplish them.
Here are my two mindblowing posts that I always recommend my readers to read.
5 Simple Steps To Be Consistent With Blogging Life
3 Step Process To Increase Your Blogging Productivity
5- The Fear Of Investing And Making Money
Just to remind you.
Starting a blog doesn't cost you renting your house. It's maybe a price equivalent to a lunch or dinner deal. Or, even a pretty outfit. Or, maybe a lot less than that. It's one of the biggest blogging fear most people face.
There are people who get scared when they are told about self-hosting blogging platforms.
Because it costs money.
But, if you love writing, want to share your inner thoughts, speak to an audience, build an online business, putting your imaginations into words, giving advice, making money, solving solutions, bringing happiness, or even just engaging with your fans then don't make money a reason to stop you. And, it's cheap starting a blog. You can start a blog as less as $3.95 per month. As simple as that.
Even, if you achieve a small percentage of your goals with blogging it's a win.
Now, coming to making money from blogging. It's not fake!
Blogging can actually make you money. But, the fact is it takes time. Maybe, a few months or years to generate a sufficient income from blogging. It is a journey of trials and errors for new bloggers. And, Pro Bloggers have given numerous years to gain this experience. That's why they are successfully making a profitable income online.
In blogging, you give time and collect results. That doesn't necessarily mean you will have to wait for a couple of years to make $100 or $1000. Once, you start a blog and make it up to the needs of your readers you'll start rolling some income. Whatever niche you are in, there's always a way to make money from it. But, you'll have to search for it.
However, some of the methods to start making money blogging are affiliate marketing, freelancing, sponsorship, and advertisement. You can further read how bloggers actually make money online!
Steps to take now
Make quality content to build an audience
Collect email subscribers from day one
Also, research about blog monetization methods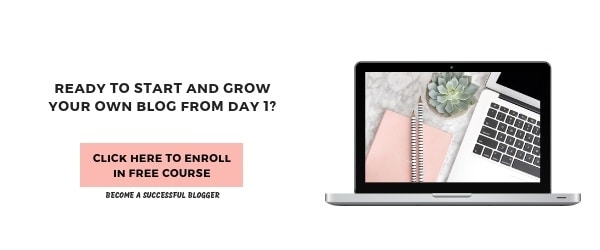 STILL AFRAID OF BLOGGING FEARS?
Friend, take a nap! 🙂
Honestly, don't let fears hinder your way to achieving your goals. Become a fighter and face them. Find ways to deal with it. Don't step down yourself!
And, if you're ready to start a blog and make money blogging then I urge you to check out my amazingly popular blogging guide to help you create your own blog.
Blogging is an amazing activity. It's more fun if you enjoy doing it. If not – blogging gives you a chance to BE YOUR OWN BOSS and speak to the world you always dreamed of!