This blog post shows some easy link building strategies for new bloggers. It's time to learn how to get free quality backlinks to your blog. As you read until the end of this post, you'll be able to get natural backlinks to your website.
It's no secret that backlinks are still important for ranking. Google prefers websites that have quality backlinks. That means backlinks are still major indicators Google uses to analyze the quality and authority of a web page.
In short, backlinks are needed to improve the overall website SEO. But, it's not as simple to get quality backlinks.
In this post, I have discussed easy ways to get free quality backlinks to your blog. Even if you're a new blogger, these beginner tips are easy to implement. By the end of this post, you will have a better understanding of how backlinks work.
What Is A Backlink?
Let me give you a quick definition.
A backlink is a link given to a website from another website. These are also called 'incoming links'. Backlinks are links that point to your website from another website. These links give signals to Google and other search engines about the quality of your web page.
In past, there was a race for maximum backlinks. If a website had more backlinks, it used to be on the first pages of Google. But, things started to change after Google Penguin updates.
A website still requires backlinks to improve the authority of a web page and the overall ranking. However, it's about getting quality, natural and relevant backlinks.
Do you have a self-hosted blog? Use my step by step tutorial to creating a profitable blog from scratch. This blogging guide shows you all the steps you need to do to create a blog!
Why are Backlinks Important?
Take this example.
You have a blog about skincare essentials and you are generating backlinks from sites like cat food, skateboards, books, so these links will be of no benefit.
You should aim to build links from relevant and authoritative sites.
If you believe in Google traffic, and want to increase your organic traffic for free then do check out my recent post 'How it's possible to get free Google traffic with a proven system'. I have mentioned a step by step system to strengthen your SEO, find keywords, and drive free traffic from Google.
Below are a few reasons to understand why it's important to get quality backlinks to your blog;
Improves search engine rankings
Helps in faster indexing
Build relationships with other influencers, and bloggers
Get referral traffic
Establishes web page authority
By now, you probably understand that backlinks will help you rank on Google. When someone links back to your site, you will receive new referral traffic. So, if you have an awesome blog, people will more likely to subscribe too.
If you're unfamiliar with SEO-friendly blog content, learn all about in the beginner's SEO guide 'how to do SEO for blog posts'.
There are countless benefits of backlinks. As I said, I'm talking about natural SEO link building strategies. No paid link exchanges. No links from low-quality sites etc.
Avoid bad link building strategies!
Always go for natural link building.
But, we have another question.
How to find out Backlinks of your blog?
There are many free backlink checker tools. With these tools, you can find out how many backlinks your blog has generated. Most of these tools give you a number of links to your site whereas some tools show the limited data. In some cases, you don't even need to register to use the free version of these tools.
These tools can be also used to find out the competitors backlinks which can be a master trick.
However, you can always consume the free trial and see if the tool has more advanced features.
Some favorite backlink tools are;
KwFinder Link Checker
Moz Open Site Explorer
SEMRush
Just put your blog URL and note down the total number of backlinks to your blog.
Now, let's get straight to the meaty content.
Here's a recent blog post on 'Link building strategies for beginners'. This post outlines several ideas and strategies to earn backlinks for your blog.
10 Ways To Get High-Quality Free Backlinks To Your Blog
Let me be very honest with you.
Most of you are individuals bloggers who do everything on their own. From writing blog content to content marketing, you are the only one who's responsible for every blogging activity.
Some strategies can help you get quick backlinks whereas natural link building takes time. Just keep practicing and you will see natural backlinks coming to your site.
Before I share with some free ways to attract backlinks to your website, I highly recommend you to check out this ebook where the author has outlined 31+ ways to build backlinks even without blogger's outreach.
This ebook by Debbie has helped hundreds of bloggers focus on link building strategies. As easy it may sound, but getting backlinks is an integral part of strong SEO, and you can't ignore it. This ebook has so much to offer to newbies and even, advanced bloggers.
If you really want to build quality backlinks, you do need these advanced strategies as discussed in this ebook. Imagine, you get 31 ways to build backlinks! Buy the ebook here.
Now,
Let's find out how to get free natural backlinks;
1- Guest Posting
Guest posting is my personal favorite link building strategy. It's obvious that you write an awesome blog post for someone else website for free which usually benefit them. But, it also benefits you in several ways.
When you do guest posting, you network with other bloggers. You get a chance to speak to a newer audience. Guest posting gives you exposure and builds your reputation online. It also helps in increasing subscribers and new readers to your blog.
Of course, submitting a guest post will also give a free backlink to your blog. In most cases, site owners also allow you to promote your product, freebies, social media links or any other resource.
I have submitted a number of guest posts to multiple websites. I often receive a little amount of traffic from them. It thus helped me build fruitful relationships with other bloggers.
You can check the complete list of my guest posts for other websites.
2- Publish Content that Gets Natural Backlinks
It's no secret that writing great content will naturally create free high-quality backlinks. As a blogger, you should always aim to produce valuable articles that people would love to read and share.
When your content is a valuable source for the right audience, you will receive backlinks. When I find highly valuable content with examples, I definitely try to give an external link to their website. Because I know that this information will further help my readers understand what I'm trying to say.
I want to show an example.
In 2017, I created an ultimate resource for new bloggers. This post actually converted into my biggest source of traffic, and natural backlinks. It got me more than 26,000 social media shares, multiple comments, and backlinks.
Now, many bloggers give a free backlink to this post to help their visitors avail several freebies. In the post, I also gave several backlinks to other course creators which excessively benefit them every day. I notice that every other day people click on these courses and I'm sure they sign up.
Here's a screenshot;
The point is, you've to be helpful and meaningful to your audience. Don't afraid to add links to other sources. Either way, it is going to help you. Also, if someone gives a backlink to your blog, appreciate them. Write them an email, or make a comment. Share their post on social media etc.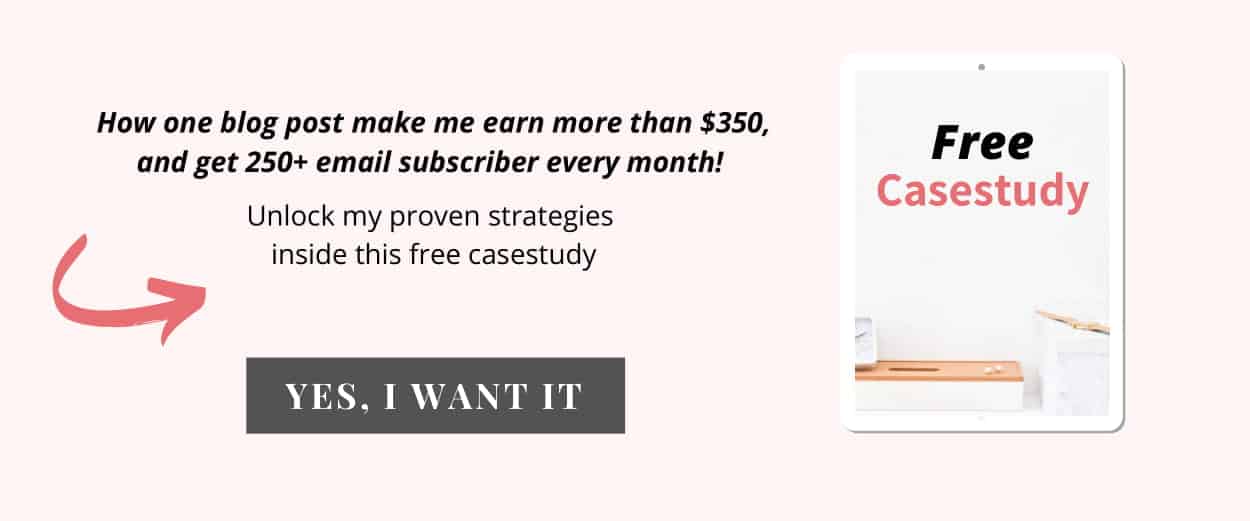 3- Expert Roundups/Interviews
In a few cases, roundups can be an excellent way to generate a free high quality backlink to your site. Basically, you invite a number of bloggers, or influencers to participate in one roundup. Everybody submit their answers, you edit them well and combine it into one single post. Of course, these roundups provide insightful content. People share their experiences and tips. Some roundups are based on favorite products, expert tips, examples or top brands to work with. People would like to know what other bloggers recommend, or share.
Mostly, these participants are willing to mention the roundup links on their own blogs. As they got mentioned on someone else blog, they will more likely do the same so their audience know. These sort of posts also get maximum social shares and comments.
The same goes for Interviews. Furthermore, you can even ask influencers if they will be willing to give a backlink to the interview on their websites. Recently, I did a roundup post. I collaborated with 11 blogging experts and asked them to share their top tips on how to get a blog noticed.
Related Post: 10 Common SEO myths you should never follow on your blog
4- Get advantage from Broken Links
If you've been blogging for a while, you've found out broken links or 404 error page. It's very common that some links get expired or don't work properly. Why not take advantage of those broken links?
That means you will have to do research and find broken links of relevant websites to your niche. Simply use free chrome extensions like Check my links to find out broken links on a web page.
After finding the broken links, you can contact the blog owner and notify them of the broken link. When they will find out, they will probably appreciate that you have let them know. Once you got a response from them, you can actually pitch your relevant blog post to them and suggest how your content will be a great replacement.
5- Writing Testimonials and Reviews
Testimonies and reviews can be a clean way to build free backlink. Start with making a list of products and services you have used. Now, you can spend some time and find out if they have a testimonial page on their website. If they do share customer reviews or testimonies, take out time to write a short testimonial.
A lot of businesses love showing off testimonials from their clients. This link building strategy can probably work if you spend our time to do research, write reviews and then, submit to the websites.
In many cases, you even don't need to ask them to give a backlink because they naturally do give a link to the client's authenticity. However, you can send a friendly reminder and ask if they have given you a backlink.
Whether it's an ebook, any online product or course, you can write a testimonial for them. Most of the time, you will also get a free backlink to your site.
One of my readers took my free blogging tips series and she wrote a testimonial. I loved her testimonial and decided to put it on my landing page thus giving her a backlink.
You can read the testimonial below.
6- Design Interesting Infographics
A captivating infographic can actually get quality backlinks to your blog for free.
Many businesses hire designers to create infographics for their website. We all know that infographics are long vertical images that represent the whole idea of a blog post, case study, a product review, how to do something etc. These sort of infographics are evergreen and usually, get maximum shares.
But, how to build a free backlink to your site with an infographic?
Many businesses outsource work to freelancers at websites like Fiverr. Within a minimum budget, they get pretty infographics. Sometimes, they offer their own data and research to make a research-based infographic. However, some businesses leave the whole design, data, and creativity to the designer.
After having the infographic ready, they approach bloggers who belong to the same niche. They send an email and inquire if they're willing to share their infographic on the website.
Once the request gets approved, the businesses get a free backlink. Mostly, people agree to publish it on the websites because it can be a great content source for their blog readers. Moreover, these infographics can also increase social media shares to their blog.
As a blogger, you can do the same approach and outreach relevant bloggers.
This point takes us to the next method.
As I said, if you also want to follow the advance strategies to get backlinks then check out this super helpful ebook. This guide outlines more than 31 methods to get backlinks without asking people.
7- Email outreach
When you become a blogger, be prepared to get dozens of email every day. Honestly, It can be frustrating at times to open such emails. Those automated emails about the lottery price, charity funds, marketing services etc. TRASH!
The fact is that email outreach is still effective. However, avoid the robotic approach completely. If you have been blogging, you may know some bloggers who write in a similar niche. Connect with them on their blogs. Read what they write, and what content might interest their readers. Afterward, send them an email and ask if they would be interested in reading your content.
The next step is to do a follow-up email and inquire if they find that post interesting enough to be mentioned in any of their posts.
I don't know to what extent this strategy works but there's nothing wrong.
Helpful read: How To Build An Email List For Free, And Grow Your Audience
8- Make Insightful Comments
Blog commenting is another strategy for making connections with bloggers. It's another excellent way to bring yourself in front of other influencers, and their targeted audience. There was a time when comments were used to get a backlink to a website. Now, they cannot generate a direct backlink to the website but they're still effective in the overall link building.
I'm not sure if blog commenting is 100% helpful in backlinks but some sites do pass some link juice. It may not be the best practice but many bloggers still recommend it.
Make sure, the comments are thoughtful and insightful.
It should hold a conversation with the site owner.
When I say 'insightful comments'. I'm talking about comments that trigger a discussion, or where you actually leave a feedback on the certain topic.
Susan Velez is a good blogging friend. She always adds insightful comments on my blog and as I said, we are blogging friends, I do the same. Here's one comment she made on my recent post;
Moss Clement truly knows the power of connecting with other bloggers, and how to make good comments on other blogs. Look at few comments he made on my blog.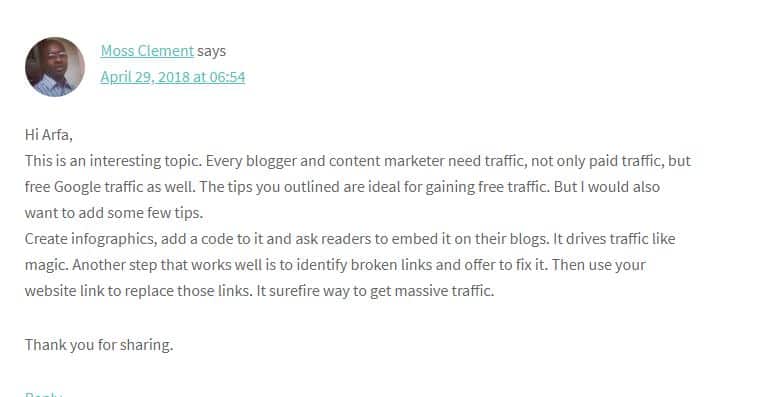 Related: 9 Surefire Ways To Get Authentic Comments On Your Blog
9- Actively Participate in communities
There are many social communities where you can discuss and participate.
Platforms like Quora, Yahoo Answers, LinkedIn are authentic places to get high-quality backlinks. Be willing to help and share advice in the communities. Ask questions, and give replies. Try to write meaningful answers for the community readers. When necessary, you can also link your own blog post for further reading.
I personally use Quora to engage with a new audience and a free backlink doesn't hurt, right?
Sometimes, people also click on those links and read further on my blog.
If you're interested in reading more about Quora, go to this post where I explain how I use Quora for engagement, leads, and some referral traffic.
10- Free Resources
Along with super valuable blog posts, outstanding freebies and products can also generate backlinks to your website. If you create awesome freebies like Ebooks, Ecourse, printables, planners, videos then these will possibly get more eyeballs.
The free resource will further get backlinks for your blog.
Many bloggers mention free resources of other bloggers in their blog posts. Remember, I told you about the '40+ free blogging courses'. It is the post where I added more than 40 free resources for my readers. That means I have given backlinks to a number of websites that offer free courses.
When you create freebies for your audience, your chances of getting backlinks increases. On this blog, I have in-depth content guides on subjects like blog traffic, free courses, make money online, Instagram content ideas etc. With that, I created a free blogging ebook, a profitable blogging email course, and several other content upgrades.
Before you go, you can check out this affordable ebook 'Easy Backlinks For SEO' to find 31+ methods to build genuine backlinks to your blog. You'd be surprised to know how many bloggers have already bought this ebook, and it's truly helpful!
<<Get your Easy Backlinks For SEO ebook here>>
Now, tell me one thing.
What steps do you take to get free backlinks for your blog?
I'm sure, you are working on a few methods. Make sure that backlinks take time. Don't get too fast in generating backlinks. Keep your focus on natural link building strategies which can be achieved through quality-packed content.
So, do you struggle with building free backlinks for your blog?
Hopefully, this post has given enough content to backlinks.