An email list is not as complicated as it may sound to new bloggers. I do admit that learning how to start an email list was never my top-notch priority because I thought email marketing is a tough subject. But, trust me, email is so important! Not just important, it's necessary for any online business.
Do I remind you that as a blogger, we wear several hats?
We write, schedule, manage social media, design images, plan strategies, collaborate, learn, and what not!
But, here's something…
I made a huge mistake for not having an email list when I started this blog. A big mistake. For me, email marketing was a tough subject that time. I didn't know if we could make money with email marketing. And, totally unfamiliar with email segmentation, open rates etc.
It was 3 years back.
Ask me today and I tell you all good things about starting an email list.
That's why I want to help you get started with email list building by following a step by step tutorial.
Do you have a blog? Follow my comprehensive post to start your own blog and learn to make money from blogging. More than 100+ bloggers have used this tutorial to launch their blogs. Click here to create your own profitable blog from scratch!
If you ask, I would suggest having an email list from day 1.
Wait, let me tell you why?
Why Should Bloggers Start an Email List?
To put it simply, email marketing allows to build a relationship with your readers and customers. This is a business communication for generating leads, sales and customers.
As writing regular content is required to grow your blog, email marketing is necessary to stay in contact with your regular readers. It just not helps to stay connected with your readers, but an email list is the only guaranteed place where people actually read what you say, and take your advice seriously.
Take my example.
I have subscribed to several bloggers and experts. As soon as I get their email, I open it and read it. There might be days when I don't often check their blogs but I regularly read their emails, click through the links or tools they've recommended. Because I know, the value in email newsletters is incomparable.
You get insights, experiences, success, failures, products right in your email inbox. Easy, right?
Do you know that emails are powerful content?
Look at some obvious reasons you must start an email list for your blog or business;
1. You have full control over your email list
Unlike other marketing channels, your email list is an asset. From developing marketing strategies to email optins and welcome email sequences, you have full control over it. You can segment your subscribers based on categories, interest and email campaigns.
There's no fear of algorithm changes as we have on social media. Imagine creating great content for social media and it doesn't reach your target audience, resulting in low engagement because of any new algorithm!
2. Email

subscribers are action takers
According to these statistics, "For every $1 you spend on email marketing, expect to have an average return of $42".
This shows that engaged subscribers are ready to take action. Whether it's about buying a product, answering a survey or visiting a blog post, email subscribers are most engaged.
3. Emails are best fit for communication
Did you know that 4.3 billion people used email in 2020? According to these reports, email is the top 3 channel for distributing content.
Emails are also the fastest way to communicate with your consumers and customers. It's fast to send and receive emails. More than 4 billion people are using emails to communicate and connect.
4. An email subscribers list brings you closer to your audience
There is no second doubts on accepting that email list helps in building relationships. When you write specific content for a selected group of people, they connect easily with the message.
5. Emails can be an instant source of feedback
Finally, an engaged email list can be a major source of feedback and responses. The engaged members are more willing to take surveys and even reply to your emails.
The solid benefit of creating an email list is knowing your audience closely. As soon as I grew my email list, I got emails from my subscribers and they tell me how much they enjoy reading my content.
They send me personal emails and ask questions they don't often ask on the blog or on social media. Email marketing brings you closer to your audience and is also a clean way to speak directly to your subscribers.
Isn't it?
You can also find out other reasons why you need an email list for your blog. This will give you enough idea of email list building and whether it should be your focus or not.
Affiliate Disclosure: This article contains affiliate links. If someone makes a purchase through affiliate links, I may earn a small compensation. For more, please read on to privacy policy and disclosure.
Now, let's get started with basic list building and I will show you how to start an email list for beginners
Affiliate Disclosure: This article contains affiliate links. If someone makes a purchase through affiliate links, I may earn a small compensation. For more, please read on to privacy policy and disclosure.
First,
Which Free Email Service Software you Should Use?
Basically, an email service provider is basically the company that provides email marketing services. In easy wordings, it is the email marketing tool that handles all of your subscriber's list, email campaigns, automations, and forms.
There are several tools but I do recommend two. You can use these email marketing providers to build an email list for free.
The popular email marketing tools are;
Mailerlite and Convertkit.
Because I know that these tools are simple to get started with email marketing. These also come up with extensive tutorials to help you master at email marketing.
Both of these email marketing tools are FREE upto 1000 email subscribers. Yes! That means, you don't have to pay anything unless you reach 1000 email subscribers.

You can;
Send unlimited emails
Create unlimited landing pages
Create an email sign up forms
Create email automation series
Design popup forms
Use premade templates
Deliver lead magnets
Integrate with multiple apps
And, so much more.
If you're a beginner blogger, you might find Mailerlite more helpful and budget-friendly. I personally use Mailerlite for all my emails, automation, email courses, lead magnets and all other things.
I also invite you to earn $20 when you sign up with Mailerlite. When you upgrade to the premium plan, we both will earn $20.
But, if you're a business owner or an experienced blogger then Convertkit is also the best one! You can even sign up for this free webinar by Convertkit on email list building.
I even asked 10 experts to share the best email marketing tool and email list building strategies. You must read this post to find the winner 😉
Let's proceed with Mailerlite.
Best Features of Mailerlite
I would like to discuss few attractive features for using Mailerlite. I use mailerlite, email marketing tool, for building my email list. I use it to get subscribers and send newsletters weekly.
What's so good about it?
It's FREE up to 1000 subscribers.

It has drag and drop email builder which makes email designing so easy.

Email automation. Send automated emails to your subscribers.

Create free landing pages with mailerlite.

Mobile friendly email newsletter
Newsletter templates
A/B testing
Analytics
Apps integrations
Multiple email sign forms including popup forms
Basically, it's easy to use mailerlite even if you're completely new to email marketing. Their customer support is incredibly awesome and they always respond to your queries. I often ask them questions when I get stuck somewhere and the Mailerlite team replies every time.
The LIVE support feature is for paid members but even if you are on the free plan, there are so many tutorials. Every time, I get stuck with some form or any related question, I open the live chat feature and the knowledgable team is so responsive.
Whether you want to start an email list without a website, it's still possible.
Let's get started.
How To Start an Email List – Step by Step Tutorial
Here are all steps you need to follow;
1. Sign Up with Mailerlite
In order to get started, you will have to sign up with Mailerlite.
Click the button below to visit Mailerlite, and sign up with an email address.
As said, it's forever free up to 1000 subscribers which is amazing for new bloggers.
At this step, you will just need to provide your company or blog name, email address, and password.
The free plan gives you access to all features. It allows sending unlimited emails to your 1000 subscribers. As your number of subscribers increases, you will require to upgrade your plan.
And, the prices are still affordable.
Even when you upgrade and have 5000 subscribers, you only have to pay $30 which is affordable for bloggers and small business owners.
Pay only for the number of subscribers you have.
But, right now, you can get started for free and only focus on getting 1000 email subscribers.
2. Verify your account with Mailerlite
The next step is to verify your site with Mailerlite. Now, you will have to complete two things;
Complete your profile

Verify your website domain
When you start using Mailerlite, you should have your own self-hosted website with a paid domain. The email address should match your domain. Let's say your blog is 'xyzblog.com' then your matching email should be '[email protected]'. This is just an example.
The time you have gone self-hosted with your blog, you should have got a free paid domain email. If you use Bluehost, or any other hosting service you can easily get your domain email from the cPanel. It's free to collect your matching email.
Mailerlite does not accept free domains like @hotmail.com, @gmail.com, or @yahoo.com as the emails from these domains end up in spam. They will only verify your site if it has a paid domain name that matches with your website.
As you complete both of these steps, mailerlite will review your account and approve it.
Afterward, you need to learn these five steps as they will help to grow your email list.
I also share list building strategies to grow your email list with mailerlite here.
Now,
5 Steps To Build an Email List with Mailerlite
Here are five things to know before applying for Mailerlite.
1.

Get Familiar with Mailerlite Dashboard
The dashboard shows all tabs including subscribers, campaigns, forms, and automation. It's easy to follow and understand.
Just click through every tab and see how mailerlite works.
Then, you will need to start embedding email forms on your site. When starting to learn how to build an email list fast, it's important to create forms on your site.
<<Click Here To Sign Up With Mailerlite>>
2.

Create Lead Magnets and Mailerlite Email Sign up Forms
In the form section, you will find three forms i.e embedded forms, pop up forms and landing page. The embed forms are the common forms which you see on the most websites.
You can create;
Embedded form
Popup forms
Create promotion
Initially, you can create an embed form for your sidebar and invite people to join your email list. When people provide their email, they agree to become subscribers and they are ready to receive emails from you.
Moreover, create freebies and content upgrades for your followers. People most likely become subscribers when you offer something for free.
Here are some email optins ideas;
Ebooks
Checklists
Resource page
Printable
Template
Cheatsheet
Some extra value, a cheatsheet or anything that saves time.
Lead magnets are easy to create. You can use Microsoft Word or Google docs to create pdf documents. I also use and recommend Canva tool for designing email freebies. As I have joined this subscription, I also have tons of professional Canva templates for ebooks, workbooks, cheat sheets, etc.
These days, people don't just directly sign up for email lists. In fact, they sign up for a free course, a secret resource, or an ebook. If you want to grow your email list as a new blogger then create useful freebies.
Once, you have lead magnets for your audience, you can create embed forms.
Then, add forms through which your free resource will be sent to subscribers. When you sign up with mailerlite, there are video tutorials and guides for every step.
Here is an embed form I created with Mailerlite;
I have also embedded a form below that includes simple tips on email list growth. I show you the simple five steps to build a massive email list by using simple strategies.
Here's one important thing.
There are so many places to put email forms on your website. But, the best practice is to insert your email forms in the places where you get the best conversions. It can be an in-line form that you place in between the content or maybe, a full-screen form.
In a separate post, I explained 7 best places to insert your email forms to grow your email list.
3.

Manage subscribers
In mailerlite, it's easy to create different subscriber groups and divide them into segments. If you want, you can send a specific campaign to a list of subscribers who are only interested in product updates.
Additionally, you can sort out all the subscriber details including the statistics of each subscriber.
You can learn with time, and practice. Mailerlite offers multiple tutorials, and blog posts to help you out. So, you don't have to worry about that.
I learned all the Mailerlite features just after I started using it.
Post to read : Many bloggers struggle with email subscribers. I shared 5 steps in this post to get 500 email subscribers quickly. This even comes with a pdf that you can download too.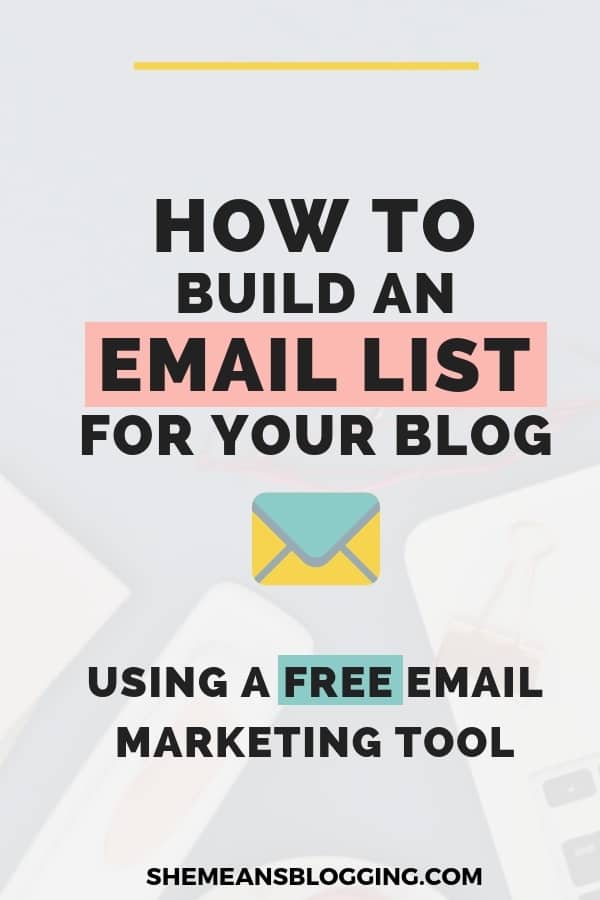 4.

Send Email Campaigns
Mailerlite allows four different types of campaigns;
Regular campaign: This is for normal campaigns.
A/B split campaign: It allows to test different campaigns and see which one performs better.
Auto Resend Campaign: This specific option automatically resends a campaign to all those subscribers who did not open the first email.
RSS campaign: This feature connects the website RSS feed with mailerlite that can be used to automatically send emails to subscribers and get them notified whenever you publish something new to your blog.

Depending on your email campaign, you can design your first email. Mailerlite further gives the option to use the existing templates, drag and drop builder, or rich text editor.
Here are some email campaign features;
Custom HTLM editor
Drag and drop newsletter editor
Rich text editor
Newsletter templates
Built-in photo editing
Mobile friendly newsletters
Ecommerce campaigns
You can test and try all the content editors to design email newsletters for your blog.
As a beginner, you can simply use a template and write your email. As simple as that.
I prefer legacy rich editor to write my own emails. I like reading and even, writing those emails.
5.

Email Automation
Automation is another brilliant feature of mailerlite. With this feature, you can actually send freebies to your subscribers and send them an automated email series.
Set up a workflow and it will automatically send emails to a specific subscriber group of interest.
Here's an example of an automated series.
I create a free email course where I teach new bloggers how to start their own blogs and make them profitable from day 1. This course is really amazing! And, I'm astounded by the response.
This is the course email form.
Basically, when a new person signs up they will receive 7 emails from me, one every day. Each day will have a new lesson on blogging, and this course will eventually teach them to become a profitable blogger. Many new bloggers have taken this course to start their own blogs! Anyone can create an automation series and send emails automatically on the set times.
If you are a food blogger, you can send a series of recipes to new subscribers. If you're a motivational blogger you can send quotes for 21 days.
Cool, right?
One thing more.
As you start sending campaigns, and workflows you can always track the activity. It shows the email click through the rate and the overall activity on your email campaigns. You can then identify the active subscribers etc.
Email List Building Tips for Beginners
Starting an email list from scratch is the best way to monetize your website.
Use advanced list-building strategies to grow your email list.
Create awesome lead magnets and free resources to offer to your new subscribers.
Use and create quizzes to build email list fast. I show exactly in the post too.
Related posts;
11 proven tips to increase email click through rates
Final Thoughts on Email List Building
I have just shown you how to start an email list for beginners. Mailerlite is the tool I currently use to send email campaigns, and I definitely enjoy it for a number of reasons. It's pocket-friendly, easy to use and gives multiple features.
Start with Mailerlite today, and for FREE!
Are you thrilled for email marketing, and grow your email list?