Okay, now we have Pinterest communities too. Pinterest communities are a new thing for Pinterest, and a whole new concept to trigger social engagement on Pinterest. Until now, we knew that Pinterest is a content only search engine with less social engagement but not now.
Pinterest has recently launched a new feature called Pinterest Communities. This is a big thing for Pinterest marketing. This social feature can be used to find potential customers for your business or ideal readers for your blog.
Isn't this massive?
Let's find out more about Pinterest communities.
What are Pinterest communities?
Just like other social media communities, Pinterest communities are newly created to connect with like-minded pinners so they can discuss, and share content to inspire people. Until now, it wasn't possible to create a space where people can talk about topics of similar interests, and can actually make conversation.
I find interest communities similar to Facebook groups, Instagram pods, Google+ communities or twitter parties/list feature.
How to join Pinterest communities?
To be able to join Pinterest communities, you need an invite link. Basically, you need to join at least one community to unlock this new feature on your account. Once you join a community, you will a 'community' tab on your phone and desktop.
At first, you will need to use the Pinterest app on your phone. Click on this invitation link to join one of my community. Within less than an hour, you will have access to the Pinterest new feature on phone and desktop.
So, if you're on your desktop then you may not be able to access the feature. Just use your Pinterest app on phone, and click my invite link. This should give you all access.
List of Pinterest communities to join
I have created different Pinterest communities. You can simply join the communities that interest you, or the topics you're interested in.
I have also added some niche-based communities for you to join;
Bloggers Circle
Blogging Tips For Beginners
Make Money From Blogging
Affiliate Marketing For Bloggers
Women entrepreneurs
Some more communities;
General:
Community Finder – This will help you find more communities in a specific niche.
Pinterest communities – Click here to join. You can simply ask, and discuss questions related to Pinterest communities.

How to use Pinterest communities to grow your blog?
This new feature is new and completely free to use. The purpose is to boost engagement on Pinterest. Now, you can easily create communities to talk and discuss topics. These communities allow you to share, interact, like and comment.
Use Pinterest community to connect with like-minded people
Give likes, and make comments
Ask a question
Start a discussion
Share your own pins
More posts related to Pinterest;
How to create a Pinterest community?
After having the community tab enabled on your Pinterest profile, it's simple to create a community.
When you're on your Pinterest, you will see a community feature on top.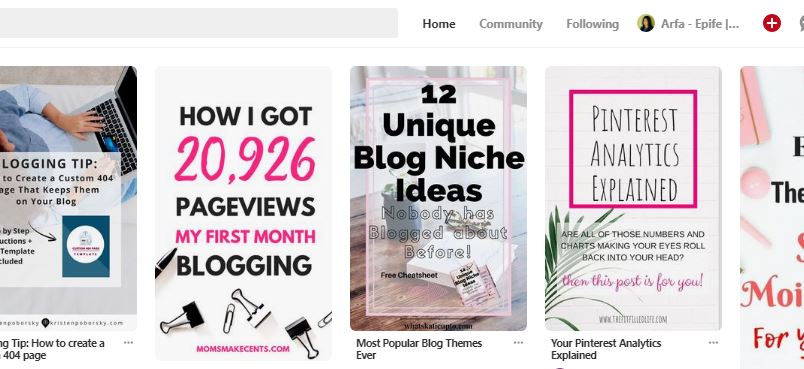 Then, click ' create community'
The window pops up and you will have this.
Now, it's simple to add the name, description and cover photo of your community.
How many Pinterest communities you can create?
This feature is still new so I can't really tell if Pinterest limits in terms of communities.
Therefore, it's safe to create 2 – 3 communities.
Pinterest becomes social now!
Now, it's easy to connect with other people on Pinterest.
With this new social element, you can find your ideal audience and help them out by sharing a relevant link.
Just like every other social media platform. Pinterest communities can also be used to find and interact with like-minded people.
Ask questions, take feedback and share your links.
Pinterest communities mean more interaction on Pinterest
I think that Pinterest communities are helpful in increasing engagement on Pinterest. Now, bloggers and pinners can join these communities to ask a specific question or problem.
And, content creators can leave their relevant links to answer their problems.
People will most likely engage in these communities by liking, pinning and commenting. Thus, it will increase engagement on Pinterest.
If you're a blogger or business owner and you use Pinterest, avail this opportunity to create a new community.
Be sure that you cannot choose a community of similar name. That means if a name has already been taken, no one can use the same name for another community.
Related:
The Ultimate Pinterest SEO Guide To Supercharge Your Blog Growth
Join Our Pinterest community today
I invite you to join Bloggers Circle today. This community is open for all bloggers to share, support and connect with each other. Feel free to share your pins, and engage with others. When you join the community, remember to introduce yourself and the blog.
I'm excited to see how these Pinterest communities grow.