Blogging isn't a "get rich fast". It takes time and definitely, doesn't happen overnight. However, making money blogging as a new blogger is achievable.
A lot of bloggers think that they need to wait until they have a few thousands of page views until they can monetize their blog, and also then, they believe they will make only a few dollars a month.
Well, what if I tell you that they can be totally wrong?
Today I am going to share with you my best tips on how to make money blogging as a beginner!
The first amount of money I saw from blogging was on my 4th-month blogging, with less than 3,000 monthly page views.
That month I made $686 using my blog only (no services included, only blogging income). With my blogging blog, I made $286 with my brand new 2 months old blog, while I had around 1,500 monthly page views!
Actionable tips to make money blogging as a beginner
I get asked a lot after posting my blogging income reports, how am I able to make money as a new, small blogger?
Let's find out!
1 – Believe in yourself
I know, such a cheesy expression. But it is completely true!
If you don't believe in yourself, you won't be able to achieve anything in life. Including in the blogging world.
From the beginning of my blog (or at least since the moment I knew making money blogging is possible), I decided to start monetizing my blog and I truly believed in my self and I told myself every time I wrote a blog post that included affiliate links, or when I created a digital product to sell, I imagined myself making that money, seeing that email that notifies me that someone made a purchase.
Believe in yourself, and imagine that money-making success in your mind from the start!
You can even learn more about how do bloggers get paid to blog. This post will open up so many ideas on how bloggers are making money with blogging.
Affiliate Disclosure: This article contains affiliate links. If someone makes a purchase through affiliate links, I may earn a small compensation. For more, please read on to privacy policy and disclosure.
2 – Monetize your blog from the beginning!
I see a lot of bloggers that are waiting for that "perfect" number of page views to start monetizing their blogs. And that is the most common blogging mistake.
If you are not monetizing your blog from the very beginning, you are losing money. Even if it's $5, you are still losing money and you are also "closing doors" for yourself.
Back in November 2019, I was able to make $686 with my small travel blog that had less than 3,000 monthly page views.
If I would've waited for a certain amount of page views, I would've lost those $686 without even knowing!
Get started with these 7 most profitable ways bloggers make money today! These methods give you an idea on how you can monetize your blog easily.
3 – Focus on the right blogging income streams
By that, I mean that you need to pick the right income streams to monetize your blog with. I recommend focusing on affiliate marketing and digital products.
And yes, I didn't say displaying ads for a reason, but we will get into that very soon.
Affiliate marketing is another way of passive income that you can make online! It is one of the most popular ways people make money online.
This beginner guide to affiliate marketing is a must-read. It goes in-depth with an understanding on how affiliate marketing works for bloggers.
An online retailer and a website owner/blogger/almost anyone online makes an arrangement where the online retailer pays a commission for driving traffic and sales to them.
How will the company track your sales? When someone clicks your affiliate link, a "cookie" is stored in their browser, which means that if someone purchases through your links before the cookie expire, you will receive a commission for that sale.
Affiliate marketing is the best way to monetize your blog as a new blogger. It isn't a lot of work and is perfect for beginners.
I love promoting affiliate products/services, and it is a big part of my blogging income.
Here's a beginner guide to learn exactly how to make money with affiliate marketing as a blogger!
Create and sell digital products
This income stream is one of my favorite income streams as well. Digital products are the perfect passive income stream.
You create them once and earn money from them for months and even years!
Also, because they are digital, you don't need to work on shipping those orders and all of that mess. Everything works automatically!
The digital products you are creating needs to be related to your niche. For example, you can't be a finance blogger and selling a cooking ebook.
You can create digital products using Google Docs, or even Canva. It all depends on what you decide to sell.
Here are a few examples of what you can sell on your blog:
Ebooks
Planners
Templates
Online Courses
Calendars
Workbooks
Worksheets
And so much more!
If you want to sell ebooks, you can learn more on how to make money with ebooks here.
Arfa also has a set of Pinterest templates that make her a small portion of income. If you want to buy new pinterest templates then Arfa's affordable templates are super easy to use.
<<Take a look at pinterest templates here>>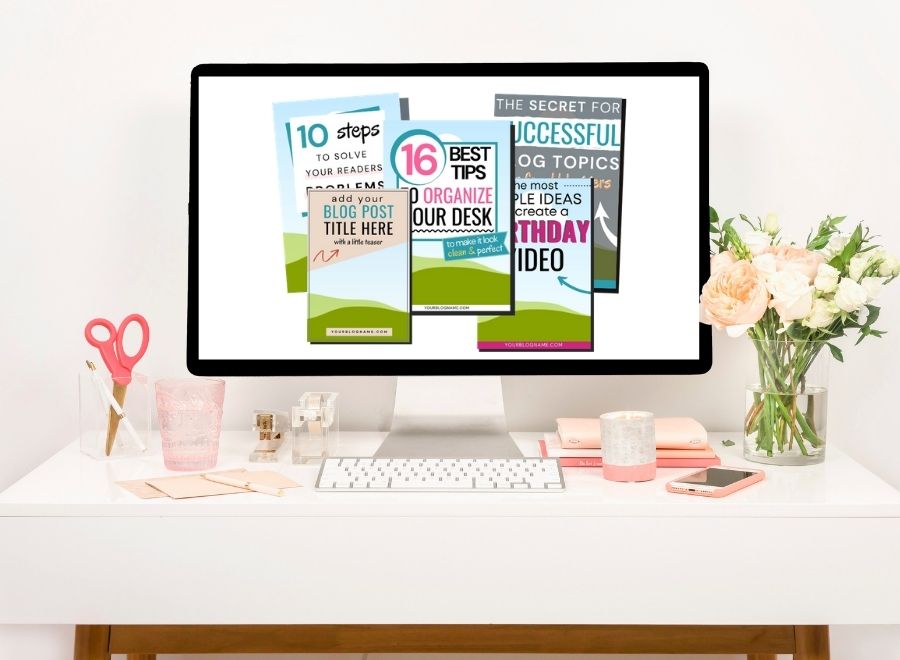 My tip is not to add ads to your website until you either reach 25,000 sessions and apply to Mediavine.
Or, if you are really impatient and want to grow your income a little bit more, wait until you have 10,000 sessions. You can look into these ad network options for blogggers.
I personally don't focus on ads at all. I will start this income stream once I reach 25,000 sessions and will apply to Mediavine.
With less than 10,000 sessions a month you won't be able to make much money from ads.
Also, ads slow down your website. So I recommend waiting until you can make "real money" with them and then adding them to your website.
Related: How I increased my blog traffic to 23000+ pageviews every month! Get all the proven strategies that helped me skyrocket my traffic.
4 – Don't give up on money-making opportunities
By this, I mean, don't stop yourself from promoting that affiliate product to your email list just because you have 20 email subscribers, and maybe they won't engage with your email and you won't make any money.
Don't give up in advance. Maybe one of those 20 subscribers is interested in that product and will decide to purchase the product you recommended when you send that email.
Don't lose money because of your fears!
Every new blogger has fear! This post walks you through 5 common blogging fears most new bloggers have, and tips to overcome them.
There are opportunities for everyone!
For example, quarter 4 is the holiday season where traffic and sales spike. People make most sales during this season.
This is a great opportunity to try out new ideas to increase your blogging income. You can find tons of ideas on growing blog income in quarter 4.
5 – Be confident when promoting products as a new blogger
This is a very important tip you must follow if you want to make money as a new blogger. People won't buy stuff from you easily. You need to have money-making skills to earn money.
You don't post a link on your blog and the day after millions of dollars are transferred to your bank account. You need to sell that product to them smartly.
First of all, when you are promoting a product (whether it's your own or an affiliate product), you don't want it to look too promotional.
When you are promoting and talking about a product you are recommending to your readers, you want to talk naturally, as you are recommending a product to a friend.
Second, you want to be very confident and knowledgable when you are promoting that product. Especially as a new blogger.
Here are some related blog posts to check out;
Because you are new, you don't have an established connection and trust with your readers yet.
So if you want people to purchase your products/purchase through your affiliate links, you need to be confident and knowledgeable, that your readers will be convinced to make that purchase even though they don't know you well enough.
And that's it! These were my top 5 tips for making money blogging as a new blogger! I hope you found this blog post helpful.
This is a guest post on SMB
Guest post author : Maya talks about affiliate marketing tips and making money blogging on her blog. For more of her content, feel free to check out her Pinterest account and join my Facebook group for bloggers.